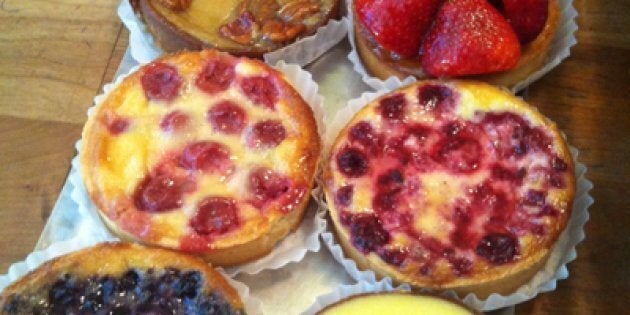 Several weeks ago I put out a Tweet "Who makes the best butter tarts in Toronto?" The conversation created from this one question was remarkable -- in fact, it generated reaction from over 25,000 people with lots of recommendations for Toronto and beyond. More importantly, it initiated the most delicious adventure I've had in a while.
Gastronome, food writer, and friend Ivy Knight chimed in on the butter tart talk and we decided to embark on search for the best butter tart in Toronto with the ultimate goal of hosting a Butter Tart Smackdown at The Drake Hotel for one of Ivy's infamous 86'd nights (which will take place July 30).
The butter tart is one of Canada's quintessential culinary delights -- the earliest recipe found in the Women's Auxiliary of the Royal Victoria Hospital Cookbook printed in 1900 in Barrie, Ontario. The English Canadian version of the butter tart consists of butter, eggs and sugar in a pastry shell and is known as a sugar pie or tarte au sucre to French Canadians. While traditional versions have raisins it's not unheard of to find walnuts or pecans in your tarts too.
I put together a list of places that my fellow Twitter friends had recommended and Ivy and I embarked for one sweet afternoon. Here is a list of the six bakeries we managed to visit, this adventure is one that is likely to take a lifetime but we're off to a good start.
First stop was Mabel's Bakery located in west end of the city at 323 Roncesvalles Avenue. They offer up light and fluffy toffee tarts for $2 a pop. The pastry is perfection.
http://www.mabelsbakery.ca/
Our second sweet spot was OMG Baked Goodness at 1561 Dundas Street West. They make an Ontario Maple Syrup Butter Tart for $3.75. Their puff pastry to filling ratio is just right -- I loved the touch of maple syrup.
http://www.omgbakedgoodness.com/
The third petit pie was at Wanda's Pie in the Sky is in the heart of Kensington Market at 287 Augusta Avenue. They offer up two butter tart options at $2.45 a tart - walnut and raisin or pecan. The pastry appeared to be commercially made but the filling was deliciously sticky. http://www.wandaspieinthesky.com/
Our fourth delight was found at Harbord Bakery, located at 115 Harbord Street, which is a hop, skip and a jump from the downtown University of Toronto Campus. If I was a student I'd be there all the time as their $1.75 butter tart was the best bang for my butter tart buck! Homemade pastry with a gooey filling - yum!
http://www.harbordbakery.ca/
The fifth stop was made at The Flaky Tart on 711 Mt. Pleasant Road. They make butter tarts like my Nanny used to with a thick piecrust and gooey buttery sweet filling for $2.75.
http://www.flakytart.com/
Our final stop was Bonjour Brioche on 812 Queen Street East in the heart of the culinary neighborhood of Leslieville. They are known for their brilliant baguettes but they also make gorgeous tarts for $4 including two butter tarts -- with pecans or raisins.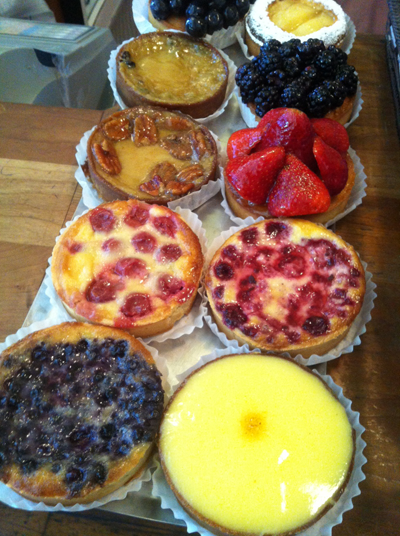 The tarts at Bonjour Brioche.
Next up on my butter tart adventure is a trip to Wellington County and their Butter Tart Trail http://www.simplyexplore.ca/buttertart.htm - be sure to follow me @OntarioCulinary #buttertart and if you happen to come across what you think is the best butter tart in Ontario - please let me know!