As a lover of food, and a tourism professional, the fall holds a special place in my heart. The summer air cools, the season's bounty is gathered and celebrations abound. This fall, I'm particularly excited because I'm also returning to Galway, Ireland for the inaugural Food On The Edge Symposium -- where I'll experience a second harvest, of an idea planted by Chef Jp McMahon.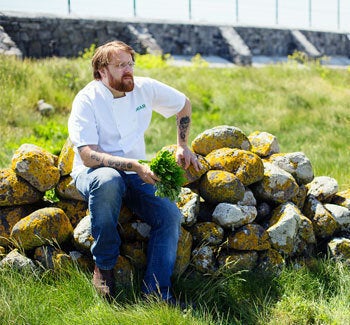 Photo by Wonderful Life Productions
Chef McMahon has always enjoyed cooking. Inspired by his mother and grandmother, Jp took home economics in school and started cooking at an Italian Restaurant in Galway at age 15. His education was practical, culling knowledge from the "school of life," culinary training, and his extensive travel, where he always ended up working in kitchens. At 24, Jp. returned to Ireland to attend University College Cork, where he earned a degree in both English and Art History, while continuing to work in the restaurant industry to pay the bills.
In 2008, Jp had the opportunity to open his own restaurant and with a strong affinity for Spain and their tapas culture, he opened Galway's first tapas bar, Cava Bodega. Three years later, the restaurant next door to him closed and he decided to take on a second project, Aniar Restaurant, a fine dining establishment focused on fresh, seasonal Irish ingredients inspired by Nordic culinary techniques.
I first met Chef McMahon back in 2012 in Toronto, while hosting a Canadian best practice mission with Failte Ireland, in my role as Executive Director of the Ontario Culinary Tourism Alliance. I toured the province with delegates that included chefs, accommodation operators, farmers, food retailers and event organizers from across Ireland to learn about the benefits of connecting agriculture and tourism. The goal was to showcase best practices in tourism innovation, meet the community involved, and expand their collective knowledge and networks. The group left with practical knowledge, inspiration and most importantly new Canadian friends.
The seeds of many ideas sewn during that visit began to germinate upon Chef McMahon's return to Ireland. After a follow up visit to Canada in 2013, where Jp spoke at the Terroir Symposium, a global hospitality summit hosted in Toronto, he joined the Cook It Raw initiative in Charleston, SC. All the while working on his first book, "Tapas: A Taste of Spain in Ireland", which was finally published in 2014 to much acclaim. Jp's love of food and Irish culture have lead him to become the commissioner of Euro-Toques Ireland, Founder and Director of the Galway Food Festival, as well as, a contributor to the Irish Times as a food writer.
All of these experiences and his expanded network culminated in his biggest project to date, Food On The Edge -- a culinary symposium featuring top international chefs and food thought leaders. Combining his favourite elements from the Terroir Symposium and Cook It Raw with his own personal vision, he has invited over 40 chefs from around the world to share the stage in Galway on October 19 and 20 to inspire, inform, entertain and provide a platform for networking. It is an opportunity for Ireland to shine as a food destination, while bringing together over 300 delegates from around the world.
Chef McMahon's career has grown remarkably in the four short years since we first met. I am constantly impressed with how he manages to balance his restaurants (did I mention he also has EAT Gastropub?!), young family (he and his wife have two beautiful daughters), newspaper column, development of a second book (to be released this Christmas), and now Food On The Edge. If this were not enough, he's also training for his first marathon taking place in Dublin the week after the symposium-talk about a type A personality!
I look forward to another reunion with Jp and some of the other good people from the Canadian best practice mission. Interestingly the mission's impact has gone beyond Jp's symposium and also include the development of the Burren Food Trail and St. Tola Irish Goat Cheese on-farm experience adding retail, to name just a few. Inspiration is powerful stuff and if you happen to be looking for some please make the journey to Galway this fall to celebrate the harvest of passion for taste of place. The cherry on top? Extend your stay and tour the Wild Atlantic Way -- it's more than beautiful, it's delicious!