Mario Tama/Getty Images
This year's Luminato Festival has a new culinary twist -- the Toronto Carretilla Initiative -- an experiential installation by artist Rainer Prohaska. I had the great pleasure of participating in the trial run of #TCIFood (for those on Twitter you can use and follow this hashtag).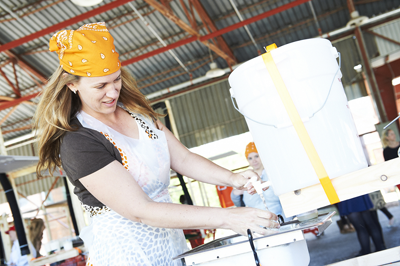 Hand washing station by Rainer Prohaska
The installation, made of shopping carts, boards, clamps, sheet metal and other building supplies, brings together function and form. Our "test run" of the mobile kitchen (which is up to code with Toronto Public Health) had a group of volunteers and media working collaboratively to make a dish that veered into two delicious tastes -- poppy seed gnocchi served both as savoury (with beets) and sweet (with icing sugar).
I had a blast grinding poppy seeds and sautéing the gnocchi, so much so that I booked a slot to participate in one of the nine iterations of the kitchen that is taking place from June 9 to June 17. Participation is free! I am highly recommending this to any foodie, budding cook, or art lover!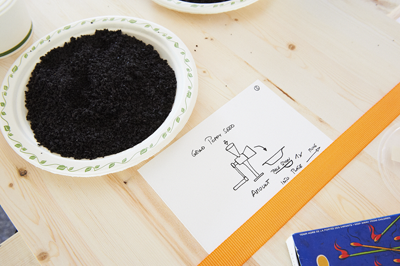 Poppy Seed Gnocchi instructions
The first TCI performance takes place on opening weekend, Saturday June 9 and Sunday June 10, at The Distillery Historic District where the kitchens will be assembled to create communal meals (lunch, snacks, dinner) alongside the array of food stations that comprise the festival's perennially popular President's Choice® 1000 Tastes of Toronto™. In total there are 16 group performances, the last of the series on June 17 at David Pecaut Square.
You can register at carretillainitiative.net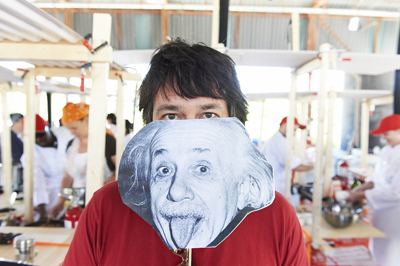 Hmmm artist Rainer Prohaska or Einstein???
To check out a photo gallery of the trial run visit OCTA's Google+ page. Photo credit to David Leyes -- thanks for sharing!