Ken Gillespie via Getty Images
Like many Canadians who have travelled across the County, I had been to Saskatoon, Saskatchewan several times but it had simply been to "drive through." This fall, I returned to the prairies to learn more about the culinary culture of Saskatoon and came to learn that it's definitely worth stopping, staying and dining in the cultural capital of the province!
Arriving on a cool October evening, my travel companion (Chair of the Terroir Symposium - Arlene Stein) and I checked into the Delta Bessborough, a 1935 castle-like structure set along the South Saskatchewan River.
We began our whirlwind culinary adventure with a visit to SaskMade Marketplace where we picked up some unique products that are grown, raised and crafted in Saskatchewan. I grabbed some Three Farmers chickpeas for my kids to try back at home. Interestingly, we learned that chickpeas are one of the provinces major agricultural crops.
Our next stop was LB Distillers (a.k.a. Lucky Bastard Distillers) for a tour and tasting of their artisan distilled products. Head distiller Michael Goldney introduced us to "Ginger," their micro-still that has a capacity to distill 248 litres in a batch. We got to taste their gins, liqueurs and vodkas -- including a traditional Mendova z Pertsinka (wildflower honey and pepper vodka) -- a first for me, but a traditional Ukrainian style of vodka typically used for toasting in celebrations. My favourite was their Haskap Liqueur -- perfect for a Saskatchewan version of a Kir Royale!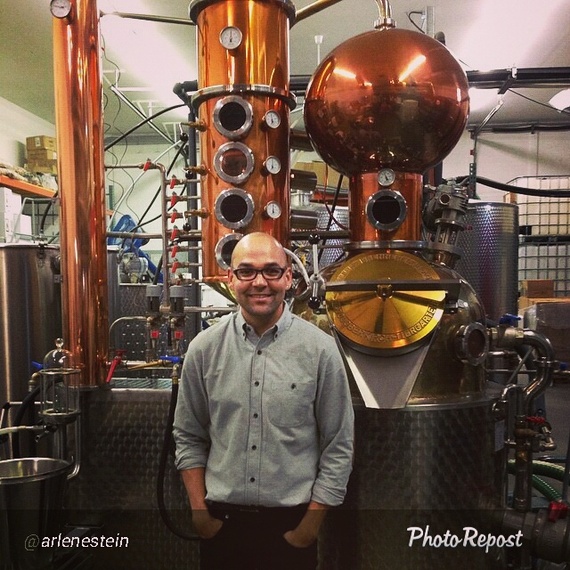 We were then whisked away to Riversdale Deli to meet proprietor Darby Kells. Over a delightful array of cured meats, cheeses, pickles, olives and local wildflower honey we learnt what drew Darby back to Saskatchewan to run a foodservice business of his own. After eight years of being stationed in Calgary - quality of life, a great place to raise his kids and being part of a revitalization that is taking place in Saskatoon, were all part of the draw for him. In addition to the deli, Darby is set to open a pizza joint on the same block -- the perfect addition to the Riverside neighborhood that is home to the cities farmers market and host to the new Remai Modern Art Gallery slated to open in 2016.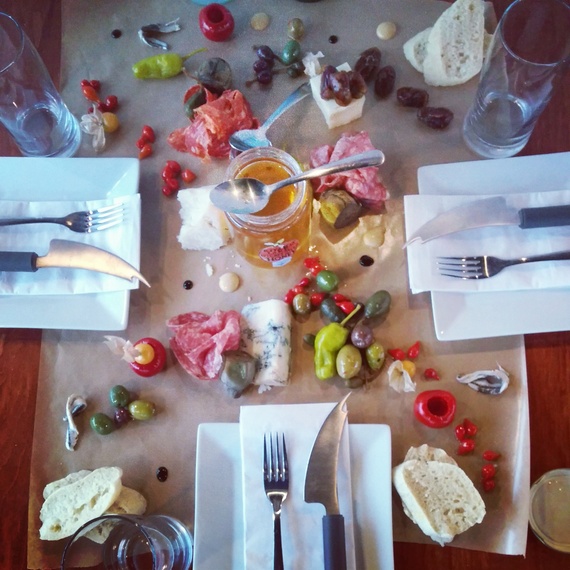 Both lunch and dinner on our brief culinary excursion took place at one of EnRoute Magazine's 2014 Top 10 Restaurants -- Ayden Kitchen Bar. Co-Chefs Dale Mackay and Nathan Guggenheimer, took our taste buds on an prairie adventure that was infused with techniques and tastes from their global training. Thai chicken wings (the chicken is locally sourced from Pine View Farms in Saskatchewan) are off the charts, along with the seasonal squash two ways salad and the Butcher Burger (40 day aged rib eye ground beef) topped with a fried egg and bone marrow! Their charcuterie board and sausage board is house made and outstanding. Cocktails are off the chart crafted by award winning mixologist Christopher Cho, formerly from Charcut in Calgary. My favorites were the Hemmingway and the Gin Giblet.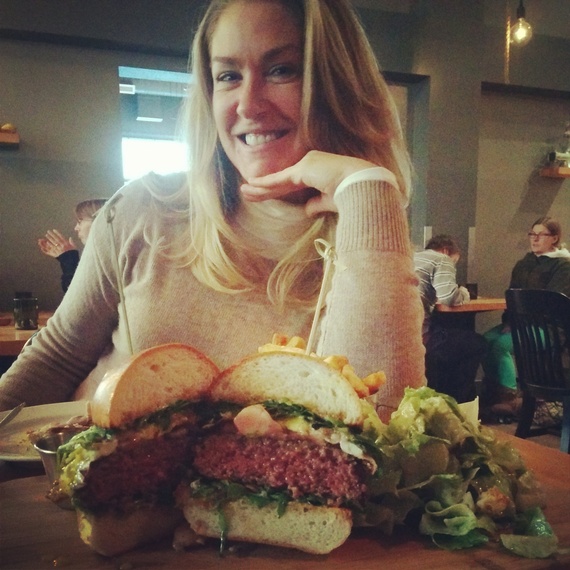 Another taste of place treasure is the Prairie Harvest Café. Showcasing local tastes along with a great selection of beers from Saskatoon craft brewery Paddock Wood Brewing Co. My lunch recommendation would be a bottle of Whit beer with the house made pierogi -- a classic of the native early Ukrainian settlers.
A true gem of the city is the Western Development Museum. It's easy to fill a half-day or more walking through and immersing yourself in the 1910 Boomtown exhibit -- that details the history and settlement of the province. With over 30 buildings depicting life at the turn of the century it's an awesome way to learn about the history of Saskatchewan and Canada.
While we didn't get to take in much of the great outdoors during our visit due to inclement weather conditions, I can honestly say that I am keen to return in the summer or early fall months to run or paddle along the South Saskatchewan River -- the provinces namesake that dissects the city in half, or attend the famous SaskTel Saskatoon Jazz festival that is one of the top 20 jazz festivals in Canada.