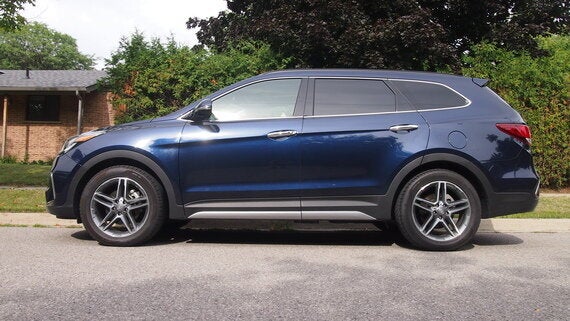 What's the first thing that comes to mind when you think, "minivan"?
If you immediately pictured mothers picking up their children at soccer practice, you aren't alone. The legacy of the minivan is slowly on its way to the retirement rafters, alongside station wagons and three-wheeled cars. However, there are some -- like myself -- who recall a more innocent time; when the minivan was the ultimate spacious family vehicle.
I swear, when I was growing up in the Maritimes, nearly everyone's parents had a minivan. The more passengers your van could store, the better. The minivans ran the suburbs, with every other driveway presenting Caravans, Aerostars, Windstars and more. Not sure if there was a certain aesthetic that appealed to van buyers of the 90's, but the phrase, "That's a beautiful looking... van!" never did sound right to me.
Our family van of choice? The Ford Windstar, a domestic upgrade from the ol' Bronco (which I proactively miss to this day). As an early bird with a G-1 permit and the keys to the family van, I would pack as many of my friends in it as I could - a necessity when most of your friends don't drive. House party? Hop in! And that sliding door -- man, that sliding door -- was so essential. Couldn't picture my childhood without tugging the heavy metal door.
Problem is, despite my irreplaceable teenage memories of the minivan, I don't think I'd ever buy one. Ever.
Truth is, the love for the minivan has slowed to a snail's pace. Families are getting smaller, and parents strive for a sexier look that aligns with their self-image. There still exists a market of minivan mavens, but that market is shrinking rapidly, and automakers are taking note.
In an effort to keep up with customer demands, many car manufacturers have abandoned the minivan all together for the likes the crossover SUV and other full-size variants. Let's be honest: making the minivan sexy is one very difficult task that many auto designers aren't willing to risk their job over.
Hyundai is one of those companies to jump ship. The Hyundai Entourage was their last, true minivan -- a variant of the Kia Carnival -- which was only available in the extended length, otherwise it would have cannibalize its own mid-sized Hyundai Veracruz SUV.
The Entourage was a hit within the niche minivan market, winning Best Family Car in 2009 by Parents Magazine, but because of slow sales, it was dropped that same year.
Two years later, the Veracruz was replaced by the new, 7-seater Santa Fe, its name growing in popularity across North America. Dubbed the "Santa Fe XL", the three-row, six/seven-passenger crossover SUV became a solid option for families with more than two children. The demographic shares similarities to those buying minivans: they love and need the space, whether for more passengers and storage, but there's one defining difference: they just don't want to own a minivan.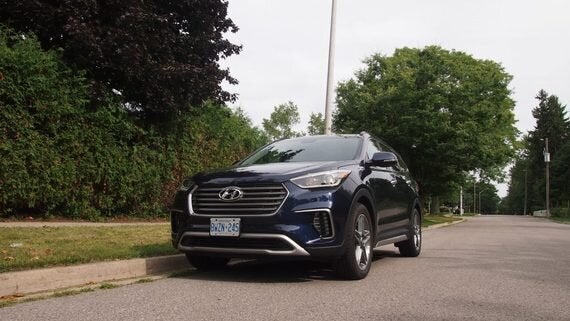 I was fortunate enough to get behind the 2017 Hyundai Santa Fe XL, which has undergone an extensive refresh since its 2014 model. From a design stand point it received a healthy upgrade, but the principles have stayed the same. In essence, it looks more like a long SUV than a traditional minivan, and thats how their buyers like it.
The 2017 Santa Fe XL is the bigger brother to the Santa Fe Sport, which is 215 millimetres shorter and only includes two rows for five passengers. It's the difference maker for those with minivan-like needs. It also includes a high-output Gasoline Direct Injection (GDI) V6 engine for added power.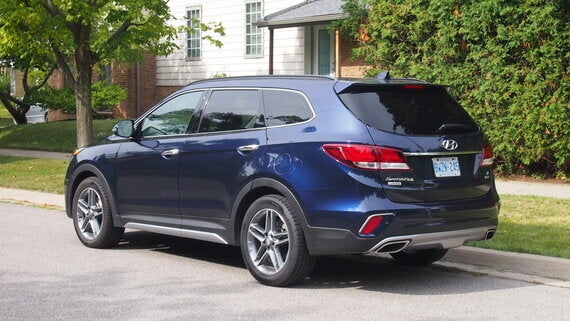 As looks have become a growing factor in family buying decisions, the XL includes a modernized redesign to the headlights, taillights, and a freshly designed grille on the exterior. With a dash of uniqueness, Hyundai has introduced an improved wheel design and LED daytime running lights to add more luxury-like elements. The aerodynamic vents improve airflow by shuttling air around the front wheels, providing an easier driving experience in such a heavy utility vehicle.
Behind the wheel, the Santa Fe XL drives big. It packs 290 hp and 252 lb.-ft. of torque, providing sizeable power under a simple-to-drive hood.
Inside, the new centre stack includes a 5.0" LCD touch-screen - standard on all models - with an extensive list of technology features such as Bluetooth, Sirius XM, USB and navigational controls. Hyundai also included Drive Mode Select, allowing you to adjust the throttle and transmission response in either Sport, Eco, or Normal settings.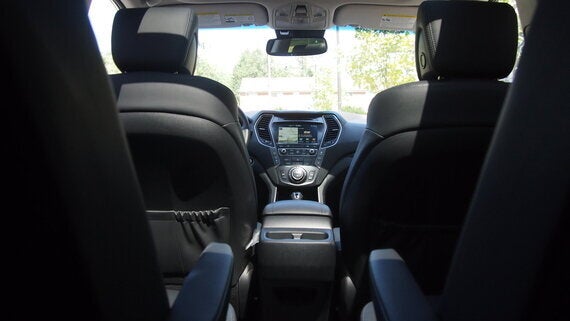 The top-line offers a multi-view camera system, adaptive cruise control (with stop/go), lane departure warning, autonomous emergency braking with pedestrian detection, and HID headlights with adaptive cornering system. All features you can expect in a modern full-size vehicle, but nothing that will make you lose your head over, making it decent for its price point.
The XL feels massive on the inside. You can literally feel the space as you hop from seat to seat - something only minivan owners can appreciate. On the outside, it doesn't nearly look as big as it feels inside, providing an easier opportunity to navigate windy roads and when parking gets tight. It's simple enough to drive; it handles much like the Santa Fe's do, but with a bit more punch.
As expected, the 2017 Santa Fe XL swings further towards the SUV side of things than both its predecessors and the traditional minivan. If spaciousness is essential to you, and the thought of driving a van makes you cringe, the XL fits the mold quite nicely at a competitive price point.
But hey, if you don't mind the look of a minivan, there's still hope as Google plans to unleash a flurry of self-driving minivans (yes, you're reading that correctly). Like acid wash jeans and NKOTB, if it was hot in the 90's, you can always expect a comeback.
This post originally appeared on Autoroad.ca. You can also follow Reggie's daily snap car reviews on Snapchat: Autoroad.
Follow HuffPost Canada Blogs on Facebook