Hidden beneath the veil of popular drive-enhancing technology such as autonomous driving and all-electric sits a feature that doesn't get a lot of time in the spotlight. Rightfully so, as most attempts have proven frustrating, useless, and otherwise a sad, one-trick pony. It's the one feature that is rarely a top 3 deciding factor when someone buys a car: voice-activated driving.
I could've sworn many of us came from a generation where visions of hoverboards rivaled the idea of an artificially intelligent car like Knight Rider's KITT (which doesn't have that same impact without David Hasselhoff's frothy head of hair). Do talking cars get any love anymore? I mean, barring all memory of Shia LaBeouf's frantic and cringeworthy banter with the Chevy Camaro in Transformers, I do believe there's major opportunity to combine the fully connected car with a smart A.I. that can not only understand what you're saying, but can also simplify your drive.
Alas, nearly all attempts to make this a reality have been demoted to "just another selling feature", rather than emphasizing an awesome opportunity to make the driving experience easier.
Apple's Siri, Google Now, and Amazon Echo have still barely grazed the surface of voice technology's true potential, but in comparison to their automaking counterparts, the car industry still has a lot to catch up on. I personally trust Google Maps for the fastest route and my carefully curated Spotify playlists for tunes, but it sure sucks the life out of my driving experience when I have to pull over to set destinations or change tracks (and yes, I'm pretending that I don't actually do that at stop signs).
If the goal is to keep my eyes off the phone while I'm on the road, when duty calls, isn't the next logical step to rely on my voice to make similar commands?
Maybe not. In October, a study was introduced that forewarned the dangers of using voice activated features. Exposing numerous car brands and their inability to put a real focus on voice tech, many drivers are stuck having verbal fist fights with their car (sound familiar, Shia?). With such small focus and investment on proper voice recognition software, many 2015 model cars with voice-activated features were outed for their improper approach. The Mazda 6, Microsoft's Cortana system, along with Hyundai, Chrysler, Nissan and Volkswagen topped the danger list. Although the study had primarily outed the 50+ age group as being most at risk (which I hate to point out as expected - even my own parents are rather tech savvy), part of the blame can be placed on confusing voice systems, poor voice identification, and all-around bad designs. However, automakers weren't the only ones: even Siri was a culprit, which leads to even deeper discussions about voice assistants and internet usage while driving.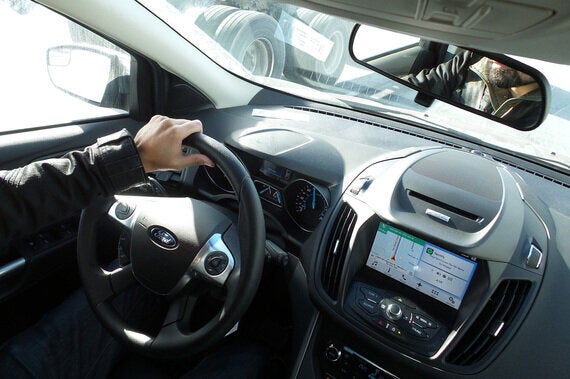 As a part-time car writer, I've experienced my fair share of unusable voice tech, which I generally don't feel bad leaving out of my reviews since most people just don't care about it. Fast forward to this past week, where I had a chance to test drive the 2016 Ford Escape, which includes their new SYNC 3 technology. I'm already resistant to most infotainment systems, but for this week I placed my punctuality in the crossfire by not allowing myself to use Google Maps or anything phone related without the use of my voice.
A few months ago I wrote a pretty rave review about the 2015 Ford Edge Titanium - one of my favourite cars I've had the pleasure to test drive - but I skipped doing anything voice activated. It used the original SYNC system, which I had found slightly outdated and uninspiring. This past week with the new SYNC 3 system showed me good promise; enough to warrant exploring voice technology a little further.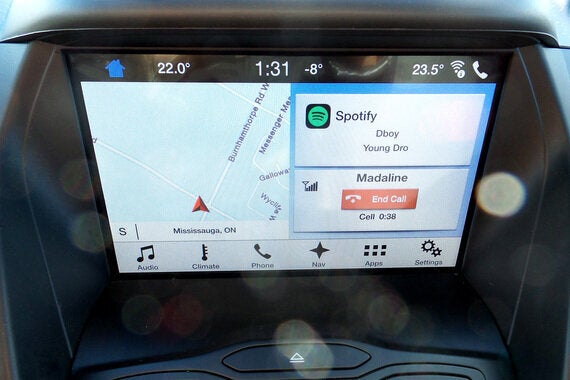 First impressions are everything, which certainly apply to the improved home screen. The new layout positions the map on the left (for driver access) and the music and phone information on the right (for passenger access). As most voice activated vehicles do, the one-touch button is located on the right side of the steering wheel. I blurted out simple commands: "Find a destination", "Play Sirius", "Call Shia LaBeouf". I was surprised that I didn't have to repeat myself much, although it helps to speak with a commanding voice. It was also quick to process commands, both audibly and by swipe, which can be attributed to the newly introduced QNX integration, improving responsiveness and speed.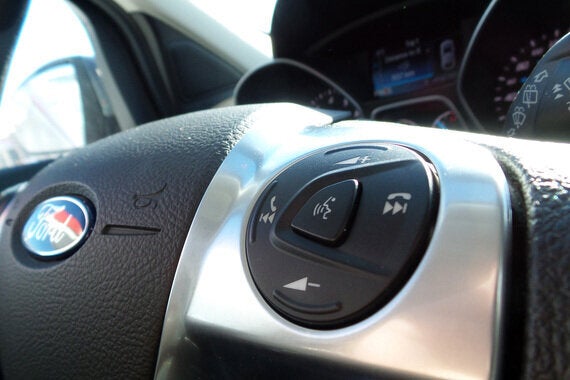 One interesting feature I found useful was the ability to let your incoming text messages get read out loud to you. Handy for keeping your eyes on the road. The SYNC 3 system also allowed me to explore the entire Spotify database, which lead to some hilarious announcements on my more sensitively-titled playlists and tracks. When it comes to other mobile apps, that's where the fun and laughter slows to a halt - for Canadians, mainly. In the north we (still) can't access Pandora or iHeartAuto, but we can play tracks on Spotify and share our locations on Glympse. In actuality, the list of Canadian apps are still limited to two or three, with hopes for more just around the corner.
Lastly, connecting Siri allowed me to access weather reports, stock quotes, sports scores, text messages and emails. It's also possible to manage calendars and set appointment reminders on the go. I feel the naysayers may consider this the danger territory.
It's true: bad technology will always lead to bad experiences. And bad experiences can lead to frustration. And in this case, frustration can lead to accidents. Ford's SYNC 3 system is the step in the right direction, for both the auto industry and us, the drivers. As voice technology continues to improve, we hope to one day reach a point where we can speak freely to our console system without preset commands. At its pinnacle, good voice technology will allow communication between man and machine to be fluid and realistic. For automakers, improvements to the driving experience could change this marketable upgrade into a fully integrated system that rivals the priorities of self driving technology. With safety in mind, obscure voice features and app integrations would need to take a backseat to an improved and human-like voice recognition system that mimics Apple or Google.
It may still be work in progress, but it seems Knight Rider isn't really that far away.