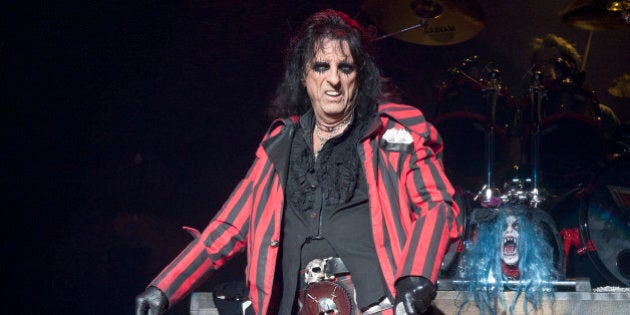 When I first got into rock music, I thought Alice Cooper was a joke. He was like the clown prince of rock and roll. I'd see Alice Cooper albums at garage sales and shake my head. I actually got the 1977 Alice Cooper Show live album when someone left it on their front lawn after a yard sale, but it was awful. Even Alice hates that album!
Years later, my wife and I were at a party when The Ballad of Dwight Fry came on. My wife ran over to the host and asked who was doing The Melvins' cover. Our friend chastised her saying that The Melvins may very well do that song, but they were covering Alice Cooper.
That week, I scored a copy of Alice Cooper's 1971 album Love It To Death and my wife and I listened in amazement. Wow. This was as good as Sticky Fingers or any of those other Stones albums we loved from that time.
My interest was piqued and shortly thereafter I was approached by Banger Films to work on a documentary about Alice Cooper. I fully immersed myself in the research and emerged with a picture of a rock band (for Alice Cooper was originally a band) and a personality whose importance seemed to have been lost in rock history.
Alice Cooper were the first band to use theatrics in rock and roll. That alone should give pause, but they did it in a cultural context that was revolutionary. In the late sixties, bands would stand on stage in their tie-dye shirts and blue jeans while someone projected "psychedelic" visuals on a white bed sheet. Alice Cooper eschewed the flower power vibe and took the violent imagery of that time that was being broadcast into millions of homes and put it on stage. The dead babies of My Lai and the blood and gore of the Manson murders were recontextualized for entertainment by a band that "put a stake through the heart of the love generation".
The band was fronted by a guy named Alice who wore women's clothes. They played New York City a month before the Stonewall riots and caused their own riot amongst the fawning drag queens in attendance when Alice started tossing beer bottles in the audience to get a reaction. I'm not saying Alice caused Stonewall, but the New York City police should not have messed with a bunch of pissed off drag queens hopped up on testosterone and Alice Cooper.
Every major rock movement seems to have been touched by Alice Cooper. Glam rock? David Bowie couldn't convince his Spiders from Mars to dress in gender bending costumes, so he sent the band to check out Alice Cooper in London in 1971. Punk rock? Johnny Rotten auditioned for the Sex Pistols by singing along to a jukebox that played the Alice Cooper anthem "I'm Eighteen". Heavy metal? Please. Do an image search of Motley Crüe, Twisted Sister or King Diamond and report back. Alternative rock? Tom Morello of agitprop punkers Rage Against the Machine calls "School's Out" the most political song ever written. And for those who can't appreciate Alice Cooper's influence on The Melvins on its own terms, they in turn inspired a little band called Nirvana.
Today, Alice is no longer such a groundbreaking artist, but he still delivers something young kids today will probably never get to experience: a big rock and roll show. There are snakes and guillotines and balloons dropping from the sky and a crack guitarist like Orianthi rippin' thru a cover of Foxy Lady. A lot of this is stuff the kids can see at a Lady Gaga show, but with dancey beats and no guitars (although you can check online to see the Coop doing a smoking version of Born this Way).
Lady Gaga's fans might not appreciate Alice Cooper, but Lady Gaga sure does. When I did interviews with the Coop in his Phoenix man cave, I noticed a picture of her with a message written to the Coop. It said, "I stole everything from you. Thank you, God".