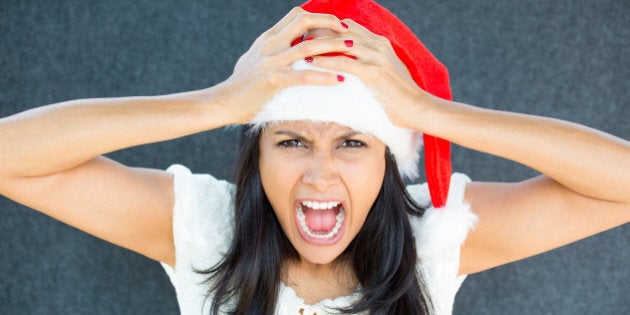 It's that time of year when we're overwhelmed with holiday parties to attend, long shopping lists, crowded shops, bad Christmas music, and fellow humans freely expressing their frustrations in our presence. And then there's the home decorating, the meal planning, and the anticipation of things going wrong and people being upset.
Why do we put ourselves through such agony? My guess: The hope that this year will be different and that we'll experience pure bliss with friends and family, feel loved unconditionally, and rediscover the warmth and magic of the holiday spirit.
Actually, most of us would be happy just to be less stressed and more in control of our lives right now.
If shopping for gifts leaves no time for our loved ones and increases irritability, gift-giving is doing more harm than good.
To regain your equilibrium and protect your mental health, follow these three bits of holiday advice:
1. Focus on people not things. No matter whether you celebrate Christmas, Hanukkah, Kwanzaa or the Solstice, at the heart of all these festivals lies human companionship and spiritual connection. And, yes, gifts are great and a symbol of love. But if shopping for gifts leaves no time for our loved ones and increases irritability, gift-giving is doing more harm than good.
I'm not advocating giving up gifts altogether. (Although so many of them are returned, regifted or simply thrown away, one wonders about the wisdom of presents.) Instead, I suggest smarter and more person-centered purchasing that reduces both financial and personal stress, such as limiting the number of gifts for each person, drawing names, getting one big gift for the whole family, or making a donation to a worthwhile cause in their name.
2. Carefully choose your social commitments. Feeling obliged to go to every event we're invited to is another the stressor of the season. After all, you don't want to offend or disappoint anybody, right? This is less of an issue for extroverts who probably enjoy taking in as many get-togethers as possible.
But for the introverted among us, carefully consider which parties to attend and which invitations to gracefully decline to preserve your precious alone time. While some events are mandatory, many others are optional. Choose those occasions that make you feel connected to this special time of year.
3. Manage expectations, including your own. Having realistic expectations has advantages -- even more so during the supposedly joyous times of the year. In other words, something inevitably won't work out the way you'd hoped, no matter how much planning and consideration you devoted. Whenever there's a mishap, turn it into an adventure and remind yourself that it will make a great story for years to come.
And don't forget that humor is a great remedy! Who can stay upset after a good belly laugh? Humour also makes people more compassionate -- let's cut each other and ourselves some slack. We're all human, after all. The festivities can still go on even if the food is burnt, the tree fell over, or Aunt Helen drank too much and made a scene.
Let's embrace this season on our own terms! The quality of our holiday experience rarely equates to the quantity of things or other outside influences. Try to be in the here and now, and to appreciate the people around you. Happy holidays!