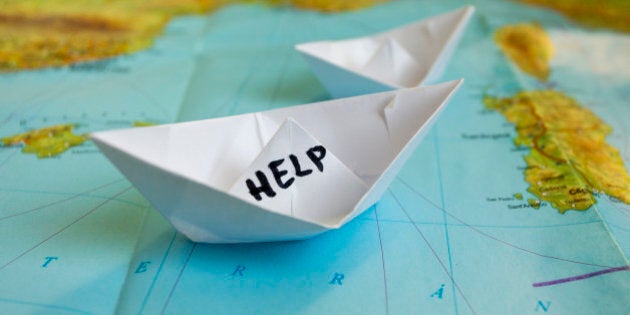 It has been said that being chosen to come to Canada as one of the 25,000 Syrian refugees the Liberals have pledged to take in by the year's end is akin to winning the lottery. Though extraordinary, this commitment will barely scratch the surface of the crisis. Many of us watch the images of human suffering play across our television screens and ask, "What can I do?"
The silver lining is that you or your organization can do something to help Syrian refugees in a very real way. And all you need is a group of people or your organization to make the commitment in your lives. Here's how.
In Canada, sponsorship of refugees occurs either through government sponsorship or private sponsorship. Private sponsorship takes place through a number of different sponsoring groups. Sponsoring groups agree to provide sponsored refugees with care, lodging, settlement assistance and support for the duration of the sponsorship period -- which is generally 12 months.
The G5 and Community Sponsor categories are the most accessible for individuals, companies, or organizations. They require a group of any five or more citizens or permanent residents, or an organization, to act as financial guarantors for the commitment, but also to support the refugee and their family emotionally by helping them settle into Canada.
Sponsoring a family of four costs approximately $30,000 for the 12-month sponsorship period. This is generally the minimum amount that must be fundraised for the government to permit a group or organization to sponsor a family.
It is also possible to privately sponsor a refugee through a Sponsorship Agreement Holder, which are organizations that have signed sponsorship agreements with the Government to help support and resettle refugees. SAHs can sponsor refugees themselves or work with others in the community to sponsor refugees. Most SAHs are religious, ethnic, community, or service organizations. They work with individual sponsorship groups, also known as Constituent Groups, to sponsor refugees. You can find a list of SAHs by province here.
The major benefit of working with a Constituent Group or SAH is that you are able to access the Blended Visa-Office Referred (BVOR) program. The BVOR is a cost-sharing agreement whereby Citizenship and Immigration Canada and the private sponsorship group share the financial burden of supporting the refugees, essentially cutting the cost of sponsorship in half.
There are a number of reasons why it is the ideal time to privately sponsor a refugee.
1. Groups of Five and Community Sponsors generally require refugee status recognition by the UNHCR, the United Nations Refugee Agency or a foreign state. A person is considered a refugee following a Refugee Status Determination assessment (RSD), which is the process by which governments or UNHCR determine whether a person seeking international protection is considered a refugee under international, regional, or national law.
The RSD process is lengthy, particularly as the UNHCR istruggles to keep up with the enormous task of processing millions of refugees. However, as of Sept. 19, 2015, the Government of Canada temporarily exempted Syrians and Iraqis from the requirement to provide proof of refugee status in order to be sponsored by a Group of Five or Community Sponsor. This significantly eases the process of private sponsorship.
2. The new Liberal Government has pledged to restore the Interim Federal Health Program (IFHP). The IFHP is a temporary health insurance program available to refugees, protected persons and refugee claimants in Canada. In 2012, the government significantly reduced the benefits to certain categories of refugees.
Prior to the cuts, privately sponsored refugees were entitled to receive IFHP benefits until they became eligible to receive provincial or territorial health care. Under the current regime, privately sponsored refugees are provided provincial health insurance but the cost of medications, vision and emergency dental care are now shouldered by the sponsor. Additionally, some provinces, including B.C., have a coverage wait period of three months, which means that sponsored refugees have no coverage during their most vulnerable medical period.
Because privately sponsored-refugees are banned from accessing social assistance within the first year of arriving in Canada, and because, by definition, they are coming with nothing but the clothes on their backs, sponsors must shoulder the cost of medications.
The resumption of the IFHP under the Liberal government is expected to reduce the financial burden and risk of private sponsorship. By restoring the former IFHP as promised, the new government would also restore coverage for prescription drugs and other treatment such as wheelchairs, mental health treatment and other treatments necessary for a post-war population and fill the gap during the provincial waiting period.
3. Unfortunately, the private sponsorship application process can be daunting to maneuver. In light of the overwhelming need, organizations and individual lawyers have come together to offer reduced or pro-bono legal services to help individuals and organizations complete and file their sponsorship applications.
For example, the University of Ottawa Refugee Hub has partnered with the Canadian Association of Refugee Lawyers, the Canadian Bar Association, Lifeline Syria and the Human Rights Research and Education Centre to provide support services through the Refugee Sponsorship Support Program (RSSP). The RRSP is a network of sponsorship experts, pro-bono lawyers, law students and community organizations that connects Canadians seeking to sponsor refugees with that expertise. The Refugee Sponsorship Training Program is also an excellent resource to understand the process and determine eligibility requirements for private sponsorship.
Sponsoring a refugee family and providing the emotional and financial support necessary is in the realm of possibility for some individuals and for most organizations. Rarely do we enjoy the ability to help heal the scars of others by giving so little of ourselves. We are incredibly blessed to live in this extraordinary country, to put our children to bed with full bellies, to send them to school, to take them to a doctor when they are ill and to feel safe in our homes and our streets. And now we are also fortunate to be able to share some of those blessings with those in dire need.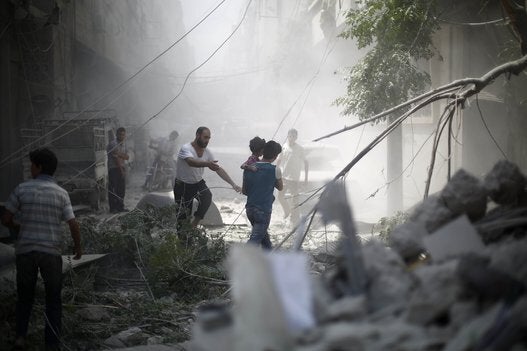 Numbers That Show There's Much More To Do To Help Syrian Refugees