 December 1 is the day activists from around the globe have chosen as an annual reminder of the millions who have died of AIDS and those who continue to be affected by HIV. It also serves as a worldwide call to action to stop the needless spread of the pandemic -- which can be virtually eliminated through scaling up existing HIV prevention and treatment.
Today, treatment with antiretroviral drugs (ARVs) is increasingly recognized as critical not just for the sake of keeping millions of people alive and healthy, but also as a key tool in preventing new infections by controlling and reducing the virus in those already living with HIV.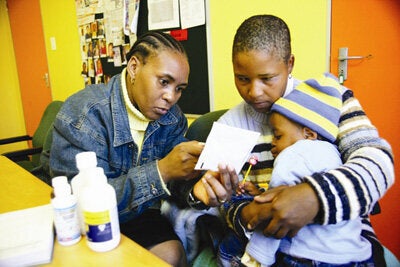 © UNICEF/NYHQ2006-1364/Pirozzi [RELEASE OBTAINED] Health worker Portia Motha discusses ARV therapy with Chairmaini Samuels, 22, and her four-year-old sister, who is HIV-positive, during a counselling session at the Harriet Shehzi Paediatric AIDS Clinic in the city of Soweto. Both their parents died of AIDS and they live with their grandmother. This is the child's first check-up since she started treatment two weeks ago. "She already looks more active and she's trying to walk," Ms. Samuels said. "This makes me very happy." The UNICEF-assisted clinic is the largest paediatric ARV clinic in the country, with approximately 1,200 children on treatment and 1,900 in active follow-up.
Especially at a time of dwindling resources, scaling up access to treatment has been and will continue to be possible only if we can make those medicines affordable. Canada's Access to Medicines Regime (CAMR) was originally created in 2004 to help with this struggle: to get more affordable, generic versions of expensive, patented drugs -- for HIV and other public health problems -- to developing countries and into the hands of average citizens who couldn't otherwise pay the price of life.
At the time CAMR was created, Canada sought and received praise from all over the world. By making CAMR a reality, Canada was the first country to transform into law a 2003 World Trade Organization decision that allowed for easy licensing of life-saving generic medicines so they could be supplied to countries without capacity to manufacture their own generics. CAMR was going to help end suffering and save lives.
Alas, despite the intense efforts of civil society groups, CAMR hasn't delivered what it promised. The law created a long, complicated bureaucratic process that resulted in only one shipment of one drug heading overseas to a single country, Rwanda.
In the lead up to World AIDS Day 2012, Canada's Parliament has the chance to repair CAMR and finally get the job done. Members of Parliament must make the all-important decision to end partisan political squabbling and vote "yes" for Bill C-398, the bill that will fix CAMR once and for all. Millions of lives hang in the balance.
The charge to fix CAMR is being led by the Official Opposition, but Bill C-398 has multi-party support. So did its predecessor, Bill C-393, which was successfully passed by the House of Commons in 2011 but died in the Senate when the federal election was called. (Private members' bills are a slow business and this one ran out of time.)
Medication saves lives. It slows the spread of HIV, and it ends suffering and death for those living with the virus. But we cannot forget that the majority of the world's population still cannot access the medicines they need to save their lives.
And make no mistake: most of those who have HIV die of AIDS-related illness months or a few short years after infection, for want of medication. Children suffer disproportionately and don't live to see even their earliest birthdays. In some places, most of an entire generation of parents -- those who were meant to be raising these children -- have also died. This didn't need to happen. But it will continue to happen unless those with the power to stop it take action and the critical steps to get more affordable medicines to millions.
Despite all the nay-saying, we've seen that this can be done. In Stephanie Nolen's recent story "Magical Chemistry," she helps the reader visualize the difference medicine makes: before medicine, Zambian friends and colleagues who struggled with HIV had no muscle on their bones, suffered from visible skin disorders and respiratory illnesses, and faced almost certain death.
When the Zambian government began providing the right treatment to people in the mid-2000s, the situation reversed: physical ailments could heal completely, and survival was possible. Access to medicine means hope and life.
With World AIDS Day 2012 upon us, there is a renewed urgency to fix Canada's broken Access to Medicines Regime. Canada's parliamentarians have a concrete opportunity to make that possible if they pass Bill C-398 at its second reading at the end of November, so that it can move one step closer to becoming law. Canadians will be looking to their Members of Parliament, no matter their political stripes, to do the right thing and provide access to the "magical chemistry" that can save lives the world over.
The time is now. People are dying and there's no time to waste.