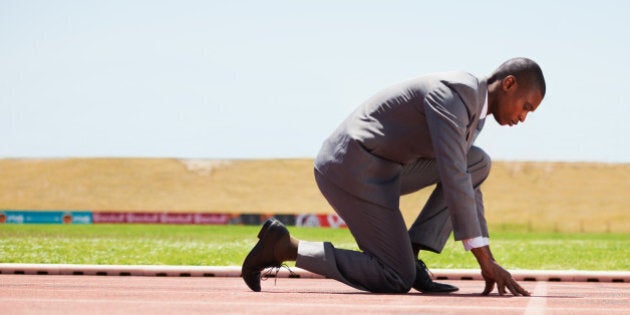 There's something so inspiring watching the world's greatest athletes push the limits of physicality. Regardless of the sport in which they're competing, the key to most competitors' success goes well beyond the physical: it starts with their mindset, too. They think and act in a certain way before ever stepping onto a track, diving into a pool, or running onto a field.
While you may never set a world record, compete on a global stage, or have a medal placed around your neck, there are certain things every business leader can learn from the athletic elite. Here are four things you can do to calibrate your mindset to think -- and perform -- like a winner.
To think like an athlete, consider what you want to achieve in your career and map out ways to reach that goal.
1. Adopt a long-term vision. No athlete leaps from the amateur ranks to the major circuit over night. Rather, each competitor envisions and hits milestones along the way to achieve his or her goals. Canadian tennis sensation Eugenie Bouchard started training at a very young age and now is amongst the world's elite competing in Rio. The same can be said for most great business leaders: even in the age of the unicorn, overnight success is more of a myth than the norm.
Take a company like Salesforce, for example. It was founded in 1999 with a goal to disrupt the traditional software business by moving everything to the cloud. From these humble beginnings with a handful of small business clients, it's grown into one of the largest tech companies in the world -- a process that certainly didn't happen overnight.
To think like an athlete, consider what you want to achieve in your career and map out ways to reach that goal. Is it connecting with the right coach or mentor? Is it building the right team of people around you? Where do you want to see yourself in the next five or ten years? Set smaller goals leading to that greater vision and you'll find yourself on the path to success.
2. Use the right tools. Every tool at your disposal can create an advantage. In fact, the Canadian rugby team's uniforms have borrowed from NASA spacesuit technology to help reduce body temperature when playing in Rio's hot and humid climate. In the same way, you shouldn't attempt to run a business without the proper tools and assume you'll achieve success. This includes investing in the right technology. Using outdated technology can waste time and lead to the mismanagement of customer needs; it can also be a deal-breaker for employees.
As a business leader, you should also think about ways to up your training.
Research shows that three-quarters of Millennials believe that access to technology makes them more effective at work and with 37 per cent claiming that mobile technology actually increases the amount of work they do outside of the office. Equipping yourself and your staff with the right technology will help you hit your goals faster and more efficiently.
3. Never stop training. Every athletic superstar has years of training behind him or her: hours spent conditioning, learning, listening to coaches, practicing, sometimes failing, and always working hard. Michael Phelps, one of the best athletes in the world, swims 80,000 meters and practices twice a day. He trains a total of five to six hours a day for six days a week. As a business leader, you should also think about ways to up your training. Consider honing your skills by taking classes, attending conferences or watching webinars. Read the blogs of leaders or companies that inspire you and learn from the successes -- and failures -- of others. Stay curious and engaged you'll be headed for gold.
4. Never give up. Committed athletes don't lose their first major race and then hang up their shoes. They keep going, keep trying, and keep competing. Jessie Owens had a host of factors working against him during the 1936 Olympic Games, but he ended up with four track and field gold menus when all was said and done. There are numerous examples of business leaders doing the same thing.
Consider that Steve Jobs was ousted from Apple before returning to transform the company. Instead of caving into this initial failure, Jobs kept moving and went on to build the multi-billion dollar company it is today. Like athletic phenoms, business leaders that succeed are those that never stop aiming higher and are willing to constantly improve, innovate and evolve.
Whether your company competes locally or on the world stage, adopting these mindsets will help you win gold in business.
Follow HuffPost Canada Blogs on Facebook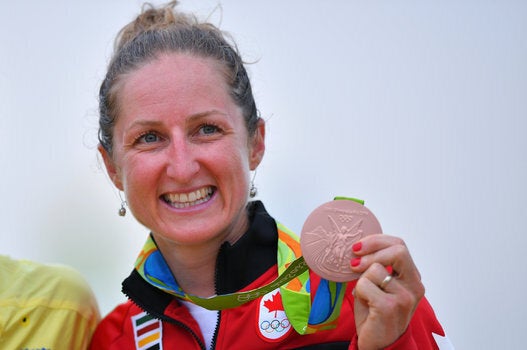 Canadian Medallists at the 2016 Rio Olympic Games