"I wonder?" said this tourist after a three week visit.
Yangon seemed like many other Asian cities. Busy, crowded, bustling. But it was different. I didn't know why then... but I do now.
This was Myanmar, or as J. Peterman said in an episode of Seinfeld - "It will always be Burma to me." As we learned, it is a country of thousands of temples and pagodas, men wearing the skirt-like longyi, and women's faces covered in the traditional thanakha, a mix of sandalwood resin and oil which serves as decoration and sunblock. Lots of cars, but just as many trishaws and, in the rural areas, a buffalo and cart will serve as a taxi.
It felt different. No Starbucks or McDonalds. The one newly opened KFC, right beside a Buddhist temple, seemed soooo out of place. The local food was fresh, flavourful and fun.
But mostly, it was the people. More later.
Myanmar is a country in transition. And be forewarned - I may recommend you pack your carry-on and visit before we help it 'develop'. But first, some background.
GUNS AND FREEDOM?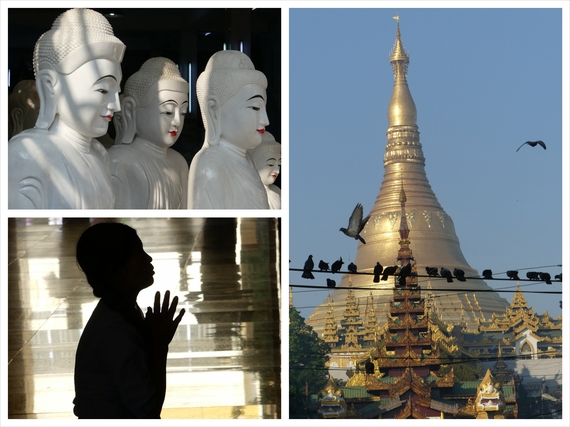 The third Anglo-Burmese War resulted in the annexation of Burma by the British in 1885. The Brits took opium, teak and jade and introduced afternoon tea and colonial buildings that still stand. The country didn't flourish, but was stable.
In 1942 a man named Aung San wanted the Brits out. He spied on the British and soon the Japanese had control of the country. But the independence Aung San thought Burma would gain didn't happen. He then offered the same help to the British, and by 1945 the Japanese were gone. Independence arrived on January 4th, 1948 with a 21 gun salute from the HMS Birmingham. The Union of Burma was now independent, but not united.
Aung San was now the father of independence, and of a little girl, Aung San Suu Kyi. He wanted democracy and independence for her and Burma, but in the first meeting of their fledgling parliament, gunmen broke in and killed Aung San and many of his comrades. The lights on Burma were turned off. For the next 65 years military governments ran the country with that proverbial iron fist, affirming Burma as one of the poorest countries in the world.
Burma, re-named 'Myanmar' by the military govt., was accused of the international community of egregious human rights. There was, and continues to be, anti-Christian and Muslim violence in the north, though we didn't see any of it. Ethnic groups continue to fight the military for independence. But every person we met wants peace and democracy, and think the answer to their hopes and dreams lives at 51 University Avenue, Yangon.
THE LADY.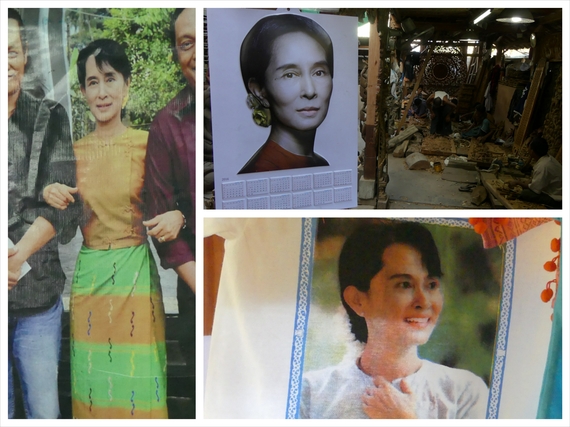 Aung San Suu Kyi was living in Britain in1988 with her academic husband and two boys when the call came to come home as her mother was near death. The leaders of the National League for Democracy (NLD) had one chance to convince her, the daughter of Aung San, that she was the one who could bring democracy to Myanmar. She decided to stay, guaranteeing she would seldom see her husband or sons for the next 20 years.
"It's hate that is the problem, not violence" said Suu Kyi. "Violence is simply a symptom of hate."
The military started throwing democracy supporters in jail, including Ma Thanegi, Suu Kyi's personal assistant, who I met at the Stand Hotel. She wrote in her book 'Nor Iron Bars a Cage' that "three years is nothing when compared to the time served by other women. It was not bad for me. I had no husband or children to fret over."
Suu Kyi, whose name means "A strange collection of bright victories", began two decades of house arrest. The military didn't want her free, building support for democracy. They called her 'that troublemaker' and 'that woman'. The people called her "The Lady".
Suu Kyi pushed on, winning the 1990 election, which the military threw out as 'undemocratic'. The NLD didn't register for the 2010 elections, but Suu Kyi continued to speak while under house arrest about education, democracy and human rights to the hundreds of citizens that would gather on the other side of her home's gate each morning... all under the noses of military guards.
"If you want democracy, you'll have to work for it" said Suu Kyi. And they worked.
On November 8, 2015, 25 million cast their votes. The NLD swept 390 of 491 seats in both houses of parliament. The military are guaranteed 25% of the seats. On February 1, 2016, parliament will open and the NLD will need a President. But it won't be Suu Kyi because of a change in the constitution by the previous military govt. A President can't have non-Burmese family members. Suu Kyi has two British sons.
Aung Sang Suu Kyi is now a bona fide rock star in Myanmar. Her picture hangs in homes, hotels, factories and restaurants. Everyone hopes 'The Lady' will bring democracy and peace.
THE FUTURE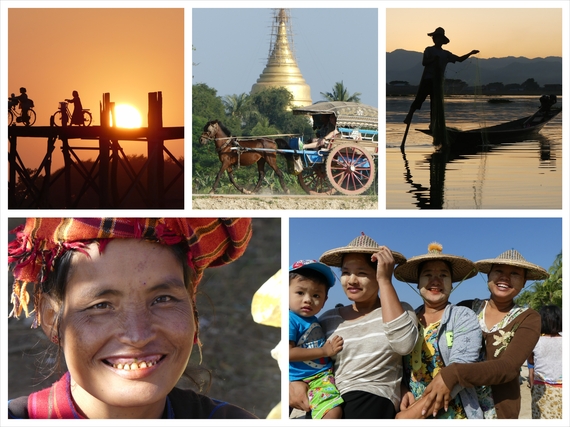 On our 40 km bike ride from Aung Ban to Inle Lake, we saw a country-side rich with colours of a variety of crops... each of them harvested twice a year. With a population of 51 million, Myanmar is rich in human and natural resources. There's a young labour force and an economy growing at 6.6% pa. The election isn't a panacea; institutions like education are weak on the ground. Ma Thanegi told me that even now with an elected govt. "We must not expect miracles". She said "The West can help with capital, but we really need educational training that is effective and suited to our needs."
The people were the warmest we've ever experienced in Asia. This is a Buddhist country, and although there is still ethnic conflict, we didn't see it. We only experienced a gentle, humourous, inquisitive, polite, respectful people. The Buddhist trait of compassion seemed to infuse all communication. We were always greeted with a warm smile.
"Burma is quite unlike any place you know" said Rudyard Kipling. But today it's a country going through an uncertain era. Will they get it right? I hope so. So, if you can, pack a small bag and we'll meet you at our favourite bamboo-walled restaurant on Ngapali beach.
All photography by Robb Lucy. His images of Myanmar can be found here.
Lucy is also the author of "Legacies aren't just for dead people."
Follow HuffPost Canada Blogs on Facebook
ALSO ON HUFFPOST: