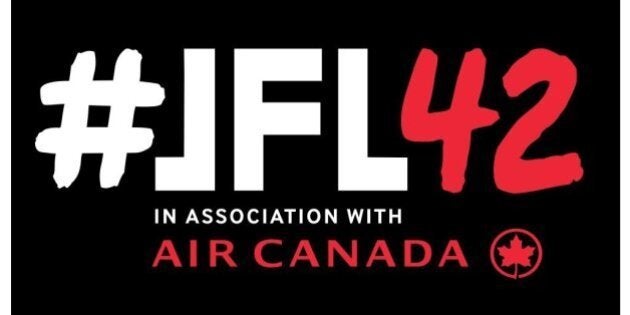 Last year I was walking around TIFF a week before the second year of JFL42 and...well...I wanted to throw up. WHAT THE HELL ARE WE THINKING? A comedy festival, with a weird pass and even a weirder name immediately following what can only be described as the centre of the entertainment universe! But then it happened. By the end of last year's JFL42 Festival, in just our second year, we managed to sell over 10,000 passes. Toronto comedy fans have secured this event as not only Toronto's biggest comedy festival, but as one of top five comedy festivals in all of North America!
This year, JFL42 is even bigger. Two weeks ago we passed last year's sales number. We are so proud and excited to present 10 days of the world's best comedy starting this Thursday. For those who have yet to experience it, I've put together the 12 things you should know about JFL42.
I know -- it's a bit confusing, but this is how we make it all work. If it wasn't for our pass system (which encourages people to see more than one show and discover new comedians) we couldn't possibly afford all the great acts that we bring to the city! Also, the pass system is what makes JFL42 in a class of its own. No festival in the world operates with a pass that guarantees seating, and that also grows the size of venues and amount of shows performers are doing based on passholder demand. AMAZINGLY, we reward passholders for seeing shows, by giving them the ability to pick other shows for free when they "check in" at any of our venues. Because of this system JFL42 passholders see on average five to six shows. Some see as many as 20 shows!
2) NEW - we've got tickets!
All headliners now have single tickets for sale if you are not interested or available to see other shows (or if my explanation of the passes just confused you to the point that you don't want to bother).
3) Lena Dunham is coming.
We love her. We loved her movie Tiny Furniture, and have been obsessed with GIRLS ever since we saw the first screening at SXSW. Since then, we've been dying to work with her and bring her to Toronto. Finally, she's agreed and Jian Ghomeshi is joining the night as a special guest. That's just the start of it -- Torontonians will also get an exclusive reading of excepts of her soon-to be released funny and touching book! This is a can't-miss night for any Lena Dunham fan!
4) Seth Meyers is an amazing stand-up comedian!
People don't realize, but in addition to being SNL's former Weekend Update anchor, as well as being an awesome host (of Late night, The Emmy's, and the ESPYS...) he's more than just a host. He's also exceptional stand-up comedian. YOU WILL BE BLOWN AWAY by his solo act.
5) Nick Offerman does it all!
We adore him on Parks and Recreation and his moustache is breathtaking -- but his music-filled solo show is what really sets him apart. Fans will get to experience his brand new one man show FULL BUSH. Clearly he's great at comedy, word working, manliness and great show titles.
Finally -- one of my favourite stand-ups and I've never seen her live. A personally selfish booking in that sense, but also one of the funniest, most relevant and progressive comedians working today.
7) Tim Minchin is the must see act of the festival
He was Just nominated for a Tony award for writing Matilda the Musical, he's also wildly regarded as the best musical comedian in the world. Add that to the fact that he's an international superstar -- maybe you should check him out?
8) Amy Schumer is probably sold out as you read this
Or will in the next couple days. Amy is one of comedy's hottest performers, and has an act that backs it up. I feel badly for all the people who will miss her show once it sells out.
9) Joe Rogan - No UFC, No Problem
UFC may not be coming to town anymore, but Joe is. Few people kill like Joe and many people don't realize that he was a stand up for more than a decade before any NewsRadio or Fear Factor fame. Great comedian who continues to define what it means to be a compelling personality that isn't afraid to question everything. Part of why he just keeps getting better...
10) Mike Birbiglia is the best storyteller comedian out there
In the middle of a hundred seater tour called "Thank God For Jokes." Honoured that he's making a stop in Toronto for JFL42. Thank God for Mike.
Went through breast cancer just two years ago and is already out touring and doing some of North America's best comedy. She's not just hilarious, she's an inspiration.
One the world's best comedians, and he just joined our lineup last week. He's closing the first night of the festival with a late show that everyone at JFL42 headquarters can't wait to see.