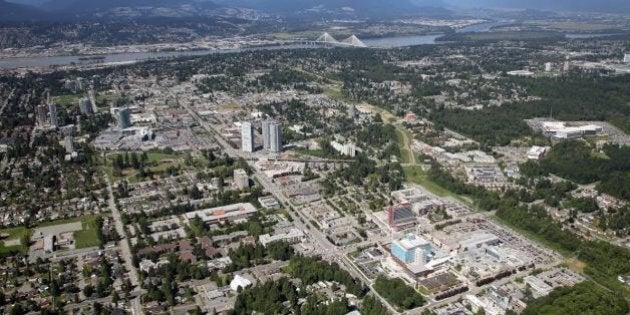 Mention Surrey and Canadians think crime. In 2013, murders in Surrey hit a record of 25 (in a population of a half million). Despite a 10 per cent decline in overall violent crime from 2012 to 2013, The Globe And Mail gave this headline to a story on the city: "Surrey's streets have felt unsafe for far too long." Maclean's magazine ranked Surrey the 8th most dangerous city in Canada based on 2012 data, 10 spots ahead of Vancouver, the metropolis of which Surrey is a suburb.
How can a city with this kind of reputation be an Intelligent Community? The idea of awards may suggest that ICF is searching the world for the smartest, richest, best-behaved cities that also look terrific in swimwear. But that would be a misunderstanding.
ICF's process aims to uncover cities and regions that are making clever, sophisticated use of information and communications technology -- broadband and IT -- to create prosperity, solve social problems, and enrich their cultures.
These are not "smart cities" in the usual sense: places that meter and monitor their water, electricity, and roads to make everything run cheaper, faster, and better. Intelligent Communities also do that. But where smart cities are about making the city work better, Intelligent Communities focus on making better cities -- not in some ideal sense, but starting from where they are today and tackling their problems head on.
Surrey fits that description. Home to some of the richest and poorest neighborhoods in the region, Surrey is building an innovation-based knowledge economy offering a much broader range of local opportunity.
There is no lack of potential in Surrey: it is Canada's third fastest-growing city, which welcomes 1,000 new residents each month. Much of that is driven by its proximity to Vancouver, one of Canada's most livable and beautiful cities, which explains why construction has been the city's most important industry for two decades. But Surrey's leaders are no longer content to have its economic destiny in the hands of its neighbour.
To gain greater control over its destiny, Surrey has developed a diversification strategy calling for deepening the partnership between business and its local university and technical college. Development is focused on an Innovation Boulevard project, where the city, universities, and business are building clusters in health technology, clean tech, and advanced manufacturing. Overseeing the project is the Mayor's Health Technology Working Group, comprised of 50 representatives from universities, a health authority, nonprofits, business associations, government, and developers. Ten new health technology firms have already moved in, attracted in part by the availability of five new advanced laboratory spaces. It is one component of a master plan to create several dense and walkable city centres supporting a mix of residential and commercial space linked by light rail.
A range of smart-city systems, from a central traffic management center to the MySurrey App, are improving livability and better engaging with citizens. And for those on the wrong side of the digital divide, the library system is training thousands of residents in digital skills as part of a comprehensive poverty reduction plan.
Surrey's goal is to boost local employment by nearly 50 per cent, which will keep more wealth in the community and better balance the tax burden between residents and business. All of these actions fit with the ICF's Community Indicators, which form the basis for our judging.
Canada has a compelling track record of success with 23 cities designated as Intelligent over the years, and three of those cities named Intelligent Community of the Year -- Calgary, Waterloo, and the 2014 title-holder, Toronto. Canada effectively uses its broadband infrastructure and a well-known ability to collaborate on important issues.
All cities have problems, which are the legacy of geography, history, and that indefinable but powerful thing called culture. What cities and regions do about their problems defines their intelligence. Surrey is taking a courageous and comprehensive approach to changing not only its legacy of crime but of income inequality and local opportunity. In this, it is a model of an emerging trend: the suburb that seeks economic vitality through its own efforts, not solely by feeding on the vitality of its core city.
In the age of the broadband economy, where business increasingly happens online, this opportunity is available to cities and regions rich and poor, large and small, in every corner of the world. Those who seize it have the right to call themselves intelligent, whatever names others are currently throwing their way.