Robert Neufeld typically shares stories of the world's children with the Canadian media from his desk here in Canada. But this month, Bob's writing from Serbia, where he's traveled to talk with refugee families who have fled violence in their countries for a chance at a better life.
"Please, can you give us some food? We are starving."
The man who addresses me speaks in the sad tones of someone who had seen too much grief in the past while to be ignored. He is one of several thousand Middle Eastern refugees waiting in a parking lot near the village of Adaševci, in northeast Serbia.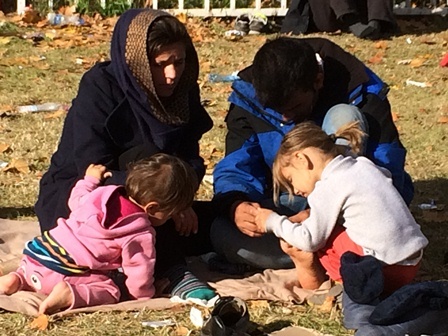 More than 40 buses, each carrying at least 70 refugees, wait at a service centre near Adavesci, Serbia for permission to board trains that will take the refugees to Croatia. PHOTO/World Vision
Gently but firmly, Katharina Witkowski, the operations manager for World Vision's response in the Western Balkans, tells the man to return to his bus for now. Food, water and other materials would be brought to him.
After he leaves, she sighs and tells me: "That's the hardest part."
An arduous journey
The man, his family and several thousand other Syrian, Iraqi and Afghani refugees were waiting patiently on buses at an auto service station. It was a stop on their journey to a train station in the Serbian border town of Sid. There, they would board a train with approximately 1,200 other refugees, all headed for Croatia.
In recent days, the Croatian government has agreed to allow four passenger trains per day from Sid to enter their country. Once there, the refugees are taken to a Winter Transit Centre deeper inside the country. Those who make into Croatia are one step closer to their dream of reaching safe haven in Germany, or one of the Scandinavian nations accepting refugees.
World Vision has been on the frontlines near the Serbian border since early in the summer, distributing baby kits, hygiene supplies, raincoats, blankets, food and water, and conducting child protection activities. Thus far, we've reached more than 70,000 refugees.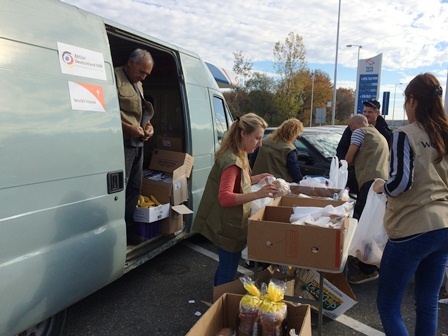 A World Vision team unloads supplies, preparing to distribute food, water and sanitary supplies to refugees at a service centre near Adavesci, Serbia. PHOTO/World Vision
Moving bus-to-bus
Katharina Witkowski leads the team of World Vision staff from bus-to-bus, distributing water, tins of canned food, bananas and sanitary supplies, such as toothpaste and napkins. She is polite but adamant when some refugees attempt to get more than one bag of supplies.
Inside the crowded buses, with every stomach hungry, tensions inevitably rise. A woman is injured in a scuffle for a bag of supplies and sits outside, weeping as she holds her bleeding nose. At the same time, there are also smiles of gratitude and words of thanks from people who must rely on the kindness of strangers as they journey to an uncertain future.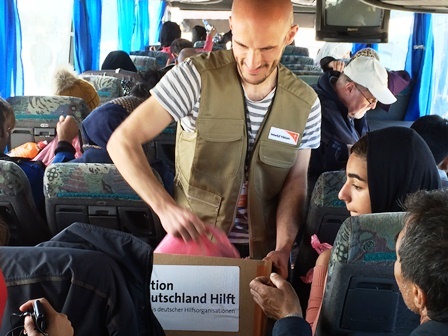 World Vision team member Vladimir Cvjeticanin distributes food and other supplies to refugees as they wait on buses to cross the border near Adaševci, Serbia. PHOTO/World Vision
Unexpected pleasure
There are also moments of unexpected pleasure, which remind me that whatever their circumstances, children still want to play. When some of the children get out of the buses to stretch their legs, my World Vision colleague Aida Sunje produces a bubble wand and some dish soap. A crowd of children quickly gathers.
Soon, the kids are blowing bubbles, chasing them and each other across the parking lot. It feels like they're laughing much as they had done when they played in their home countries.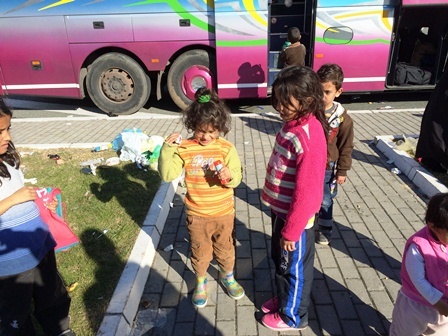 Refugee children flock to play with whatever is offered to them (in this case, some soap bubbles) as they wait at a service centre near Adavesci, Serbia. PHOTO/World VisionWatch a video of the children laughing with bubbles
We've stayed approximately one hour at this service centre, and in that time, several new buses carrying refugees have arrived. With 40 buses still on site, each holding at least 70 people, it's clear that many of these people will be waiting many hours before they know whether they'll be able to take the train to Croatia. I find myself hoping that the unseasonably warm weather that has blanketed Serbia for much of the past 10 days continues, until they begin the next stage of their journey.
The sign in the window
It's time to drive to the next stop on the journey, where I'll see some of the trains leaving for Croatia. But on the way out of the service centre parking lot, I see a curious but poignant sight. The lettering on the window of an abandoned gift shop reads "HOPING" -- an obvious attempt to spell the English word "SHOPPING."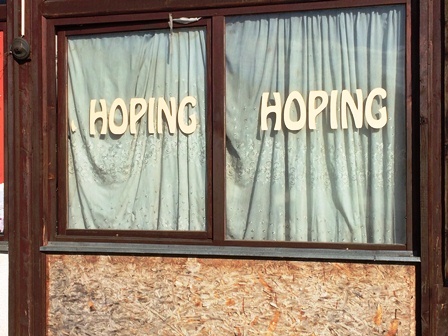 This is, perhaps, the best description of the attitude of the refugee families I've seen here near Adaševci. For me, it's a poignant reminder of what one of my World Vision colleagues shared with me recently, after meeting with Syrian refugees in Lebanon. These families had been forced to leave their homes and possessions behind to flee the conflict in their country.
One of the men shared something very simple: "Sometimes hope is all you have."
Learn how you can help Syrian refugees as winter approaches
ALSO ON HUFFPOST: