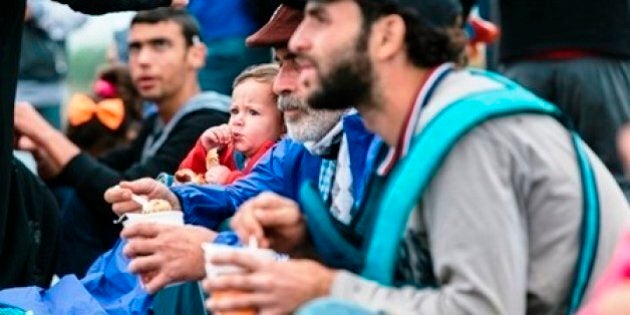 Okay, quickly now: grab a bag. Drop in bread, banana, raisins, tinned meat and a chocolate bar. Don't forget the wet wipes.
One emergency food kit down. Several thousand to go.
The place I'm standing looks like a typical highway service centre anywhere in Canada. There's a gas bar, a small store and large paved parking lot for trucks and trailers -- the kind where you might pull over with your family for lunch at a fast-food restaurant.
That's where the similarities end. The service centre I'm visiting is in Northwest Serbia, near the village of Adaševci. The families travelling this road today aren't heading off for a weekend with relatives. On the day I arrive with my World Vision colleagues, more than 40 buses, each carrying at least 70 people, fill the lot and line the highway for at least half a kilometer.
The buses are transporting Syrian, Iraqi and Afghan refugees through Serbia to the border with Croatia. From the Serbian town of Sid -- which is where these buses area headed -- about 4,800 refugees each day are allowed to board special trains that take them to winter transit camps and then, hopefully, on to safety in countries such as Germany, Sweden, or Norway.
Many have been without food, water, or clean clothes for several days now. The World Vision team has come to distribute bags of food and other supplies to the new arrivals. Not only are we the only humanitarian agency providing food today, we also have to pack all of our supplies -- hundreds and hundreds of bags -- out in the open, directly under the gaze of the refugees.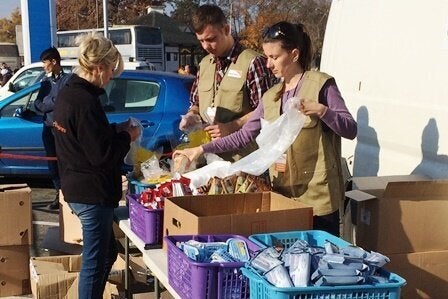 There is no question of being nervous, since we have a small group of Serbian policemen who stand by our van. They gently shoo the parents and children away if they get too close or try to slip under our improvised tape barriers. The children smile, move back behind the barriers and closely watch us work.
The chocolate seems to hold little interest for the children, but we can hear them talking in hushed and not-so-hushed voices about "bananas." Soon, they ask for one of the precious fruits. Each time, we have no choice but to say "no." The only way we can make sure that everyone receives the supplies is to encourage everyone to remain close to their buses until we bring them over.
But what seems reasonable to a grown-up can be tough to understand when you're eight years old and your stomach is rumbling.
We pick up the pace even faster. Need to feed those children. Bread, banana, raisins, meat -- did I forget those wet wipes?
While we can't give them food right now, the children happily take the discarded cartons the food came in. On a short break from packing, I watch a group of small girls take empty chocolate cartons and fill them with grass. They giggle, running their fingers through the grass they've pulled up. Meanwhile, the boys take cardboard of their own, roll it up and are soon merrily whacking each other with improvised tubes, shrieking with laughter each time they connect with each other's backsides.
A stroll through the parking lot shows that almost anything can be used as a toy. Groups of children kick empty water bottles, quickly starting impromptu soccer matches. The adults sit in groups and talk, passing the time as they wait to re-board their buses. A few try to get into the gas bar store to recharge their cellphones. Others cluster around an outside tap, filling their water bottles and dunking their heads. This is the only water available, apart from the bottles provided by World Vision.
Break's over. Time to pack again. Bread, water, raisins...
I'm in my Belgrade hotel room on Friday night when news arrives of the terrible tragedy in Paris. I follow my social media feeds, seeing comments blaming refugees for the city's agony. Others urge restraint, pointing out that refugees are fleeing the same terror that was visited upon the French capital.
My thoughts go back to the children in that parking lot in Adaševci -- playing, laughing and simply being children. I hope the food and supplies we gave to their parents helped them in at least a small way. And I pray that countries around the world, including Canada, will look past the tragic events in France and see the opportunity to give these children a future free from fear.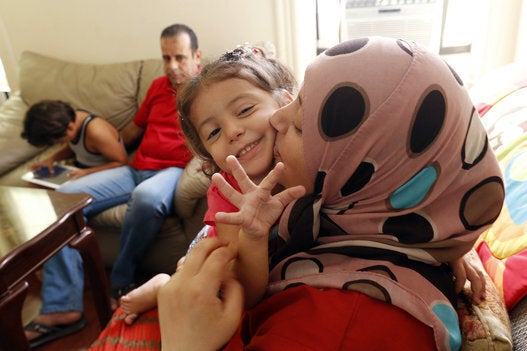 These Are The Terrifying Syrian Refugees Coming To The U.S.