Azraq Refugee Camp is seen as a model for all future refugee camps. It has schools, a hospital, playgrounds, soccer fields, community centres and even a supermarket. But for the few hundred families already settling in, and for the 100,000 Syrian refugees who will live here when the camp is completed, it's not, and will never be, home.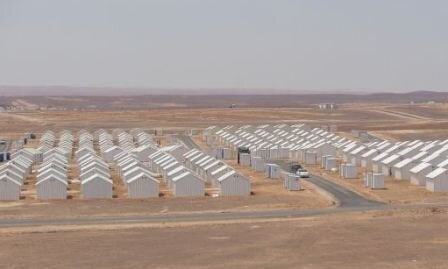 A brand new camp has just opened in Jordan, for refugees fleeing the war in Syria. World Vision Canada's Robert Neufeld has been stationed there for the past two weeks.
Azraq is located in the middle of the Jordanian desert, about 100 km east of the capital, Amman. Driving toward the camp for the first time, I got a sense of how it might appear to exhausted families arriving by UN buses across the desert of harsh brown scrub. It looked like little more than a white smudge on the landscape.
Moving closer, I saw hundreds upon hundreds of small, white shelters lined up in straight rows, waiting to provide protection from the hot sun and the elements for thousands of refugees who have fled the conflict in Syria.
The shelters are a step up from the tents used in other refugee camps. But they are still not home. There are no familiar bicycles propped up outside. No family photographs hanging on the walls inside. No favourite toys or hard-won school trophies waiting in the bedroom.
There is clean water at Azraq, the importance of which can't be overstated. To provide for the first 30,000 refugees, World Vision and its partners have laid 12.6 km of pipelines. We've installed 39 tap stands where residents can come to collect water for cooking and washing. Mothers who haven't been able to properly bathe their children for months will be able to do so here.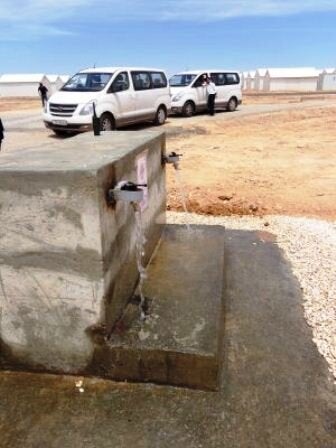 Clean water reduces the likelihood of waterborne illnesses, and allows families to wash regularly for the first time in months.
More than 2,000 latrines and washing spaces have also been built, meaning shorter waits with fewer people sharing. Privacy means a lot to the refugees, many of whom have undergone incredible hardships which forced them to leave Syria. They welcome any semblance of a normal life.
In Village 3, Block 15, Post 9 of Azraq, the first few hundred families to move in are showing signs of settling in. A few children play on the swings, while parents wash clothes, gather supplies, and talk amongst themselves about what the future may hold.
Yet they're wary when World Vision water and sanitation specialist Lubna Labieb approaches them, to explain about the water conservation processes in place in the camp. They are reluctant to be photographed, fearing that the publication of photographs may bring harm to relatives and friends and relatives remaining back home. Only the smallest children may be named.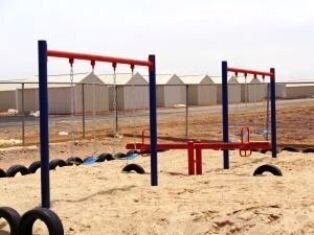 Azraq has playgrounds and soccer fields, but many children need time to settle in.
The children show little joy in their new surroundings. They cling close to their parents. There are no smiles. This isn't surprising given everything we've seen and heard in the days and weeks leading up to their arrival at Azraq. While all of the children we saw looked clean and in reasonable health, it's hard to know what kinds of pain they're holding inside, and what they relive in their nightmares.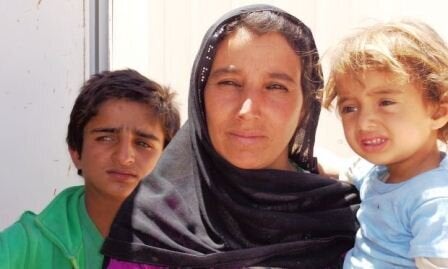 Two-year old Maram, with her family outside a shelter, is one of Azraq's first occupants.
Soon, thousands of other children just like them will fill this camp. They'll be playing on the soccer pitches and basketball courts, learning in the classrooms and helping their parents cope with the stresses of life far from their Syrian homes. But I keep wondering what kind of dreams a child can have in place like Azraq, with nothing around but desert, a few stunted bushes and the oppressive, relentless sun.
World Vision and other agencies are doing their best to make the camp as pleasant as possible. This is critical, given the situation in Syria and the prognosis for the years ahead. But make no mistake: despite the clean houses and improved facilities, most of the refugees we speak with say their first desire is to go home as soon as conditions permit.
A word that I have heard so often since arriving in Jordan last week is "Insha'Allah" -- the Arabic phrase that translates as "God willing." People throughout the Middle East use this phrase to describe their plans or ambitions for the future and how these are all subject to the will of god.
Glad as we are to be able to offer the refugees a model camp, my dearest hope is that the conflict in Syria will end soon, so these children and parents can go home. I yearn for the day that Azraq can close its gates as the last refugee leaves.