For a brief moment I was actually starting to feel sorry for Sean Spicer, President Donald Trump's White House Press Secretary.
Not only had he gotten off to the worst start as a press secretary in recorded history, but his most staunch defender, Trump White House Counselor Kellyanne Conway, quickly anointed him as a purveyor of "alternative facts".
To top it all off, comic actor Melissa McCarthy did a withering (and hilarious) impersonation of Spicer on Saturday Night Live.
As a former press secretary myself, I actually felt a momentary pang of sympathy.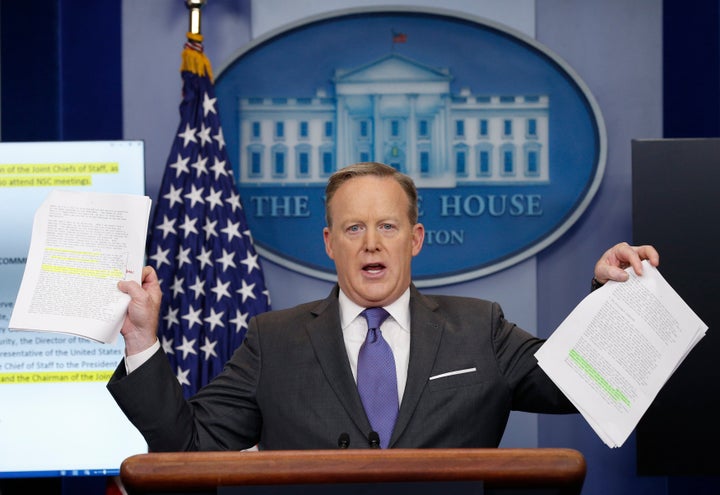 Spicer, at 45 years of age, is no neophyte. He has served as press secretary to four Republican Congressmen. He served in the U.S. Trade Representative's office during the Bush administration. He was the Communications Director for the Republican National Committee. He also once served as the Easter Bunny during the annual White House Easter Egg Roll (surely the most relevant qualification for his current role).
In short, he should know better. At a minimum, he should have known that he'd have about as much chance controlling his own destiny in a twitter-mad Trump White House as did those monkeys the Americans used to send into space to test the Mercury space capsules. Meaning none.
One of the very first people I contacted upon immigrating to Canada in 1986 was Patrick Gossage, former press secretary to Pierre Elliott Trudeau. We had actually met earlier, in 1984, when I was serving in the Reagan Administration and he was an attaché at the Canadian Embassy in Washington, D.C.
As former press secretaries we hit it off immediately. Gossage, with typical candor, told me that when he was initially hired by Trudeau, his boss had exclaimed, "But you're so green!"
I countered with my own story. A week or so after I was hired by U.S. Senator Edward W. Brooke of Massachusetts, a liberal Republican (there were such things back then), we were stuck in an airport, killing time. He suddenly turned to me.
"Bob, how old are you, anyway?" This seemed an odd question -- it wasn't my birthday -- but I answered. "I am twenty-eight, Senator." Brooke froze. Then he rose up in the crowded waiting area and bellowed, "Twenty-eight! Twenty-eight! If I had known you were twenty-eight... I never would have hired you."
"By all rational measures, Sean Spicer has taken on an impossible mission."
Both Gossage and I survived these initial moments of doubt, Patrick to become perhaps the most esteemed (and certainly the most quick-witted) Canadian press secretary in memory. I, on the other hand, survived my tenure with Senator Brooke and went on to be Senator Bob Dole's Press Secretary before entering Canada via the private sector and, ultimately, teaching public relations to Canadian graduate students.
Patrick Gossage wrote a very good book chronicling his experience as Trudeau's press secretary called "Close To the Charisma." It's subtitle is particularly relevant to today and Mr. Spicer: "My Years Between the Press and Pierre Elliott Trudeau."
Patrick's operative word is "between". Being a press secretary is a balancing act. It is also, when the role is properly constituted, a two-way communications channel.
You don't need to be friends with the media (although some, like Jack Kennedy's Pierre Salinger and Ronald Reagan's Jim Brady, did have journalists as friends); but you do need the media's trust and to establish at least a modicum of mutual respect.
The media understand that a press secretary is doing his or her best to represent the views and positions of their boss. In some ways they are similar to a lawyer -- an advocate acting on behalf of a client.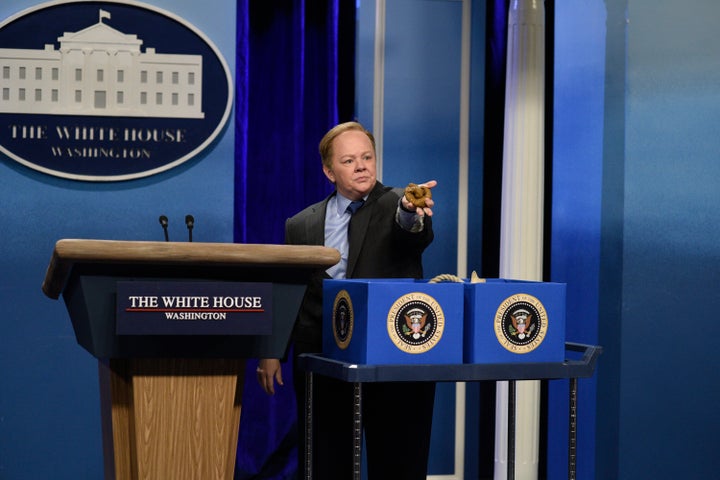 Veteran Washington reporter Cheryl Arvidson once said of me that, "He tells the best truth possible under the circumstances." I did not take offense, because I knew the corollary to that statement was that I did not tell untruths. Somehow, in the 2010's, the ability to tell untruths has become acceptable.
All press secretaries -- and all public relations practitioners -- to one degree or another have to subjugate at least a few of their own personal beliefs or opinions to those of their boss or the institution they serve. Indeed, a press secretary who has identical views on every issue or situation would not be of much use -- people in leadership positions need to hear differing views, including those emanating from contact with the media.
And if those views are irreconcilable, you quit -- as my friend and mentor, the late Jerry terHorst did when his boss, President Gerald Ford, pardoned Richard Nixon.
By all rational measures, Sean Spicer has taken on an impossible mission. He is, in the immortal words of a long-standing Japanese public relations colleague of mine, "Like a kamikaze pilot with a two ship quota."
Will Sean Spicer bail out? Will he quit before the tweets overwhelm him? Time will tell. But he operates in a completely different universe from Mr. terHorst - or from that once inhabited by Pat Gossage or me. PR thought leader Richard Edelman recently posted a very instructive post-election survey that showed that only 15 percent of Trump voters trust in media.
If Spicer's primary mission is to appeal to that base, he might argue he's doing one heck of a job and isn't going anywhere.
Expect to see a lot more of Melissa McCarthy on SNL.
(Robert Waite teaches graduate courses in public relations at Seneca College and is Managing Director of Waite + Co, a communications consulting firm)
Follow HuffPost Canada Blogs on Facebook