"Education is what got us into this mess -- and education is key to getting us out of it." So says Senator Murray Sinclair, Chief Commissioner of the Truth and Reconciliation Commission in its final report.
This year is the 150th anniversary of Confederation -- and a good time to prepare for the next 150 years.
Indigenous peoples are the fastest-growing demographic group in Canada. They have the potential to make a strong contribution to Canada's economic well-being. But if that is to happen, we must deal with the gap between the well-being of indigenous and non-indigenous people in Canada. That requires understanding the role education plays in closing that gap -- and the action required to make that happen.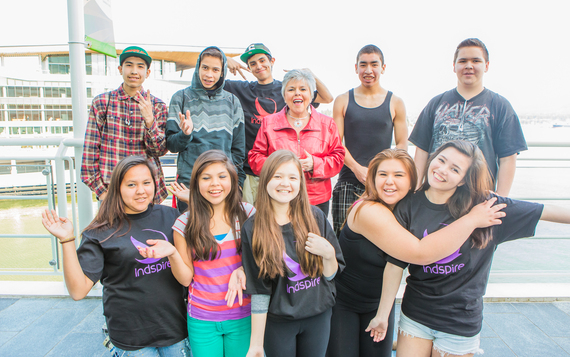 The statistics are horrendous and unacceptable. Less than 40 per cent of indigenous students who start grade one will graduate from high school. Compare that to the national rate of 87 per cent.
The gap in university graduation is even greater.
The economic advantages of "closing the gap" far outweigh the costs. As Matthew Calver of the Centre for the Study of Living Standards notes, "the benefits of education extend far beyond labour market performance ... education is also associated with better health, reduced crime, political engagement and better financial decisions."
The cumulative value of eliminating the educational gap would be $261-billion by 2031. Closing the gaps in educational attainment, plus the gaps in employment and employment income would have a total economic impact of $335-billion by 2031.
Within a single generation, the payback would be enormous. That excludes the savings that would be expected in health costs, incarceration costs, child-care costs -- and all the other social costs of poverty.
Canadians must become aware of the fact that no other people in Canada have been and are subjected to the national collective treatment which has been accorded to indigenous peoples. Letting the situation continue is an unconscious part of public culture, and it's been the unconscious backbone of bureaucratic decisions, passed automatically from one government to the next. It exists in the inability, failure or disinterest of well-intended decent people to create the political will to make change happen.
Reconciliation means change, change requires action, action requires resources on many fronts to repair the costly damage of the unfortunate past.
We must build awareness that education is more than just the ABCs -- it is the means of restoring cultural loss by strengthening identity, language, culture, and indigenous peoples' history. Our children require an education that recognizes and respects our values and our science, and is intended to contribute to the rebuilding of nations.
If governments and other sectors don't allocate funds to make change happen, other costs associated with poverty and unemployment will burden budgets for generations to come.
All Canadians should ensure the right thing is done now. To paraphrase the prime minister, it's 2017.
We have already lost generations. Reconciliation means change, change requires action, action requires resources on many fronts to repair the costly damage of the unfortunate past.
I believe favourable winds of change are now blowing across what our people call Turtle Island. I believe reconciliation can and will happen.
When our youth realize they have reason for a strong affirming sense of identity, when they believe they are persons of value, knowing they are part of a positive change being woven into the history of Canada, they will respond by realizing that they have talent, potential, intelligence, and something special to offer the world.
The task of investing in education must go beyond government funding.
When our youth are treated with respect by teachers who expect the same, when they have access to an education other Canadians take for granted, there is a magical transformation that happens, not just for individuals, but for entire communities.
Closing the gap -- which can be done -- would be the greatest chapter in Canada's history. Is there any better way to celebrate this 150th anniversary?
The federal government has made good first steps with their financial commitments, including this year's budget's strong contribution to Indspire and its matching grant. However the task of investing in education must go beyond government funding.
Action and support is also required from corporations, associations, individuals and private philanthropy -- each have a role to play.
Indspire was thrilled and grateful this month when The Slaight Family Foundation included us in its Indigenous Initiative. This gift will support 750 new bursaries for indigenous students to study the arts, culture, and language. It will also impact up to 30,000 indigenous students by increasing our ability to support educators and communities working to improve the high school graduation rate.
We hope others will be inspired to their own best efforts.
Follow HuffPost Canada Blogs on Facebook
Also on HuffPost: