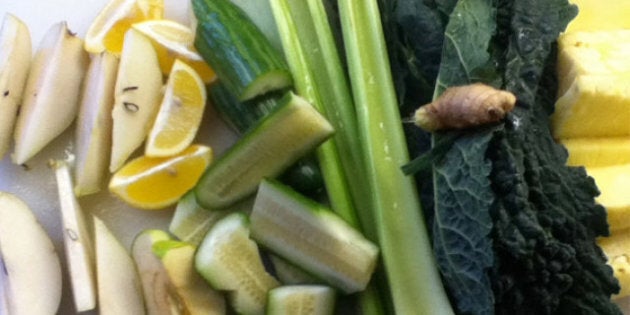 My grandmother taught me more with her actions than her words, although she was notorious for holding anyone with an ear hostage for obscene amounts of time. When a listener would attempt to get away, she would grab their wrist and ever so gingerly give it a tug toward her chest, effectively continuing the session at least another 10 minutes. She knew it and they knew it, but she wanted to share what she had learned in her many years on earth. I'm glad she taught me stuff.
She had the most beautiful glowing skin I had ever seen in real life -- this she attributed to a select few habits. Every morning she would hobble to the kitchen with her bad hip and turn on her juicer.
Watching this every day growing up, I can appreciate it now for what it was -- an appreciation for life and the duty of nourishing.
Those juices tasted horrible to me back then; they lacked the sugar that I liked in the juice I was accustomed to drinking. Then she would start juicing those carrots with that celery and those beets into a dark purple slop that looked more like a witch's brew than anything palatable enough to digest. She also loved the green ones that had spinach and apples and ginger. Those concoctions looked particularly horrific and I just imagined a hairy mole growing on her face with each sip.
That was then. Now I am a juicing freak, as I find it changes my body and mind. I am quite experimental with my combinations and not all of them are as spectacular as others. I pretty much refuse to read juice recipes, and my inspiration comes from what is freshest on the grocery shelves and what years of cooking have taught me are great flavour combinations. So kale with lemon, ginger and a touch of honey has made the rotation. So has golden beet, apple, carrot and celery. Another favourite is... wait for it... spinach and other stuff. Undeniably, I have an unusual amount of energy in the morning and feel particularly nimble.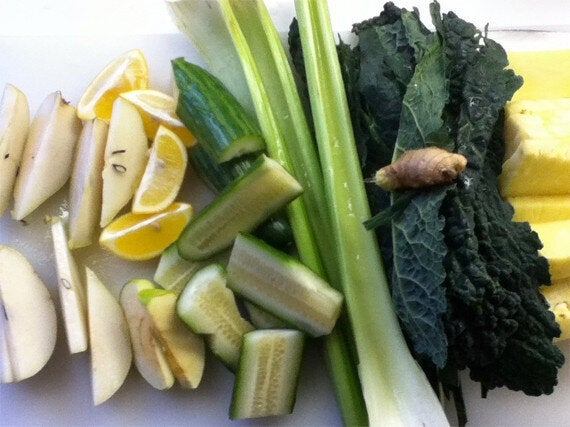 The first goal is most often flavour -- as a chef this is important to me. Then my curiosity takes hold and I start asking my nutrionist friends about the health benefits of some of what I am juicing. The same stuff keeps coming up. Although juicers remove the healthy fiber from the plant, some believe this helps the stomach absorbs the nutrients more easily.
I do a television show where I eat a lot of spicy food, so fiber is important to me -- I will spare you the gruesome details of this matter. So I have recently been blessed with a new blender, which has a super powerful motor and special blade that allow me to make a very smooth, vitamin-packed juice with all the benefits of retaining more of the fiber.
My nutritionist friends warn me of driving my blood sugar too high with too many fruit concoctions, so I have created a juicing rule: for every fruit that makes the juice I make sure to add two vegetables that are low in sugar content to balance it out, in addition to maintaining a balanced diet. It seems to be OK because my blood sugar is stable, but it always has been.
Along with a little bit of exercise, which I despise to my core, I feel incredibly healthy and light on my feet. You should see my skin.