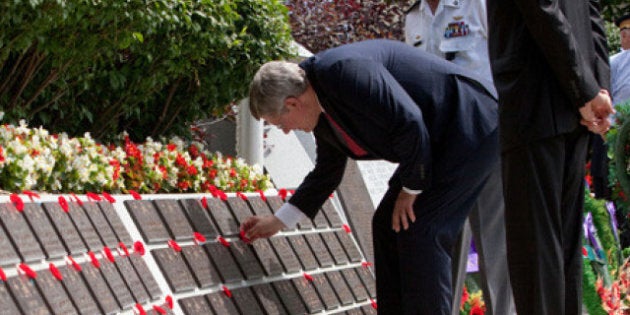 Remembrance Day is when millions of Canadians will gather at cenotaphs, community centres, Legion and Army, Navy and Air Force Veterans Halls to honour the living, remember the fallen and thank our currently serving Canadian Forces and RCMP personnel for their sacrifice. We also take time to remember why those who made the ultimate sacrifice gave their lives in the defence of others: so that those who follow after need not do the same.
Canadians take pride in our historic role on the world stage. Our history has been one of an honest broker of peace. But over the years, we have seen this change.
Ironically, in pursuing his "Canada-first" strategy, Stephen Harper instead has ensured that Canada's interests will not be at the forefront when important international decisions are being made.
Over and over, the Harper government has demonstrated how poorly they understand international law and diplomatic relations. Representatives from other countries have openly wondered what happened to Canada. Our leadership on global issues can no longer be relied upon. The proof of Canada's fall from relevance was our failure to win a seat on the UN Security Council, a clear rebuke to what was once an expectation of an automatic place at the table.
When anyone criticizes these policies, the current government hides behind our brave soldiers in the field, equating support for Stephen Harper with support for the troops. At the same time, the government proposes cuts to Veterans Affairs and breaches the medical privacy of veterans. This is a strange version of support.
I believe that when they get home, those who have served their country deserve the best service in return. I also believe that before we send them into danger, our troops deserve to know what is expected and why it is asked of them.
For years Canada's incoherent, ineffective and expensive efforts to respond to the latest crisis have prevented us from actively preventing the next one. We need a foreign policy designed by people who understand how the process works. We need to invert the way we look at global issues: turn it on its head. Instead of reacting to each new crisis, conflict and problem as though it were an isolated event, we must establish a way of approaching issues and an underlying philosophy that will provide a platform from which we can see our way to solutions clearly and consistently. We need the long view.
I believe we must treat people with respect, listen carefully to their points of view and then find common ground on which practical solutions can be built. This applies to foreign relations as much as it does to relationships with neighbours, friends and family. This is the approach toward solutions.
We must, at all times, rise above knee-jerk reactionary emotion and understand the longer-term objectives that we hold most dear. And we can only do that if we are clear about our values.
We cannot claim to stand for peace and so easily opt for war.
We cannot claim to prize humanity and allow so much suffering.
We cannot claim to value the truth and preach from ignorance.
We must understand our connection to others on this planet in a more direct and personal way. Their future is our future. Their failure is our failure.
We must build our foreign policy from this foundation, with clear objectives, perseverance and integrity. We cannot waver in indecision, nor can we strike off in a misconception of our own self-interest.
We owe it to those who fought for our freedoms and sacrificed so much. We owe it to those who still serve today. And we owe it to the generations to come, so that they will not need to make those sacrifices.
It is time for us to truly lead, learn from the mistakes of the past and work together to ensure they are not repeated. Lest we forget.