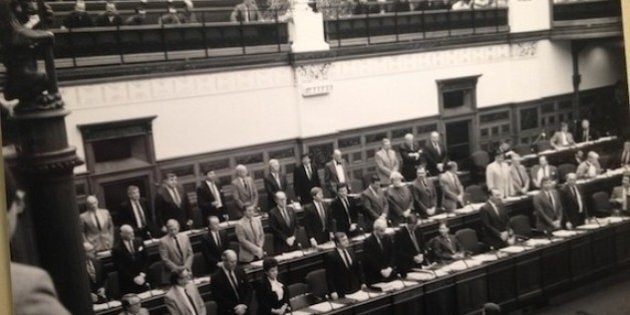 December 10 is celebrated internationally as Human Rights Day. It is therefore an ideal time to reflect on how Canada's LGBT were once so feared and loathed that -- until surprisingly recently -- discriminating against them was both common and legal. To get a sense of just how much hatred they suffered, consider the following examples of insults they once faced, which I've culled from hundreds quoted in historical records:
Abomination. Cockroach. Criminal. Disgusting. Detestable. Filthy. Horrible. Inferior. Inhuman. Invalid. Loathsome. Monster. Pathetic. Pollution. Repulsive. Revolting. Scourge. Social Cancer. Terrible. Twisted. Unacceptable. Undesirable. Vermin. Warped. Wicked. Worthless.
Given this level of antipathy, it's no wonder that basic rights were commonly denied on the basis of sexual orientation. While Canada decriminalized homosexual acts between men in 1969, this did little to dampen a climate of prejudice and was only the first step towards full civil rights and equality. At the beginning of the 1970s, it remained common for gays and lesbians to be barred from entry into the country or service in the military. They were denied employment and housing, excluded from senior government roles, refused custody of their children in cases of divorce, and openly harassed by the police. The simple act of gathering in a gay or lesbian bar for a drink was subject to arrest, sometimes at gunpoint. Same-sex marriages were not even fathomable.
To address this injustice, gay and lesbian groups across the country began mounting campaigns to amend the provincial and federal human rights codes. In 1972, activist Brian Wait, who led a federal rights challenge, had the following to say about the cause:
"With a [human rights] victory, thousands more will find it easier to come out and begin the task of educating their fellow workers, neighbours, families, and friends about the nature of homosexuality, without fear of losing a job or apartment, being harassed at school, or facing discrimination in innumerable other ways because we have no rights guaranteed by law." [1]
In the face of widespread political and public opposition, human rights challenges gained little traction in the early to mid 1970s. However, the decade did bear witness to a few victories. In 1973, Toronto became the first Canadian municipality to pass a resolution banning discrimination in city employment on the basis of sexual orientation. Ottawa and Windsor followed suit in 1976. [2]
In response to a widely condemned attack by police in 1977 on Truxx, a gay bar in Montreal, Quebec became the first province to extend its human rights laws to include sexuality. [3] Other provinces lacked Quebec's political will to address gay and lesbian demands for legal protection. Journalist Claire Hoy of the Toronto Sun, a then prominent voice of bigotry, had the following to say in his column in 1977 about what he termed "the limp wrist lobby:"
"Why they should have any rights at all by virtue of the fact they are homosexuals is something I will never be able to reconcile. I can't imagine why any self-respecting politician would be inclined to do anything which [sic] gives these creatures any form of respectability." [4]
It wasn't until 1986 that Ontario became the second province to follow Quebec's lead by amending its human rights laws by passing Bill 7. Last year, I sat down with the man who helped lead the lobbying strategy that led to this success: Dr. David Rayside, Professor Emeritus of Political Science, and gender and human rights activist. Explaining why he became involved he stated, "I just became pissed off. There was an oppressive environment out there and political issues to address."
Listening to David describe his involvement was absolutely fascinating. His following account is worthy of a movie script:
"My university office became a nerve centre. A huge amount of correspondence was generated on my typewriter. I was making calls to people but had no access to [key political figures]. It felt overwhelming. Not even a lowly backbench MPP [Member of Provincial Parliament] would agree to meet with me. I had to rely on a hidden network of gay aides and senior officials who would feed information about what was happening to those at the core of the [human rights] campaign.

It was then that I began doing interviews with TV, radio, and print media. I remember the first time I was on television to debate the issue. I was completely terrified. It was live to air. Nevertheless, I helped maul the Christian evangelicals on the opposite side of the table. It helped enormously that my university office was next to Queen's Park [Ontario's provincial legislature]. I would go back and forth between teaching class and the legislature. When the amendment was coming up for a vote, I threw on my jacket and tie and ran across campus to Queen's Park. I dashed into the public gallery in time to see the final vote. I then ran down the stairs in time to talk to journalists and celebrate our success."
The amendment passed despite an aggressive campaign by the Christian right. [5] One group opposed to the amendment, REAL Women of Canada, distributed literature stating that homosexuality involved acts that included "bestiality and other perversions." [6] These types of outlandish claims only helped the cause. As Dr. Rayside explained, "One of the most influential factors in our success was the absurdity of our enemies and we played on that. [T]heir claims about homosexuality were delightfully appalling."
By 1998 eight more provinces amended their human rights codes. In 1995, the Supreme Court ruled the Canadian Charter of Rights and Freedoms protected lesbians and gay men and in 1996, the federal government amended its Canadian Human Rights Act. However, it was not until 2005 that same-sex marriage was legal in all Canadian jurisdictions.
At an event celebrating the Canadian Human Rights Act amendment in 1996, Margaret Noseworthy, president of Parents and Friends of Lesbians and Gays said, "I don't think the majority of the heterosexual community understands the pain, the needless pain that [gays and lesbians] have suffered for so long. We caused that. We parents caused that. Our society caused that and it's got to stop!" [7]
While Canadian society took a huge leap forward in addressing intolerance and enhancing respect for diversity, there is still much work to be done, not just in Canada but elsewhere in the world. Legal protection against discrimination based on gender identity and expression only exists in a few provinces or territories in Canada. Gay and lesbian students are still being bullied in schools and are committing suicide at rates much higher than the general population. There are 78 countries in the world where homosexuals are arrested, and in some jurisdictions they are still executed.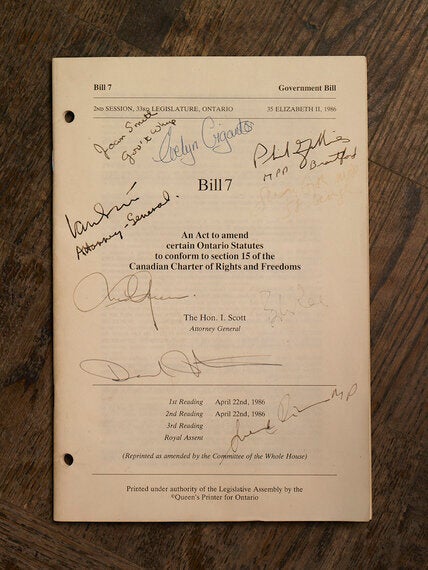 Photo Credit: Nigel Dickson
Close up of Bill 7 with signatures of politicians who voted in its favour and key activists who coordinated the lobbying strategy.
[1] Warner, Tom. Never Going Back: A History of Queer Activism in Canada. Toronto: University of Toronto Press, 2002. P. 71
[2] Lesbian and gay liberation in Canada: a selected annotated chronology, 1964-1975. Donald W. McLeod, p. 141; Lesbian and gay liberation in Canada: a selected annotated chronology, 1976-1981. Donald W. McLeod, p. 28
[4] Hoy, Claire. "The Limp Wrist Lobby", The Toronto Sun, Nov 2, 1977, p. 16
[5] Herman, Didi. Rights of Passage: Struggles for Lesbian and Gay Legal Equality. Toronto: University of Toronto Press, 1994. P. 34
[6] REAL Women of Canada, Pamphlet entitled "Laws protecting homosexuals or 'Sexual orientation legislation' How it will affect Canadians. 1986
[7] XTRA! May 23, 1996, "Gay Son wishes reformer dad would change his mind" Karen Patrick. P. 20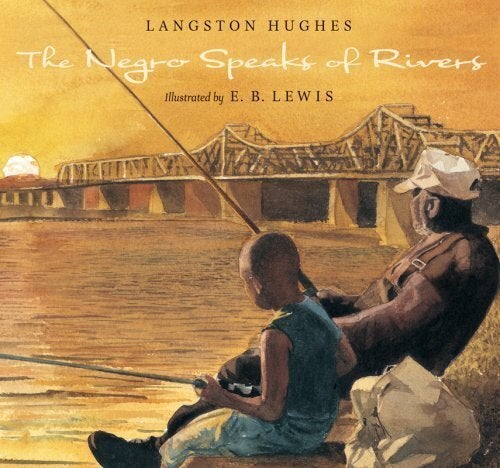 33 Great Moments In Cultural History That Wouldn't Have Happened Without LGBT People