"Forget 'bend it like Beckham,' it's bend it like Pirlo!" So exclaimed a friend with whom I was watching Italy's Confederations Cup match against Mexico on Sunday, after witnessing Andrea Pirlo's magnificent goal, scored on a free-kick from 30 metres. That it happened in Rio de Janeiro's fabled Maracanã stadium and that it happened during Pirlo's 100th appearance for gli Azzurri, Italy's national team, added magic to the moment.
Midfielder Pirlo has kept a lower profile than midfielder Becks (though he has been known to pose in underwear), but anyone who has paid attention to international soccer in the last decade knows of his peerless skills.They also know of his peerless apparent calm, making it seem as if he could just as easily play in a suit and tie, or pause mid-match for a glass of wine while everyone else is frantically running about the pitch.
The 34-year-old Juventus player has never been known for speed, not even when he was 24. Rather, he is known for vision, superb passing, creativity and, of course, free-kicks.
I first took notice in 2006, during Italy's World Cup-winning performance in Germany, which made me a bit of a latecomer to his career, but not as much of one as the many who began to appreciate Pirlo during last year's European Championship. His storied penalty against England was merely one moment in a stellar tournament for a man who a year before felt relegated to the "has-been" file by his old team in Italy's Serie A, AC Milan, an experience he has written about in his recently released book, feelings of hurt still evident.
In 2011, he moved to Juventus, a decision he has called rejuvenating. Since then, the team has won two consecutive Scudettos, or Italian league titles. Vindication is sweet.
It was only a few weeks after his move to Juventus that I was fortunate enough to see Pirlo -- as well as legends Gigi Buffon and Alessandro del Piero -- play. It was a friendly match between Juventus and Sporting Lisbon in Toronto, and in true Toronto fashion the crowd was utterly underwhelming: BMO Field was only half full, though the fact that it was approximately 5,000 degrees (celsius) outside may have caused many to stay near their central air-conditioning. I was invited to (conflict of interest alert) the cool comfort of the Telelatino suite and that is my excuse for how tiny Pirlo looks in this picture, which I took from quite a distance. These were his pre-beard days; I prefer him now, in all his bearded glory.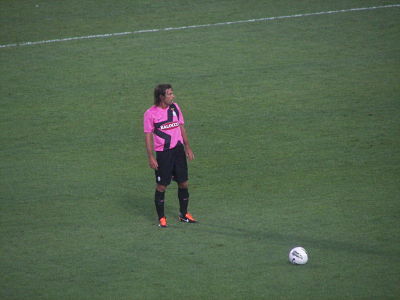 I had a conversation during the match with someone who asserted that Juventus' best acquisition that summer had been Alessandro Matri. No, I said, it was Pirlo. (In fairness, I think my interlocutor may have meant best-looking, though even there I prefer Pirlo, as I generally am not attracted to men who are so much prettier than I am.)
I believe my assessment was correct, though his career is winding down. "I want to win this, I want to win everything I can, I never thought stuff like this could mean so much," he said on Sunday. "But I realize I don't have that long left, so everything becomes important."
(In Confederations Cup today, Brazil meet Mexico and Italy play Japan.)