Avocados are a fruit not a vegetable. Also known as the Alligator Pear, they are delicious, buttery tasting and contain numerous health benefits. But why do people shy away from them? The answer lies in the fact that one avocado has 325 calories and 30 gm of fat!
That means that 84 per cent of the calories come from fat. But I promise that you won't get clogged arteries and have heart disease by eating these luscious fruits. The fat is not saturated, has no cholesterol and provides the good-for-you mono unsaturated fat which can also reduce your blood cholesterol. But this doesn't mean you should snack on them all day, since the calories will add up.
I use avocados to highlight my meals such as in a salad, salsa or an accompaniment to South Western dishes.
Let's look at the many health benefits of avocados:
• Low in carbohydrates - ¼ cup has only 3 gm of carbohydrates
• Lactose free - they can be added to smoothies, sauces and soups for a creamy flavour and texture to replace the dairy
• Contain about 40 per cent of your daily requirement of fiber and Vitamin K and about 30 per cent of your folate
• They contain antioxidants that have anti-inflammatory properties to help fight arthritis
• The pulp closest to the skin contains the most antioxidants so when cutting be sure not to cut any excess pulp away
How to pick and store avocados:
• A ready to eat avocado should be slightly soft and have no dark sunken spots.
• A firmer or unripe avocado can be left out at room temperature or put into a paper bag to soften. Never refrigerate an unripe avocado.
• To prevent an avocado from browning sprinkle some lemon juice over top if using within a couple of hours. If you need to slice earlier in the day, slice and place in a bowl of water with two tbsp. of lemon juice. Wipe the avocado slices with paper towel just before using.
How to cut an avocado:
• Cut the avocado in half lengthwise. Take both halves connected by the pit and twist in opposite directions until they separate. Remove the pit with a pointed knife then peel away the pulp with your hands. This way you get most of the nutritious pulp.
Avocado Recipes:
Sure you can use them as a garnish, in a salad or in a salsa, but try these extraordinary recipes, where you never thought you'd use avocados!
Thai Shrimp Cakes with Avocado Mango Salsa courtesy of avocados from Mexico

2 lb raw shrimp, peeled and deveined

1 egg

2/3 cup minced sweet red pepper

2 tbsp minced fresh ginger

2 green onions, minced

2 cloves garlic, minced

1 ½ tbsp. fish sauce (nam pla)

1 tsp sriracha or sambal oelek chili garlic sauce

1/3 cup vegetable oil (approx.)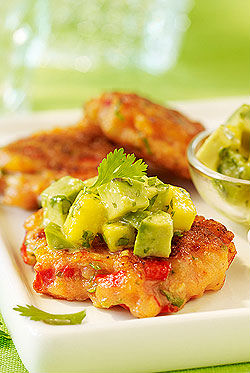 Thai shrimp cakes
Avocado Mango Salsa

Makes 36 pieces

2 firm ripe Mexican avocados, halved, pitted, peeled and diced

1 ½ cups finely diced fresh ripe mango

¼ cup chopped fresh cilantro

2 tbsp rice vinegar

4 tsp sesame oil

1 tsp soy sauce

1. In food processor, coarsely chop shrimp, pulsing 5 or 6 times. Add egg, red pepper, ginger, green onion, garlic, fish sauce and sriracha sauce; pulse 3 or 4 times, just to incorporate.

Avocado Mango Salsa:

1. In bowl, combine avocado, mango, cilantro, rice vinegar, sesame oil and soy sauce; set aside.

2. In large stick-resistant skillet, heat some of the vegetable oil over medium heat. Using two spoons, mound cakes, using 2 tablespoonfuls (30 mL) per piece into pan, using back of spoon to flatten each to ½-inch (1 cm) rounds. In batches, fry shrimp cakes, turning once, until firm and pink throughout, about 5 minutes. Transfer to paper towel-lined tray. Wipe out pan and repeat with more oil and shrimp cake mixture until all cakes are cooked.

3. Transfer to rack-lined tray and keep warm in 200°F (100°C) oven while cooking remaining cakes. Serve topped with Avocado Mango Salsa.

Tip: Shrimp cakes can be made up to one day before and reheated on baking tray in 350F (180C) oven until hot, about 8 minutes.

Source: www.missavacado.ca
Creamy Avocado Dressing over Baby Kale with Dried Cranberries and Toasted Almonds

Serves 8

10 cups baby kale leaves or baby spinach

1 cup sliced red onion

2/3 cup dried cranberries

2/3 cup sliced and toasted almonds

Avocado dressing

3 tbsp olive oil

2 tbsp mashed avocado

2 tbsp light mayonnaise

2 tsp balsamic vinegar

1 tsp honey

½ tsp minced garlic

1. Add kale, onions, cranberries and almonds to serving bowl.

2. In small food processor add ingredients for dressing and puree until smooth. Pour over salad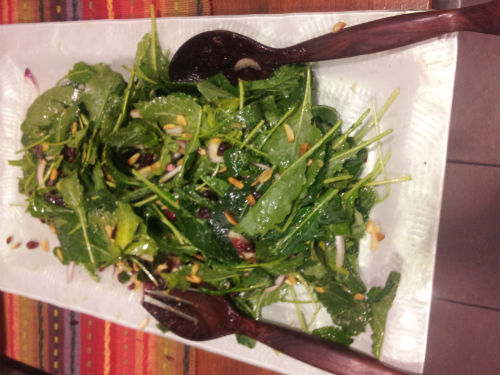 Avocado Dressing
Triple Chocolate Avocado Brownies

Makes 12 squares

1cup granulated sugar

1/3 cup mashed avocado

3 tbsp vegetable oil

1 egg

1 ½ tsp pure vanilla extract

½ cup unsweetened cocoa powder

½ cup all-purpose flour

1 ½ tsp baking powder

1/3 cup low-fat yogurt or sour cream

1/3 cup semi-sweet chocolate chips

Icing

2 tbsp mashed avocado

¼ cup light cream cheese

²/³ cup icing sugar

1 ½ tsp unsweetened cocoa powder

Preheat the oven to 350°F. Spray a 9 -inch square pan with cooking oil.

1. For the brownies, combine the sugar, avocado, oil, egg and vanilla in a bowl and mix well.

2. Add the cocoa, mixing it in well. Add the flour, baking powder, yogurt and chocolate chips, mixing just until combined and smooth. Don't overmix.

3. Pour the batter into the prepared pan. Bake in the center of the oven for 20 minutes, just until set. Do not overbake. Cool on a rack for 15 minutes before icing.

4. To make the icing, place avocado, cream cheese, icing sugar and 1 ½ tsp cocoa powder in a blender or food processor and process until smooth. Spread over the top of the brownies. Cut into 12 squares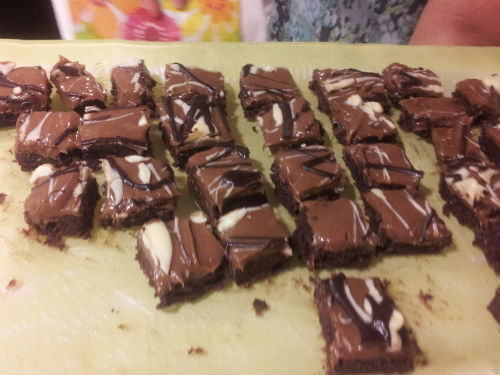 Chocolate avocado brownies