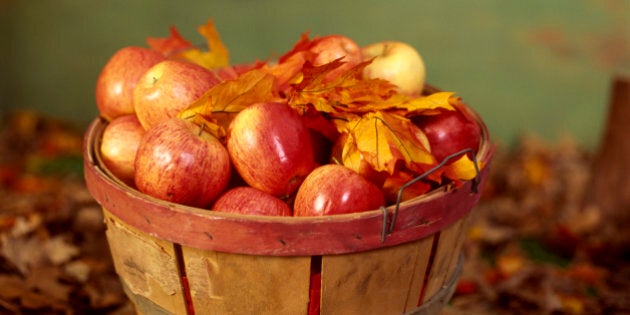 "An apple a day keeps the doctor away" has never been more true. Apples are known to reduce bad cholesterol, which reduces your risk of heart disease and stroke. They are also a great food for weight loss because they contain a lot of fibre, which fills you up.
While apples are available all year round, there's definitely a peak season for picking -- adults and kids alike love flocking to apple orchards in the fall.
In October, baking apples are in their prime. At about 80 calories for a medium apple, and as a good source of fibre and Vitamin C, apples make for an excellent choice for your desserts and main dishes. If you've picked up a bunch that you plan on using solely for baking, you can freeze apples; after you core and cut, the apple slices should be stored using 1/4 cup of sugar to every 4 cups of apples. Alternatively, dip the apples in a bowl of water mixed with lemon juice to prevent browning.
Use a firmer apple for baking. I like Granny Smith, Mutsu or Honeycrisp--all have a sweet tartness and hold their shape well when baked. I avoid Macintosh and Red or Golden Delicious which are too soft and break down when cooked.
Enjoy this delicious fruit in you desserts, loafs and even main dishes with some of my favourite apple-infused recipes below!
Cheesecake Layered with Caramelized Apples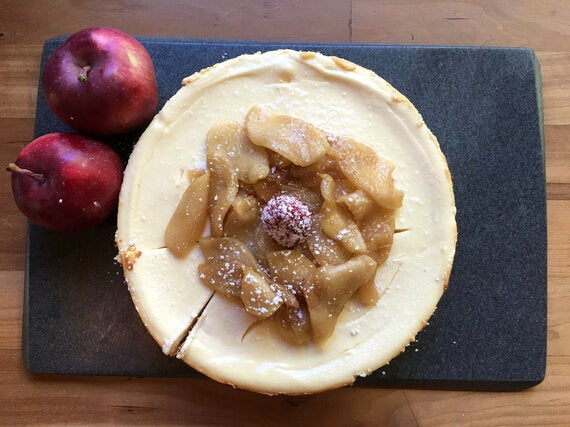 Caramelized apples make this lighter cheesecake the perfect fall dessert. Cozy up with a slice and a warm mug of hot apple cider! Substitute any other firm apple of your choice. Light cream cheese has 25% less fat than regular.
3 Granny Smith apples
1/4 cup sugar
½ tsp cinnamon
1 1/2 cup graham cracker crumbs
¼ cup rolled oats
2 Tbsp oil
2 Tbsp water
2 Tbsp sugar
3 packages light cream cheese
1 ¼ cup sugar
1 tsp vanilla
3 eggs
1 Tbsp lemon juice
1 Tbsp flour
½ cup light sour cream
Garnish
Icing sugar
1. Peel, core and slice applies into 1/8" thickness. Add to a large skillet and sauté on medium heat, just until apples are fork tender, approximately 8-10 minutes. Set aside.
2. Preheat oven to 350F. Spray a 9" springform pan with vegetable oil.
3. Crust: In a small bowl, combine graham cracker crumbs, rolled oats, oil, water and sugar until crumbly. Add extra if necessary. Pat into bottom of springform pan.
4. Spread half of the sautéed apples on top of the crust. Cover remaining sautéed apples and refrigerate.
5. In bowl of large food processor, mix cream cheese, sugar, vanilla, eggs, lemon juice, flour and sour cream until smooth.
6. Pour over top of apples in pan. Bake for approximately 40-50 minutes, or until centre of cheese cake is just slightly loose.
7. Refrigerate until chilled, approximately 3-4 hours. Garnish with remaining sautéed apples and sprinkle with icing sugar.
Nutritional Information per Serving
Apple Crisp with Raisins and Toasted Almonds
Apple crisps are a staple when it comes to fall desserts. Serve up with a scoop of vanilla frozen yogurt - heaven! The calories and fat are reduced in the topping due to the addition of a smaller amount of unsaturated fat. Traditionally, close to double the butter would be used.
6 medium baking apples, peeled, cored and cut into 1/4-inch slices
1/2 cup granulated sugar
1 cup packed brown sugar, divided
1/2 cup raisins
2 Tbsp cornstarch
1 1/2 tsp ground cinnamon, divided
2 Tbsp fresh lemon juice
TOPPING
3/4 cup all-purpose flour
3/4 cup large-flake rolled oats
1/2 cup chopped toasted almonds
1/2 cup vegetable oil
2 Tbsp water
1. Preheat the oven to 375°F. Lightly spray a 9- × 13-inch baking pan with vegetable oil.
2. In a bowl, combine the apples, granulated sugar, 1/2 cup brown sugar, raisins, cornstarch, 1 tsp cinnamon and lemon juice and toss until the apples are well coated. Spread evenly over the bottom of the prepared pan.
3. In another bowl, stir together the flour, 2/3 cup brown sugar, oats, almonds, oil, water and the remaining cinnamon (the mixture should be crumbly). Sprinkle evenly over the apples.
4. Bake in the center of the preheated oven for 25 to 30 minutes, until the topping is crisp and golden and the apples are tender.
Nutritional Information per Serving
Sweet Potato and Carrot Casserole with Molasses and Pecans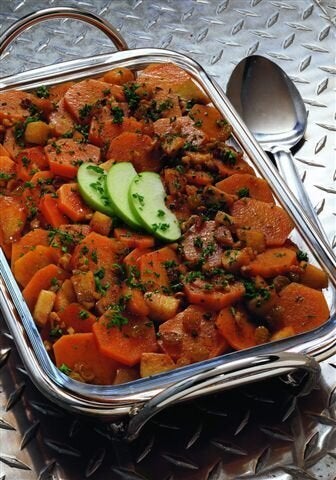 Apples aren't just for desserts! This recipe gives a nutritious boost to your side dish, with its mix of sweet potatoes, carrots and apples. Root vegetables are loaded with vitamins and antioxidants. Mixing sweet potatoes with the sweetness of molasses, cinnamon and brown sugar is a unique and tasty combo.
1 lb sweet potatoes, peeled and cut in ½-inch rounds
1 lb carrots, thinly sliced into rounds
1 ¼ cups diced baking apples
½ cup dried cranberries or raisins
¹/³ cup packed brown sugar
3 Tbsp orange juice concentrate
1 Tbsp vegetable oil
2 Tbsp molasses
1 ½ tsp ground cinnamon
3 Tbsp chopped toasted pecans
¼ cup chopped fresh parsley or cilantro
6 thin slices apple
1. Preheat the oven to 350˚F. Spray a 13- by 9-inch baking dish with cooking oil.
2. Place the sweet potatoes and carrots in a saucepan and cover with cold water. Bring
to a boil. Cook for 7 minutes at a boil, or until tender. Drain.
3. Toss the sweet potatoes and carrots with the apple and cranberries. Place in the prepared baking dish.
4. Combine the brown sugar, juice concentrate, oil, molasses and cinnamon in a small saucepan. Cook over medium heat, stirring frequently, for 1 minute or until melted and smooth.
5. Pour the sauce over the vegetables. Cover and bake for 15 minutes, or until heated
through. Remove from the oven and toss the vegetables. Sprinkle the pecans overtop.
Garnish with parsley and sliced apple.
Nutritional Information per Serving
Calories 233
Protein 2.2 g
Fat 4.9 g
Saturated Fat 0.6 g
Carbohydrates 45 g
Cholesterol 0 mg
Sodium 62 mg
Fiber 5.3 g
Carrot, Apple and Cinnamon Loaf
Adding apples to loaves and muffins is a great way to add texture and extra nutrition! I keep this recipe lower in fat and calories by using yogurt instead of full fat sour cream, which also keeps the loaf moist. I serve it as a breakfast item, but it's sweet enough to be served as dessert!
¼ cup vegetable oil
2 large eggs
1 cup granulated sugar
1 ½ tsp ground cinnamon
¼ tsp ground nutmeg
1 tsp pure vanilla extract
¹/³ cup low-fat plain yogurt
1 ¼ cups grated carrot
²/³ cup peeled, finely chopped baking apple
¹/³ cup raisins
²/³ cup all-purpose flour
½ cup whole wheat flour
1 ½ tsp baking powder
1 tsp baking soda
1 Tbsp brown sugar
1. Preheat the oven to 350°F. Lightly spray an 8½- by 4½-inch loaf pan with vegetable oil.
2. Mix the oil, eggs, granulated sugar, cinnamon, nutmeg, vanilla and yogurt in a large bowl or food processor until well combined. Stir in the carrot, apple and raisins.
3. Combine both flours with the baking powder and baking soda in a separate bowl, mixing well. Add to the egg mixture and stir just until combined. Pour the batter into the prepared loaf pan. Sprinkle with the brown sugar and bake in the center of the oven for 35 to 40 minutes, or until a tester inserted in the middle of the loaf comes out clean.
4. Cool in the pan for 15 minutes, then turn out onto a rack. Serve warm or at room temperature.
Nutritional Information per Serving
Follow HuffPost Canada Blogs on Facebook