Whether it's for the Jewish holiday of Hanukkah or for a fun idea when entertaining over the holidays, you have to try my idea of a potato rosti bar! Instead of the traditional potato pancakes made with white grated potatoes, deep fried and served with sour cream or apple sauce, I took this basic idea and transformed the potato dish by using a variety of root vegetables, baking the patties then serving with a "bar" of various toppings. Delicious, healthy and oh so creative!
You can use any variety of the grated vegetables to make the latkes. Try three different versions or mix any combination. You can also fry in a small amount of oil rather than baking if desired.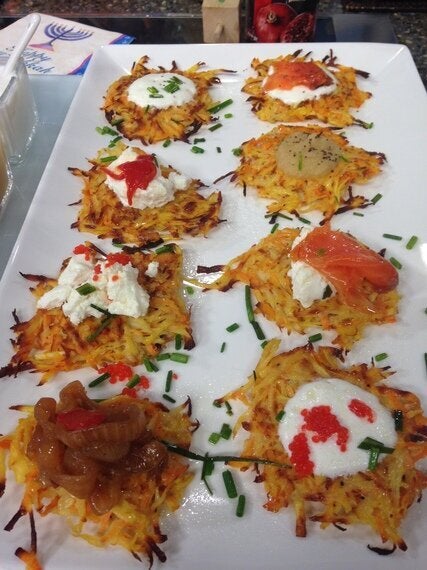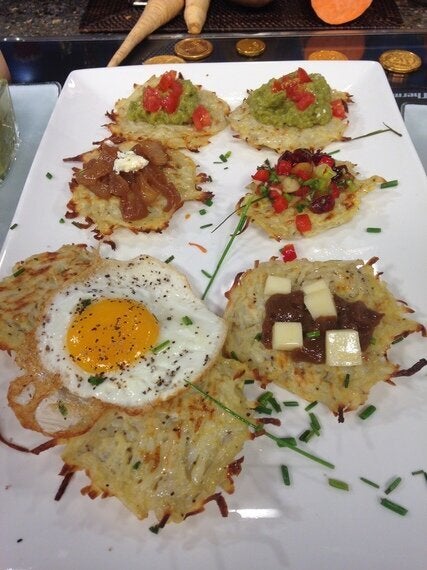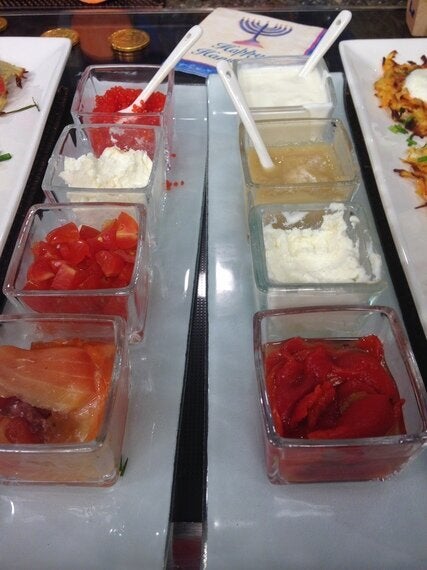 2 cups grated peeled sweet potatoes
2 cups grated peeled baking potato
1 cup grated peeled parsnips
Optional Topping Combinations:
• Sour cream / caviar (salmon roe) / chives
• Ricotta cheese / smoked salmon
• Roasted red peppers / goat cheese
• Poutine (gravy / cheese curds)
1. Preheat the oven to 400°F. Spray a large oven dish with vegetable oil. (Alternatively, you can sauté in a large skillet.)
2. Squeeze out the excess moisture from the grated vegetables and place in large bowl. Add eggs, onion, flour and salt and pepper and mix well. (You can always use any combination of grated root vegetables you like as long as you have a total of five cups.)
3. Pat into 12 latkes, flatten and place them in an oven dish or fry in oil. Spray the patties with vegetable oil. Bake for 20 minutes, turning halfway through the baking time, just until the vegetables are tender and browned,. Serve with any of the variety of toppings.
Preparation Time: 20 minutes
Make Ahead: Grate the vegetables early in the day but keep them covered with water and refrigerated. Drain well, then prepare.
Nutritional Information per Serving (Latkes)