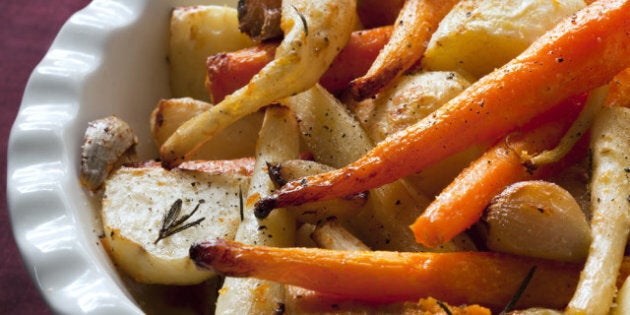 The wonderful Thanksgiving weekend is right before us. We associate this holiday with family, friends, relaxation and most importantly, delicious cuisine. Most holiday foods are high in calories, fat, sodium and sugar. An average Thanksgiving meal can have over 2,500 calories once you've had the turkey and gravy, stuffing, candied sweet potato side dish, butter-laden potatoes and naturally the pecan or pumpkin pie. With a weekend like this, I advise you not to get onto the scale the next morning. For sure you've exceeded your daily nutrients.
But eating well is not difficult or boring. You'll be surprised at how delicious my menu items are with the added bonus of being healthier for your heart and stomach! Portion control and some long fall walks will keep a smile on your face when getting on the scale the next day.
Here are some of the recipes I'll have on my table this Thanksgiving. Enjoy!
Recipes continue after the slideshow...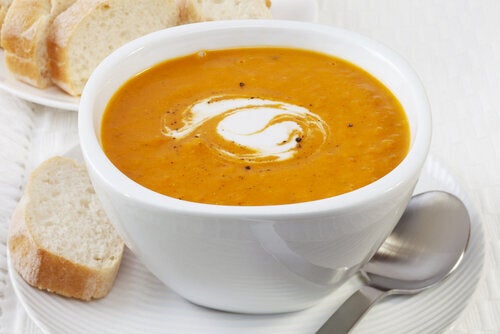 Six Great Thanksgiving Recipes
Spinach salad with candied pecans, pears and brie

This is the number-one salad in my catering company. The sweet and savory combination of cinnamon-sugared pecans, ripe pears and small morsels of brie is sensational. There is very little oil in this, but you won't miss it. Prepare salad and dressing early in the day and refrigerate. Toss together and garnish just before serving.

1/3 cup pecan halves

3 Tbsp icing sugar

¼ tsp cinnamon

1/8 tsp allspice

1/8 tsp nutmeg

8 cups baby spinach leaves

1 cup diced radicchio

1 large ripe pear, peeled, cored and diced

2 oz brie, diced

2 Tbsp orange juice concentrate, thawed

2 Tbsp olive oil

1 Tbsp balsamic vinegar

1 tsp minced garlic

½ tsp liquid honey

½ tsp Dijon mustard

Preheat the oven to 350°F. Spray a baking sheet with cooking oil.

1. Rinse the pecans with cold water. Drain, but do not let them dry. Combine the icing sugar, cinnamon, allspice and nutmeg in a small bowl. Dip the pecans in the sugar mixture, coating them well. Spread on the prepared baking sheet.

2. Bake for 15 minutes in the center of the oven. Remove and cool. When they're cool enough to handle, chop coarsely.

3. Combine the spinach, radicchio, pear and brie in a large serving bowl.

4. Whisk the juice concentrate, oil, vinegar, garlic, honey and mustard together in a small bowl. Pour the dressing over the salad and toss to coat. Garnish with the candied pecans.

Serves: 8

Nutritional Analysis per Serving

Calories 189, Protein 4.2 g, Fat 12 g, Saturated Fat 2.7 g, Carbohydrates 13 g, Cholesterol 9 mg, Sodium 105 mg, Fiber 2.6 g
Sweet potato mash

In these days of reduced intake of simple carbohydrates and avoiding foods with a higher glycemic index, we're enjoying a lot more sweet potatoes. A sweet potato mash goes well with any entrée. I like to enhance its natural sweetness by adding some maple syrup and brown sugar.

1½ lb sweet potatoes

1/4 cup low-fat sour cream

2 Tbsp pure maple syrup

1 Tbsp olive oil

1 Tbsp brown sugar, packed

1 tsp balsamic vinegar

½ tsp ground cinnamon

pinch salt

3 Tbsp chopped fresh parsley

1. Pierce the sweet potatoes several times with a fork. Microwave on high until tender, about eight minutes. Peel. (Alternatively, peel and dice the potatoes, and cook in a large pot of boiling water until tender, about 10 minutes.)

2. Mash the sweet potatoes. Stir in the sour cream, maple syrup, oil, sugar, vinegar, cinnamon and salt. Place in a serving bowl and garnish with parsley before serving.

Serves: 6

Nutritional Analysis per Serving

Calories 184, Protein 2.8 g, Fat 3.7 g, Saturated Fat 1.3 g, Carbohydrates 31 g, Cholesterol 4.4 mg, Sodium 75 mg, Fiber 3.6 g
Pumpkin soup

I love serving this comfort soup for the holidays. During the fall, you must try it with a fresh pumpkin.Other times of the year use the canned version. To make your own fresh pumpkin, preheat oven to 375 F. Pierce the whole pumpkin in numerous spots. Place on baking sheet and bake for one hour or just until tender. Let cool. Cut in half and remove seeds and stringy pulp. Scoop our pumpkin pulp and mash.

2 tsp vegetable oil

1-1/2 cups chopped onions

1-1/2 cups chopped carrots

1 tsp minced garlic

3-1/2 cups chicken or vegetable stock

1-1/2 cups cooked (fresh or canned) mashed pumpkin

1/2 tsp cinnamon

1/2 tsp ginger

1/8 tsp nutmeg

1 cup low-fat milk

2 tsp liquid honey

Garnish with chopped fresh parsley

1. In a nonstick saucepan sprayed with cooking spray, heat oil over medium-high heat; cook onions, carrots, and garlic for 10 minutes, stirring frequently, or until onions are softened and browned. Stir in stock, pumpkin, cinnamon, ginger, and nutmeg. Bring to a boil. Reduce heat to low, cover, and cook for 20 minutes or until carrot is tender.

2. In batches, purée soup in a blender or food processor. Return soup to saucepan. Stir in milk and honey. Gently reheat. Serve soup garnished with parsley.

Serves: 4

Nutritional Analysis Per Serving

174 calories, 5 g protein, 4 g fat, total, 1 g fat, saturated, 32 g carbohydrates, 871 mg sodium, 5 mg cholesterol, 4 g fibre
Wild rice and brown rice pilaf with dried fruit and pecans

This is probably the best rice dish I've ever developed. Both rice can be cooked together and blend well with the dried fruits. Serve either alongside your turkey or as a salad. There's so little oil needed due to all the flavors in the salad. I also use this to stuff a chicken or turkey.

3/4 cup wild rice

3/4 cup brown rice

4 cups vegetable or chicken stock

1/2 cup chopped toasted pecans

1/3 cup chopped green onions

1/3 cup dried cranberries

1/3 cup dried chopped apricots

1/3 cup chopped fresh coriander or parsley

Dressing:

1 tbsp olive oil

1 tbsp thawed orange juice concentrate

1 tbsp fresh lemon juice

2 tsp low sodium soy sauce

2 tsp raspberry or balsamic vinegar

1-1/2 tsp sesame oil

1 tsp minced garlic

1. In saucepan, combine the wild and brown rice and stock. Bring to a boil. Reduce heat to simmer, cover and cook for 35 to 40 minutes or just until rice is tender. Drain excess liquid. Place in large bowl. Cool.

2. Stir pecans, green onions, cranberries, apricots and coriander into cooled rice mixture.

3. In small bowl, whisk together olive oil, orange juice concentrate, lemon juice, soy sauce, vinegar, sesame oil and garlic. Pour over salad; toss to coat.

Serves: 8

Nutritional Analysis Per serving

Calories 258, Protein 6.4g, Carbohydrates 33g, Fat 9.5g, Saturated Fat 1.4g, Cholesterol 1.9mg, Sodium 107mg, Fiber 3.5g
Roast chicken or turkey with pine nuts and cranberry stuffing

This is a traditional bread stuffing with a twist -- the flavors of savoury olives and sweet dried cranberries with fresh parsley. I like to triple the recipe and use it for a turkey. You could use other dried fruit such as diced apricots, dates, or prunes. The cranberry sauce is unusual and delicious with the chicken and bread stuffing. Be sure to buy canned whole cranberry sauce not the jellied version. You can multiply this recipe by four if you are using a 15 lb turkey.

Preheat oven to 375 F

Bread Stuffing

2 tsp vegetable oil

1 cup chopped onions

1 cup chopped sweet red, green, or yellow pepper

4 cups Italian bread cut in 1" (2.5 cm) cubes

3/4 cup chopped fresh parsley

1/2 cup chopped green onions

1/3 cup sliced black olives

1/3 cup dried cranberries

¼ cup water

2 tbsp toasted pine nuts

2 tsp minced garlic

1 tsp dried rosemary leaves

1/4 tsp each: salt and freshly ground black pepper

3 lb roasting chicken

1/2 cup chicken stock

Cranberry sauce

1 cup canned whole cranberry sauce

3 tbsp low-sodium soy sauce

2 tbsp thawed orange-juice concentrate

1 tbsp sesame oil

1 tbsp fresh lemon juice

2 tsp brown sugar

1-1/2 tsp minced garlic

1 tsp minced fresh ginger

1. To make stuffing: in a nonstick saucepan, sprayed with vegetable spray, heat oil over medium-high heat; cook onions and peppers for 5 minutes or until softened. Remove from heat. Stir in bread, parsley, green onions, olives, dried cranberries, water, pine nuts, garlic, rosemary, salt and pepper. Transfer to food processor. Pulse on and off just until mixed. Transfer to bowl. If mixture seems dry, add a little more water. Cool.

2. Stuff bread mixture loosely into chicken; place remaining stuffing in a casserole dish. Place chicken on rack in a roasting pan. Spray chicken with vegetable spray and rub with garlic. Pour stock into pan. Bake in centre of oven for 60 - 70 minutes or until juices run clear when thickest part of thigh is skewered to approximately 165 F, basting with juices every 15 minutes. Add more stock if necessary. Cover casserole dish of extra stuffing and place in oven for last half hour of cook time.

3. Tent chicken with foil and let it rest while making the sauce. In a saucepan, combine cranberry sauce, soy sauce, orange-juice concentrate, sesame oil, lemon juice, sugar, garlic, and ginger. Bring to a boil, stirring. Reduce heat and simmer for 4 minutes.

4. Remove and discard chicken skin before serving. Discard any pan juices. Carve chicken and serve with stuffing and sauce.

Serves: 6

Approximate values per serving

430 calories; 29 g protein; 14 g fat, total; 2.7 g fat, saturated; 47 g carbohydrates; 696 mg sodium; 72 mg cholesterol; 3.9 g fibre.
Pecan cream cheese pie

This combination of cheesecake and pecans is too good for words. Pecans are a good source of protein and a healthy polyunsaturated fat, but nuts are high in calories and fat, so eat them in moderation. Be sure to process the cheesecake batter well to make as it as smooth as possible. Don't be concerned if the crust seems to stick to the pan when cutting -- just use a sharp knife.

Crust

1½ cups vanilla wafer crumbs

2 Tbsp granulated sugar

2 Tbsp water

1 Tbsp vegetable oil

Cheesecake Filling

3/4 cup smooth light ricotta cheese

1/3 cup granulated sugar

1/3 cup light cream cheese

¼ cup low-fat sour cream

1 large egg

1 Tbsp all-purpose flour

1 tsp pure vanilla extract

Pecan Filling

2/3 cup packed brown sugar

½ cup chopped pecans

2 eggs

½ cup corn syrup

1 Tbsp molasses

1. Preheat the oven to 375°F. Spray a nine-inch pie plate with cooking oil.

2. For the crust, mix the crumbs, sugar, water and oil together until the mixture holds together. Press it onto the bottom and up the sides of the pie plate. Bake for 8 minutes.

3. For the cheesecake filling, purée the ricotta cheese, sugar, cream cheese, sour cream, egg, flour and vanilla in a food processor until the mixture is smooth. Pour it into the pie crust.

4. For the pecan filling, whisk the brown sugar, pecans, eggs, corn syrup and molasses together. Pour carefully over the cheesecake layer so the layers don't mix.

5. Bake in the center of the oven for 30 to 35 minutes, or until the filling is almost set. It may rise up around the edges or even through the middle of the pecan filling.

6. Cool on a rack. Serve chilled or at room temperature.

Serves: 12

Nutritional Analysis per Serving

Calories 290, Protein 5.1 g, Fat 10 g, Saturated Fat 2.9 g, Carbohydrates 46 g, Cholesterol 48 mg, Fiber 0.7 g