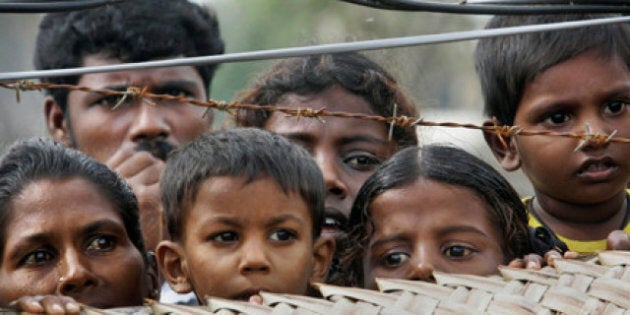 I recently came across a news story that should give all Canadians pause for thought as we recognize World Refugee Day on June 20. According to a recent United Nations report, by the end of 2011, there were approximately 42.5 million people on the planet living as refugees or displaced persons. Often these people are in makeshift shelters, "official" refugee camps or on the run - most are children. In fact, at this moment, the lives of parents and their young children hang in the balance amidst conflict and a severe food crisis in the Sahel region of West Africa which have combined to displace some 400,000 people.
The news story I'm referring to was about an ad campaign launched earlier this month in Ottawa by the United Nations High Commission for Refugees (UNHCR) to raise awareness about the difficult choices people must make when they find themselves having to flee their country because of conflict, or out of fear for their lives. In a timely way, the campaign launched amid wide-spread debate and news coverage about the Canadian government's new legislation, Bill C-31, the Protecting Canada's Immigration System Act, which looks to bring reform to our immigration and refugee system -- or crack down on "bogus" refugee claims as some might say.
We may hear or read about stateless or refugee people from time to time in the news as people coming off a boat or when a slaughter occurs in a camp, but for the most part their realities remain worlds apart from our own.
In fact, do we have any notion of the complicated decisions refugees must make when they flee? Of what it feels like to be forced to leave your own country, your home, your possessions, and your livelihood to take a chance that somewhere else is better? Safer? Welcoming? Or to weigh what you are giving up against a completely unknown and not necessarily promising future that could bring additional harm to you and your family? What it feels like for parents who have to remove their children from their schools not knowing when their children will be able to go to school or play again? Or what about the decision to leave behind older family members who are not mobile enough for a desperate exit to safer ground?
This is the reality that refugees are facing right now in West Africa where poor harvests, recurring drought, and rising fuel and food prices have spurred a growing food and hunger crisis across the region. This is a crisis with several interconnected layers. There are serious cases of malnutrition, ongoing food shortages, and hundreds of thousands of Malian refugees fleeing conflict in their home country to go to food insecure places like Niger or Burkina Faso, where there were already crop failures and hunger before the refugees arrived. Some may never be able to go home.
In West Africa, where Plan Canada and fellow members of the Humanitarian Coalition have joined forces to provide food and health services, refugee camps are filling up daily and the months ahead look very bleak. And yet, whenever I've had the opportunity to work in a refugee camp, I have always been struck by the optimistic outlook of refugees. The sense of hope and optimism people have that says, "Yes, we will be able to go home soon," or "Soon some country will welcome us."
Many Canadians began their lives here as refugees or descendents of them. My family came here fleeing the potato famine in Ireland in the 1800s. Others came fleeing the two world wars and violence in Europe. More recently, others have come from other countries suffering conflict in Africa and Asia. Diversity of backgrounds, experiences and cultures is the very make-up of our nation's DNA. Even so, we are sometimes conflicted in our attitudes or views about our role in welcoming influxes of new people onto our shores. Certainly, aboriginal people were.
That conflict we feel within ourselves is fair. It makes sense for us to assess or examine our refugee policy -- to ask ourselves is this working? Could we do better? But on this World Refugee Day, let's be careful and conscious in that assessment. Let's take the time to imagine if we were (or again) refugees seeking hope, safety and survival wherever it could be found, what response we would hope for from Canadians? On this World Refugee Day, I believe compassion and understanding -- which has also always been a part of our nation's DNA -- will prevail.