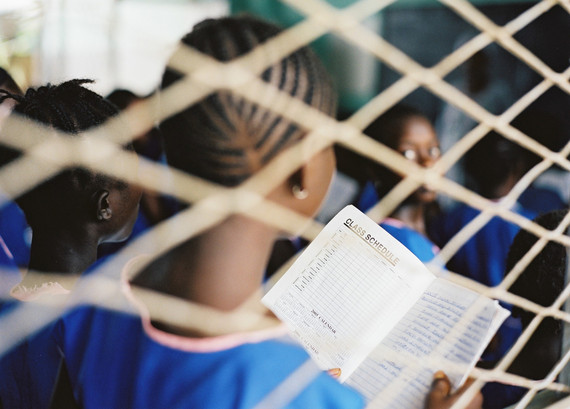 Photo: Plan International/Mark Read
The latest headlines about the kidnapping of some 300 Nigerian girls are part of an even larger and generally unreported story -- the widespread, worldwide tolerance of violence against women and girls.
Nigeria is welcoming resources and assistance from around the world, including Canada, to help bring the girls home. And while the kidnapping is clearly an act perpetrated by an extremist group, it is also much more than that.
The truth is that these Nigerian girls are exceptional in their community because they were in school. Their parents, no doubt at great sacrifice, sent their daughters to school to receive an education. Like Malala Yousafzai in Pakistan, they were targeted by extremists for doing something they have a human right to do.
What if they weren't exceptional? What if it was normal for all girls in Nigeria to be in school?
I have to wonder then if these girls would still have been singled out for attack.
Globally, one in five girls is denied an education. That translates into 65 million girls who are not in school because their parents can't afford it or believe it's too dangerous to send their girls to school in unsafe regions. In many cases, girls are prevented from going to school because of gender discrimination or because of wars or natural disasters in their communities.
So why does it take a mass kidnapping in Nigeria or an assassination attempt against a young Pakistani schoolgirl for the world to notice what is a daily out-of-the-limelight struggle for millions of girls to achieve a basic education? And why is there pervasive impunity for habitual violence against women and girls?
This is not a Nigerian, African or developing country issue. To varying degrees, girls and women everywhere contend against violence, injustice and attitudes that belong in the Stone Age.
And yes, it can happen here. A recent Plan study, A Girl's Right to Learn Without Fear, found that one in four Canadian females will be a sexual assault victim in their lifetimes. And one-half of these will be school girls under the age of 16. Earlier this month, a UN special rapporteur on indigenous rights called on Ottawa to launch a formal inquiry into some 1,200 aboriginal women reported murdered or missing over the past three decades.
In many places, and every day, girls forced out of the classroom face harsh and even life-threatening realities. For these girls a life of poverty is only the tip of the iceberg. They often also become domestic servants, victims of sex trafficking, or are forced into marriage while still very young. Indeed, one in three girls in the developing world is wed by the time she turns 18. They are then likely to have children at an early age, and these children of children are less likely to survive infancy. If they do live, they, especially the girls, are less likely to receive a proper education, perpetuating the cycle of poverty through generations.
On the other hand, we know what happens to girls who are able to pursue an education. We see the joy on their faces in the classroom and we share their pride upon graduation. We know this because we know these girls. We see their hopes, dreams, and potential when we step inside any classroom.
Even if they only remain in school until age 15, they can enhance their numeracy and literacy skills. They learn life skills that allow them to contribute to their community. In fact, educating girls, half the population, is one of the single best investments that governments can make to combat global poverty. It's not just the right thing to do -- it's the smart thing to do.
A few years ago, I was in northern Uganda, an area that had been ravaged by another extremist group known as the Lord's Resistance Army (LRA) who also attacked and kidnapped hundreds of girls.
A local worker told me a story that I still find hard to think about. He and his wife had five daughters ranging in age from four to 16. One Saturday morning, the couple went to the market, leaving the girls at home. When they returned, their girls were gone, taken by LRA "soldiers." A few hours later, the parents found their youngest abandoned on the road because she could not keep pace. To this day, the couple has not seen their other daughters.
The Ugandan girls taken years ago are no longer in the headlines and now likely forgotten, but their parents will never forget them. Will we forget the Nigerian girls if they are not freed soon?
The Nigerian girls kidnapping not only requires swift action for their return, but also compels all of us to take more seriously the battle against gender discrimination between these moments of gross atrocities. Attitudes toward girls' rights and toward violence against girls and women simply must change. We must stop paying attention only when there is a headline-making atrocity.
Recognizing multiple violations of girls' rights is just the beginning of what's required. It's time to take a stand for and with girls. It is within the power of girls, and within all of us, to take action and stop these injustices. Whether it's by raising awareness on the impunity of gender-based violence everywhere, or by joining a global movement such as Plan's Because I am a Girl initiative, or by urging governments to condemn and take action against abuses of international human rights law.
We are all responsible. Not just governments, but communities and individuals. We can't let a Malala, a Nigeria, northern Uganda or the countless daily acts of violence keep happening. Collectively, we must say, "No more, nowhere!"
MORE ON HUFFPOST:
Nigeria Unrest - Boko Haram Kidnap