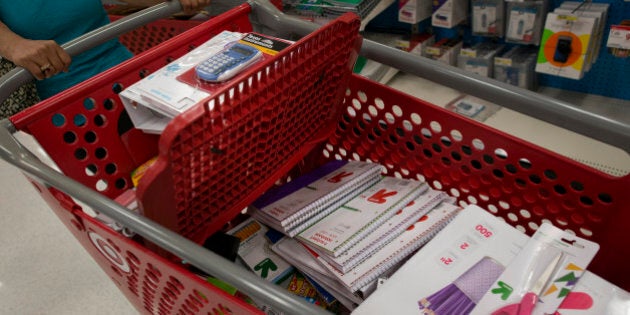 Where did the summer go? My little girl is off to Junior Kindergarten, and I've been trying to savour every second. The back-to-school shopping ads are a clear indication that fall is around the corner and it also signals the beginning of one of the busiest shopping seasons of the year.
Nearly half of Canadian parents (49 per cent) say they feel stressed when thinking about the cost of back-to-school, that's according to a new survey done for PC Financial®. That goes for me too as it's my first time experiencing the back-to-school season and I can already see the expenses rising.
But, there are ways to cut back on costs simply by knowing where to splurge and where to save.
SAVE: Shopping for new clothes doesn't have to cost you a fortune. There are several retail options available where you will find exceptional style at affordable prices, Joe Fresh® being one example. Additionally, shopping second hand at thrift stores is a smart way to save, because kids grow so fast clothing items may have only been warn a few times and you purchase them at a fraction of the price.
SPLURGE: Proper rain gear is important for the walk to school and recess. Consider the time of year, and find outdoor layers that balance durability with your child's preferences to help ensure they're worn when you're not supervising in the coat room. The last thing any parent wants is their child sitting in class cold and wet.
SAVE: Your child going back to school doesn't have to mean running to purchase a new desk or computer/laptop. Determine what makes sense for their level of learning when it comes to tech. It's important to have a dedicated place for learning in your home, but it can be as simple as your dining room table.
SPLURGE: A good lunchbox is a must. Keeping your kids lunch and snacks, cool, crisp or hot will likely determine if they will eat it. It's also a nice idea to include your kids in the lunch selection or preparation process, if they are excited about it, they will likely eat it.
I'm not getting bogged down with the lists that schools often provide of things we must buy. Unless you live in a super remote part of the country, buy as they need. It can help avoid spending money on unnecessary items. If you're really unsure, call the teacher and ask which items on the back-to-school supply list really are must-haves. Chances are, this will cut down the number of items on your shopping list quite a bit. Happy shopping and best of luck!
From July 26th to July 28th, 2016 an online survey was conducted among 1,007 randomly selected Canadian parents of children aged 12-21 who are Angus Reid Forum panelists. The margin of error--which measures sampling variability--is +/- 3.1%, 19 times out of 20. The results have been statistically weighted according to gender and region. Discrepancies in or between totals are due to rounding.
Follow HuffPost Canada Blogs on Facebook