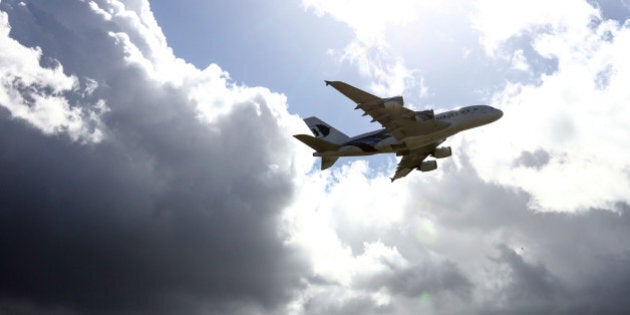 It defies logic. Every sensible instinct tells me it should be impossible. At almost 73 metres it's longer than an ice hockey rink, it's four times the height of my house (and I don't live in a bungalow) and it carries over 500 passengers (plus luggage).
Staring at it through the window of Vancouver International Airport, with the sun setting and the north shore's mountains in the distance, it looks simply enormous. Yet somehow this mass of fuselage and engine takes off and flies.
What's more, once inside, it seems to do so with an effortlessness that makes smaller planes look feeble and whiny. It is quiet, smooth, cruises along the runway then gradually, gently, decides to ease into the air. And for the following nine hours it floats, more like a ship than an airplane, across the sea of Canada's prairies and the frozen north, and the Atlantic Ocean, before descending southwards along the spine of the U.K.
This was my first experience of the British Airways A380 on its maiden voyage from Vancouver to London. There is always something more exciting about a maiden voyage than a well-worn path. I suspect it's to do with the unknown, the possibilities.
It's like being young rather than middle-aged (I know both). It's the chance for discovery rather than familiarity, the difference between Captain Cook's first journey to the South Pacific and me taking the commuter ferry downtown.
I have flown this route before, and in many ways the fundamentals are the same -- check in, board, fly, land, etc. Yet, the differences of scale and movement, of seating and entertainment, of being in something new, made this a fresh experience.
Sharing this with me were a group of entrepreneurs from Western Canada, all on their own commercial journey to business with the U.K. Some have been established for a while, others were simply gathering information, questioning whether the U.K. would fit their longer-term strategic plans. Some came from the tech sector, others from retail or food and drink. And before them all was a similarly uncertain path.
Before this journey they didn't know each other. Yet through the random fortune of personal chemistry -- or the fact Canadians tend to be friendly and welcoming, or that entrepreneurs tend to be open and optimistic -- they were soon sharing stories. We hadn't even boarded before it felt like I was part of a Team Canada Olympic road trip -- with a Team Canada who'd been working and playing together for years. The banter was easy, the mutual interest genuine.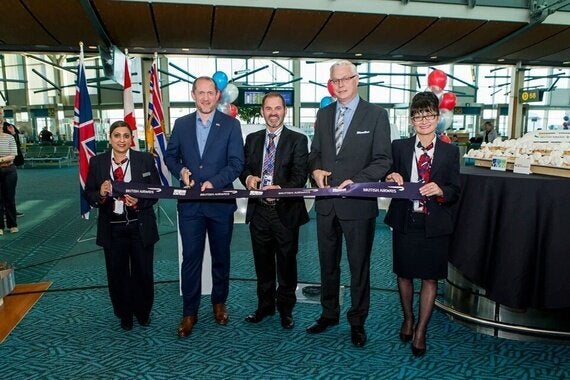 And none of us knew how the journey would pan out. Would we get into Number 10 Downing Street? (We did.) Would the UK Trade & Investment business specialists we had lined up to speak to them turn up and deliver? (They did.) Would it rain or shine relentlessly? (Shine mostly -- who'd have guessed in London?) And above all, would the entrepreneurs themselves find anything of use or interest in the information we provided? (That's their call, but they seem to have.)
Every day, the British Consulate General in Vancouver and all our Consulates General across Canada, support companies looking to establish in the U.K. Many of our relationships are of course familiar, founded on mutual interest and trust over the long-term. Without these relationships we could neither thrive nor enjoy our work as much as we do. The inverse of the "new" is a familiar warm reassurance, the knowledge and understanding of how things work, and a freedom to be totally yourself.
Yet there is something exciting about every time we first make contact with a new client, when we learn about what drives them, why they love their business and what they want to do and how we can help. So this journey to the U.K. was particularly exciting.
It brought together a new group of people with dreams and ambitions we had yet to fully discover, and helped them embark on a journey; a journey that began in a plane which itself had no business being able to take off, let alone fly so easily.
I am sure that's how entrepreneurs feel on the ground before they set off -- forcing themselves to believe it will all work out, even when they know there are no guarantees. I stand in awe of their courage, the same way I stood in awe and excitement looking through the window of Vancouver International Airport watching a BA A380 preparing to set off.
Follow HuffPost Canada Blogs on Facebook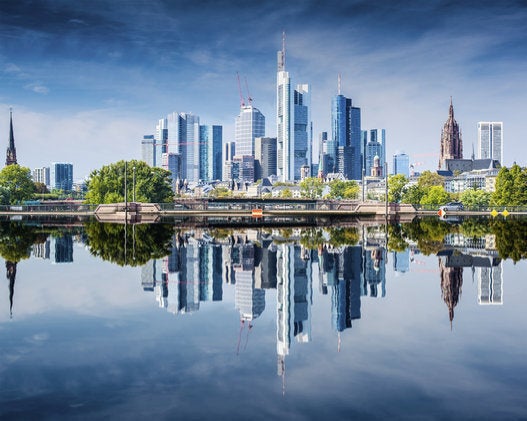 Best Countries To Do Business