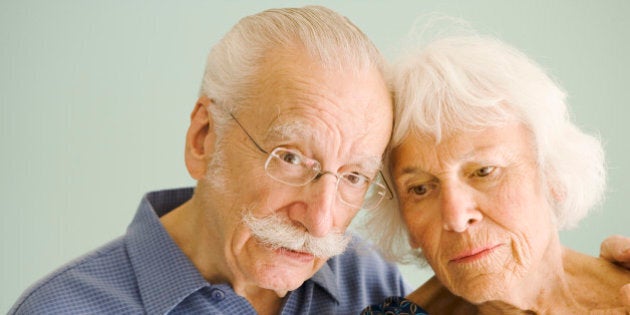 We all want to live long, healthy lives and watch our children, grandchildren and even great-grandchildren grow up. We're fortunate to live in an era where the average life expectancy is today over 80 years young.
Unfortunately, the flip-side of Canadians living longer and generally healthier is that many older seniors experience chronic illness, multiple health problems and poorer health outcomes -- a common yet under-recognized health state known as frailty.
It would be easy to dismiss frailty as simply getting older. The risk of becoming frail increases with age, but the two are not synonymous, and factors like poverty and social isolation play a part. Poorer health outcomes for older seniors are surprising considering rising health budgets. The reality is that frail elderly Canadians face a triple threat:
Health care systems typically manage disease on an organ-by-organ basis.
Medical treatment, clinical practices and care resources are poorly aligned.
There is a lack of evidence to guide health professionals on frailty therapies.
As Canada's frailty health network, Technology Evaluation in the Elderly Network (TVN) believes that improving the quality of care for older Canadians means recognizing frailty and integrating evidence-based models of treatment and care.
That's why I am proud to Chair the Board of TVN, Canada's exclusive network for the frail elderly. The TVN Network spans over 200 health partnerships with universities and teaching hospitals, industry partners, government agencies, charities and community organizations -- working together to support research, share knowledge and train the next generation of health care professionals and scientists to improve frail elderly care practices and outcomes across all settings of care.
Tools for assessing frailty already exist at every point of access to health care, and screening occurs in many countries as part of care planning in emergency departments or prior to elective procedures. This screening looks for vulnerability in a person's health, physical and social environment and embraces individual values and balancing treatment harms and benefits through mutual, informed decision making.
This enables care professionals to tailor interventions that delay the onset of poor health, prevent unnecessary or unwanted treatment and improve care at end of life. Importantly, it leads to outcomes desired by older adults: to remain functional and where they want to live for as long as possible.
The challenges posed by frailty require a shift in Canadian health policy and planning. We need to establish frailty screening across care settings, set new training and qualifications for caregivers and health care professionals, and adapt funding models. The exposure of older patients, caregivers and health professionals to evidence-based frailty screening that embraces rehabilitative and social supports will spur changes in healthcare practices that improve the quality of care received by our most vulnerable citizens.
And, as aging Canadians, we need to talk more with each other about our individual advance care plans.
This conversation may be difficult and awkward, but insisting on care planning tools like an advance directive is a firmer guarantee that our caregivers will follow the care path we most desire in later life.
Russell Williams is the President of Canada's Research-Based Pharmaceutical Companies (Rx&D), and Chair of the Board of TVN.