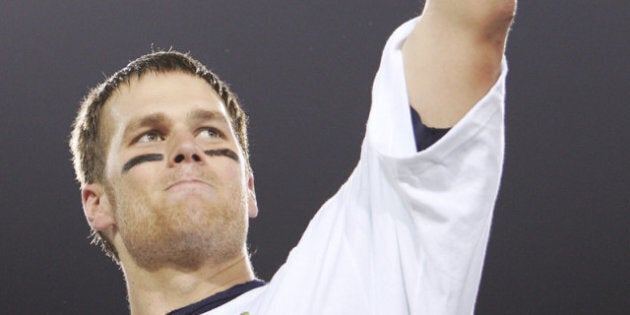 Super Bowl is, as its name implies, as super and relevant as ever. It also serves as a big reminder that the Grey Cup, also appropriately titled, really needs to touch up its roots.
It all comes down to a generation gap.
On one hand, you have the young, bold, brash 46-year-old Super Bowl. It has flashy commercials, red hot performers, and of course multi-million dollar athletes.
Its northern counterpart is a little more wrinkled and a lot more weathered.
The 99-year-old, soon to be 100-year-old, Grey Cup moves a little slower, is less ostentatious and features athletes that still need to hold second jobs in order to pay the bills.
Anyone attending the "youngster's" birthday party in Indianapolis this week will have been smacked in the face with an over-the-top extravaganza the moment they exit the plane.
Last year at this time, I got to experience this spectacle in Dallas, TX. I recall meeting former boxing champ Evander Holyfield, legendary football star Franco Harris (think the Immaculate Reception), and American Idol judge Randy Jackson. And that was just the first few hours in our hotel lobby.
In contrast, the last Grey Cup I attended I think I saw a guy who looked a hell of a lot like Martin Short.
The youthful Super Bowl is remembered for the racy and raunchy "wardrobe malfunction," where the world saw a woman's breast on live TV.
The Grey Cup's sexiest event happened in 1948, before the Super Bowl was even born. Fans rode horses into the lobby of Toronto's Royal York Hotel. At the very least they could have added a Lady Godiva.
Aside from the world of celebrity, the Super Bowl also uses its hipness to recreate the word "spectacle" every year.
The "NFL experience," as it is known, is a week-long exhibition of every amazing piece of football history that you can imagine. Not to mention nearly every one of your favourite players that aren't in the game are on hand to sign autographs.
There are concerts with big-name performers all throughout the week, complete with their own fireworks.
The more stuck-in-its-ways Grey Cup featured a parade, an appearance by Earl the Grey Cup mascot, and a fight between 73-year-old former BC Lions quarterback Joe Kapp and 74-year-old ex-Hamilton Ticats defensive lineman Angelo Mosca. Complete with walking sticks!
Now, before I get yelled at for railing against Canada's oldest annual cultural event, I have good news: The Grey Cup has taken a look in the mirror and is reaching for a box of "Just for Men."
It's time for a touch-up.
While I was busy quizzing Randy Jackson on why he calls people "dawg," there was one man on the streets of Dallas taking mental notes with ambitions of exporting this Super Bowl magic north of the border.
He isn't a million dollar quarterback or a politician looking to score points. His name is Chris Rudge and he has a dream to bottle up the electricity of America's biggest game and bring it to Toronto this November.
Rudge is the CEO of next fall's 100th Grey Cup Festival and he is no stranger to marquee events. He also served as the CEO of the Canadian Olympic Committee during the Vancouver Winter Games.
His motto, albeit cliche, is "Go big or go home," which be may just be the attitude we need.
Today's fans want flash, they want interaction, and most importantly they want to take part in a unique experience.
Rudge seems to understand that.
He envisions Grey Cup festivities with military pomp and circumstance, and the Department of National Defence is already on board.
One of the more sensational plans includes an "Adrenaline Zone" with zip lines running down Toronto's City Hall towers. For the cost of $20, willing fans can fly high above the city, with the proceeds going to charity.
So will Madonna be our halftime show as well?
"It won't be Madonna," he tells me. However some of the musical names being kicked around are "pretty impressive."
Of course Rudge does tip the hat to history by wanting to tell the story of the league and the story of the country. Or, as he calls it, "An invitation to our nation."
In all, his attitude is refreshing.
For too long we have sat passively north of the border and watched our American counterparts redefine the word "spectacle" time and time again.
At the end of every NFL season, Canadians sit with quiet envy as the jets fly over the stadium, the fireworks roar and the popstar of the day mangles the words to "The Star-Spangled Banner."
And although most will deny it if asked, we wish that spectacle could be ours.
Perhaps this year's Grey Cup will pop a few Viagra and join the 21st century.