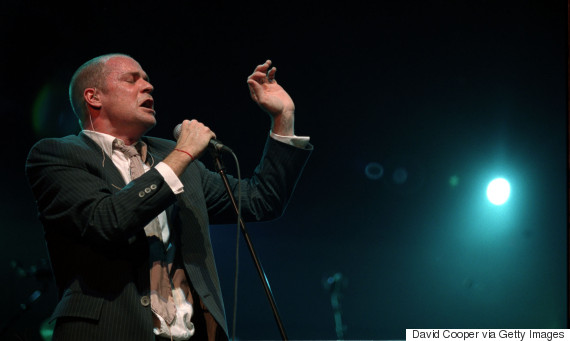 UPDATE: Gord Downie passed away at the age of 53 on Oct. 18, 2017.
I didn't want to think about a Canada without Gord Downie.
So when the texts and emails rolled in, I reverted to pragmatism. I thought instead about the band's last tour and how difficult it will be to snag tickets. I told co-workers that The Tragically Hip are magic in concert. You need to see them, I said.
But as I took my dog for his morning walk, those three words jumped back out at me. Terminal brain cancer.
I played a song. I started crying. I couldn't stop.
My bulldog looked up at me, head tilted. When it starts to fall apart, man, it really falls apart.
"This is so stupid," I told my wife a little later. "It's not like I know him. It's not like we're friends."
Gord Downie's voice -- his weird, wild poetry -- came smashing into my world the day my sister brought home her boyfriend, Ryan. I was the youngest in the family and the only lad, so I took a bit of a shining to six-foot-something teen who, I could tell, already loved my sister.
And he sure loved The Hip.
Legend has it that Ryan listened to the "Day for Night" album in his car so many times that a fed-up passenger chucked it out the window. Ryan retrieved it and kept right on playing.
One day, I decided to see for myself what the fuss was about. I borrowed his CD and locked myself in a room. I thought "Nautical Disaster" might be a fine place for a kid from Port Colborne to start.
I'm not sure I can adequately convey what happened next. Something just seemed to latch.
Summer suddenly had a soundtrack. The first snowy morning had a soundtrack. Campfires had a soundtrack, and so did our friendship.
It's not everyone's cup of tea, of course. The lyrics about nature and animals and hockey and history. The rambling stories, the bizarre stream-of-consciousness. The strange spasms and gyrations on stage, like something violent is being purged.
But for others, Downie and The Hip are held dear. That's why this gut-punch hurts so damn much.
Terminal brain cancer.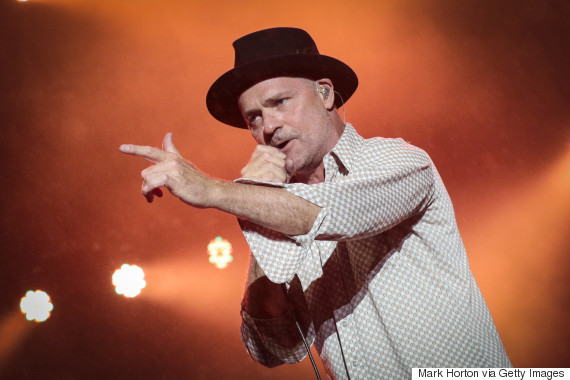 When I graduated high school, my sister bought me a Hip record to take with me to university. I couldn't have known at the time how important it would come to be.
Baby-faced, homesick, and often uncomfortable in my own skin, I'd frequently retreat to my room where I couldn't hear people ask how old I was.
I'd listen, instead, to Downie's voice.
He'd tell me It's A Good Life If You Don't Weaken.
He'd tell me about this cop who's in love with a girl from the country.
He'd tell me about Wheat Kings and pretty things.
Let's just see what tomorrow brings.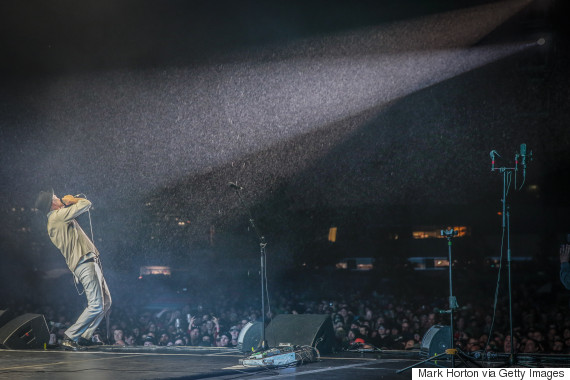 Time marched on and things changed. I toughened up. I started shaving, at least, bi-weekly. And Downie's voice remained a constant.
When I finally met a girl who'd let me be her stars Algonquin, I borrowed his words to toast of happy days of electrical smiles. And loving evenings, falling down on piles. Not imagining a restlessness that could keep us apart.
A few years ago, Ryan came up to visit me and, together, we went to see Downie in concert. It was a solo show where he urged us to be a bit more comfortable with the quiet.
In the end, Downie waded out into the crowd with his guitar. My brother-in-law -- my brother -- let me take his spot and inch a bit closer.
I didn't have time to say much, but I snapped a blurry photo.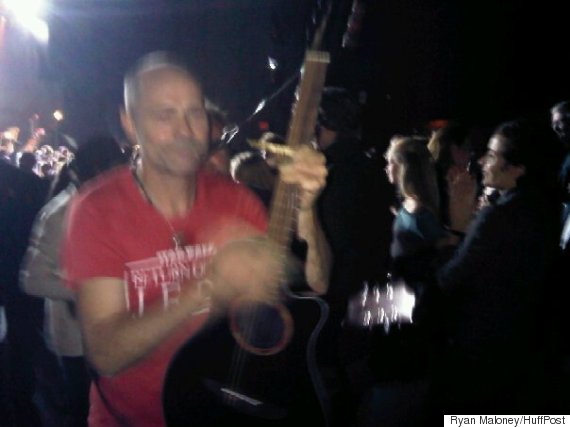 "Thanks for coming," Downie said to me, that night in Toronto.
Of course, my friend. It was the least we could do.