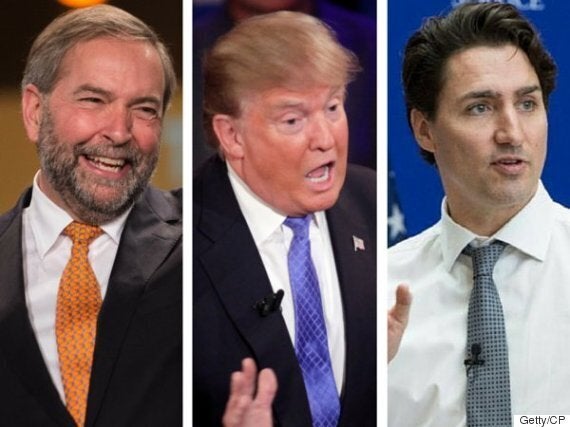 Let's go back to late August for a moment.
About a third of federal campaign was over and polls suggested that Thomas Mulcair's NDP stood more than a puncher's chance of forming government. After years of work and compromises, they sat somewhere on the cusp, credible but cautious.
At a lighter campaign event, Mulcair was asked about the prospects that Republican frontrunner Donald Trump -- brash billionaire, A-plus asshole -- might soon become the U.S. president with whom he'd have to work as prime minister.
Mulcair laughed. Lots of us laughed away Trump, back then. But he also conceded it was "theoretically" possible.
"I don't know him as an individual, but I get to watch the character that is Donald Trump and I think American voters are pretty smart people," he told ET Canada. "I'll let them decide."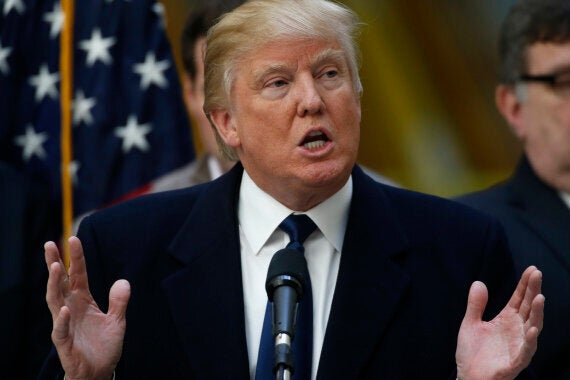 Republican U.S. presidential candidate Donald Trump speaks to the media in Washington on March 21, 2016. (Photo: Jim Bourg/Reuters)
He also suggested a female journalist dug up his vile comments about women because she was menstruating. Charming chap.
Still, Mulcair was measured. Canadians don't get to pick who sits in the White House, after all.
Of course, Trump has grown more dangerous in the months since Mulcair's party painfully returned to third-place status. Trump has promised a temporary ban on Muslims coming to America. He's mused openly about killing the families of terrorists and about committing war crimes. He's welcomed chaos. He's belittled and bullied.
And he's won. Again and again.
It's been nauseating to watch the party of Abraham Lincoln inch closer to nominating that man for president. America means something to us Canadians, after all.
So, it makes sense that Prime Minister Justin Trudeau has been asked about all this, particularly on his trips stateside where he is often held up as Trump's antithesis.
Damned if he'll take the bait, though. Trudeau hints, instead, that we already know where he stands.
He usually doesn't mention Trump by name, but speaks in general terms about politicians who chart a path to victory through mobs of angry, desperate, scared people.
He says he doesn't want to interfere in a foreign election but concedes, time and again, that he will have to work with whoever wins. Sometimes he paraphrases Lincoln -- fancy that -- saying he has confidence in the "better angels of American nature."
Not good enough, some say.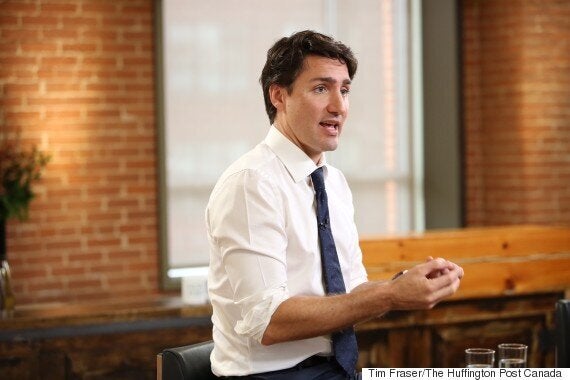 At a global town hall hosted by The Huffington Post Canada earlier this month, Trudeau was pushed on whether he has a duty to speak up. This goes beyond Canada-U.S. relations, doesn't it?
And so, on Wednesday, the NDP leaked a 40-second video to media of Mulcair attempting to fill a void.
"I will not hesitate to point out the fact that Mr. Trudeau just shrugs his shoulders when he's asked about Donald Trump and says, 'Oh the relationship between Canada and the United States goes beyond any two individuals,'" Mulcair says in the clip.
"I'm sorry: if a fascist becomes president of the United States, I want to be on record as having opposed it long before that election."
And so now Mulcair's on the record -- though his party urged the Trudeau government to ban Trump back in December.
"I'm sorry: if a fascist becomes president of the United States, I want to be on record as having opposed it long before that election."

-- Thomas Mulcair
Perhaps more crucially for him, Mulcair is in the headlines before the make-or-break leadership vote he'll face next week. The cynic in me can't help but wonder if that was the sole motivation.
If Mulcair is to stay on as NDP leader, a large part of that compromise will centre on his maturity, his gravitas, his ability to rattle the prime minister. There's probably nobody better in question period, when Mulcair's on his game. He's brilliant. He might deserve another shot.
That's what made the ploy this week disappointing.
Mulcair knows now, as he did in the summer, that this mess is for Americans to sort out.
And I suspect Trudeau, still dismissed by some as a lightweight, knows there's little upside to diving in.
Let's imagine the prime minister went for it. Let's imagine he called Trump a fascist and urged U.S. Republicans to disown him, to shut down the circus.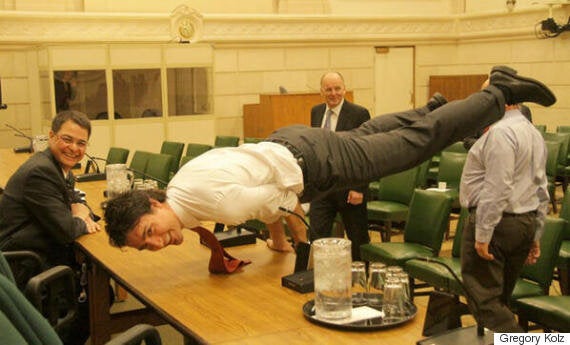 (Photo courtesy Greg Kolz)
Trudeau would probably be told to mind his own business, sure. But more than that, such a gambit would likely only help elevate Trump, who seems to rise higher in the face of backlash and calls from the so-called establishment to find some shame and stand down.
Trump might even sell the message that Canada's leader feared him because of his pledge to renegotiate NAFTA or only approve the Keystone pipeline if America can get a better deal. They don't want America to win again, he might say. Angry people who haven't won in a while might quite like that message.
He took a breath and offered, as if by rote: "I have great faith in the American people and look forward to working with whoever gets elected in November."
The room seemed to hear him loud and clear. I suspect Mulcair does, too.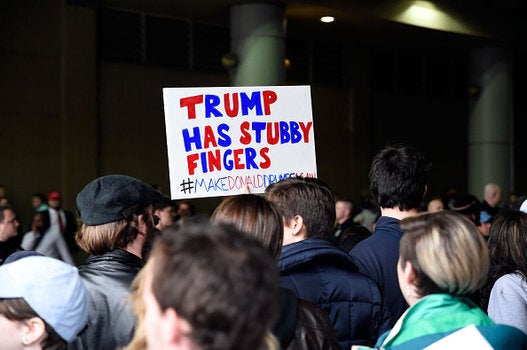 11 Donald Trump Protest Signs