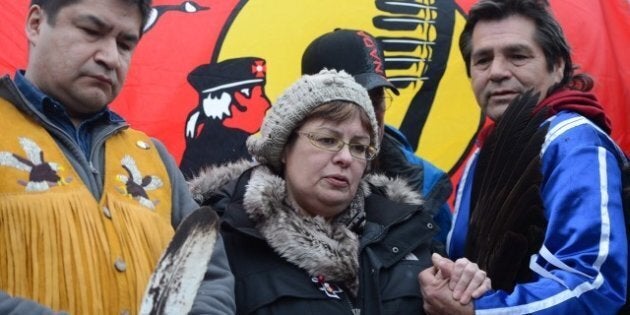 The jet lag has passed and the Christmas decorations (for some of us at least) are put away in storage. With 2013 stretching out before us, let's reflect on the year that was 2012 in Canadian politics. The best and worst political stories, the best and worst politicians and the biggest sellout awaits your eager eyes and open minds. The following was compiled with social justice and rectitude in mind. Enjoy!
Best Political Story: Hunger Strike of Chief Theresa Spence/Idle No More
Hands down the hunger strike of Chief Theresa Spence and the Idle No More protests are the best political stories of 2012. In an Op-ed published in the Huffington Post, activist Naomi Klein called Idle No More a "gift to Canadians." She couldn't be more right.
Chief Spence made news in November of 2011 when the community of Attawapiskat, for which she is Chief, announced a state of emergency for the third time in three years. The government then sent in a third-party financial manager, whose authority was thusly overturned by a court order. Much was made about how much money the remote community had been given, but scant attention paid to the true costs and rigours of living in northern communities.
Chief Spence began her hunger strike in December 2012 to highlight first nations issues, build support for the Idle No More movement, and protest the governments Omnibus Bill C-45, which in turn was also the impetus for Idle No More.
The stories themselves, while certainly not occupying the entirety of the calendar year, took hold of our collective psyches, shaking many of us awake for the first time (hence the very clever name for the movement) and forcing itself onto the mainstream media, which so often pays scant lip service to such actions.
The Idle No More movement though is much more than Occupy. In many ways, Idle No More is what Occupy aspired to be. It's a focused campaign aiming to bring aboriginal issues to the fore.
At the same time, Idle No More draws strength from Occupy. Its organizers saw the kind of mobilization and engagement Occupy spurred and realized that with focus and clarity of motive, results could be realized.
One need only look at the capitulation of the Harper government, to meet with first nations after Chief Theresa Spence's hunger strike had gone on for 25 days, to see the effectiveness of these actions.
Worst Political Story: Defeat of Bill C-298 (drugs for international humanitarian purposes)
This was not an easy decision to make. Many stories deserved to be in the number one spot and they will be mentioned here so that they don't get lost in the shuffle: attacks on abortion rights, the attacks on unions and collective bargaining, the F-35 fisaco, omnibus bills C-38 and C-45, refugee healthcare cuts, the war on science, and the CFIA crisis. These all deserve more then the honorable mention I can afford to give them here. Google search these items for a refresher on what they meant to us last year.
For my worst pick I went with the defeat of the NDP private member's Bill C-398, which would have meant better access to anti-retroviral AIDS drugs for the most needy countries. UNICEF took dead aim at our MPs for putting drug patent protection (something the Conservatives have chosen to prioritize as a result of their current EU Free Trade talks) first on its list of priorities instead of providing cheap, generic drugs to those who are in desperate for them.
In typical fashion, the Harper government ignored this advice and put ideology before sound policy.
The venal defeat of a bill that would have gone a long way to aiding poor countries in their fight against AIDS, and in putting patent protection above the lives of children, is the reason this story ranks number one.
Best Politician of 2012: Elizabeth May/Matthew Kellway
This was an easy one, despite it being a tie. Elizabeth May has held her own in parliament, often getting lots of ink in the mainstream press and showing that she is a one person force to be reckoned with as the sole member of her party. She was strong in her opposition to the CNOOC/Nexen deal and has been an advocate for working together with other parties in order to bring proportional representation in to replace our anachronistic electoral system.
Matthew Kellway, the Opposition NDP's Military Procurement Critic, might be an interesting choice if you haven't been following him. Those who have won't be surprised by this choice. He has been solid and unflinching in his dogged hammering of the Conservatives over the F-35 purchase and does so with a dry wit and not an ounce of contempt.
Worst Politician of 2012: Peter Van Loan/Rob Anders
Is it any surprise that Peter Van Loan has made this list? These days it seems that he has taken over from John Baird the role of angry grizzly bear on the government front benches. This came to a crescendo when he stormed across the isle and started waving his finger at Nathan Cullen, NDP House Leader (Van Loan is the government House Leader and responsible for setting up the government's legislative agenda).
I can only recall one other time when this has happened in my life and it was by then Reform Opposition MP Darrel Stinson (previously my MP), who not only threatened to fight Liberal MP's John Cannis and Steve Mahoney in the House of Commons but upon being called a bigot by then Progressive Conservative leader Jean Charest, responded by calling Charest a "fat little chubby little sucker." That's class for ya.
Sellout of the Year: David Wilks
Imagine that, a Conservative backbencher with the gravitas to go against the party, in public no less. He even expressed that he would oppose the bill if other Conservatives joined in his condemnation of it! Wow, what a maverick (no, not the Sarah Palin kind). It looked a like moment of revolt from the silent majority in the Conservative Party caucus. Finally, true democracy at last.
His moment of integrity was short-lived though, as he would perform an acrobatic about-face and came up fully in support of the bill calling it "great for Canada."
Conscience, meet party discipline.
What will 2013 bring? Possible Right-to-Work legislation (don't kid yourself, as Saskatchewan is looking particularly Right-to-Worky these days and Ontario Progressive Conservative leader Tim Hudak has mused on it)? More attacks on women and abortion rights? Another Omnibus bill? Keep your eyes peeled and your cynicism high tuned.