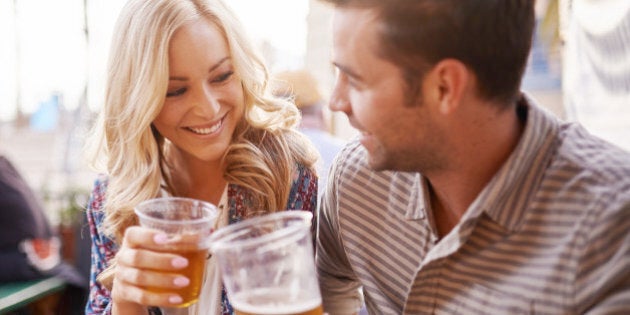 Beer producers have often been on the forefront of marketing trends, finding edgy new ways of capturing the attention of drinkers and making sure their brand loyalty is strong. Even in the early days of advertising, beer brands were the ones responsible for pushing the envelope and finding new ways of engaging consumers.
Back in 1999, Ad Age Magazine listed the top 100 advertising campaigns of the 20th century, among that list 10 were beer or alcohol brands, highlighting the impact the alcohol industry has had progressing the way we consume advertising.
Some of these iconic advertising campaigns included Budweiser's "This Bud's for you" and Miller Lite's "Taste Great, Less Filling." Back in the early days, it used to be the catch phrase and clever marketing hook that could get you the loyal drinkers, throw in an expensive Super Bowl Clydesdale commercial and you'd be set; not anymore.
It may seem like a cliché, but these days, if you want to get your product or service in front of customers, you need more than a generic advertising campaign or social media profile. It's become standard practice for companies to attempt to engage customers through social media, and consumers are tiring of the same song and dance. In a competitive marketplace like the beer industry, some brands have started to find far more creative means of engaging their customers, and they are experimenting with ideas beyond the computer screen.
Take for example the successful marketing campaign of the red fridge from Molson Canadian. First launched in 2013, the fridge was strategically placed across Europe and only opened with a Canadian passport. The gimmick was so successful, it has been a staple of Molson's annual campaign. This experiential marketing technique has proven to not only work well in a public setting but acts as a catalyst for broad social media reach.
But the red fridge campaign can only be experienced by a handful of people, what if you're trying to reach a broader audience? Scottish brewery Innis & Gunn recently launched a virtual reality experience offering drinkers the opportunity to pair their beer with one of two original VR landscapes. The brewery worked with a cognitive neuroscientist to create an experience that enhances the taste of the beer. The experience rolled out at bars across the country, and it appears Innis & Gunn is the first brewery to attempt a VR experience.
Even on a budget, craft breweries are finding unique ways of attracting drinkers. Take Honest Brew out of the UK; they took a unique approach of attracting drinkers through pop-up "honesty bars" where customers were trusted with paying for craft beer on a donation-basis, only paying for what they thought it was worth.
The company also created craft beer scavenger hunts with clues leading to craft beer pubs all across London. These tactics proved wildly successful and the business went from being on tap at seven breweries to over fifty.
Beer drinkers are demanding more from their beer, and subsequently expecting more than just a simple ad campaign or commercial to capture their attention. Brewers not only have to find new recipes to enticing drinkers, but also have to find creative new avenues to attract them in the first place.
Experiential campaigns, VR experiences and pop-up's are just the tip of the iceberg; as brewers grow more consumer savvy more unique advertising campaigns will launch, which in the end ultimately ends up benefiting the consumer.
Follow HuffPost Canada Blogs on Facebook