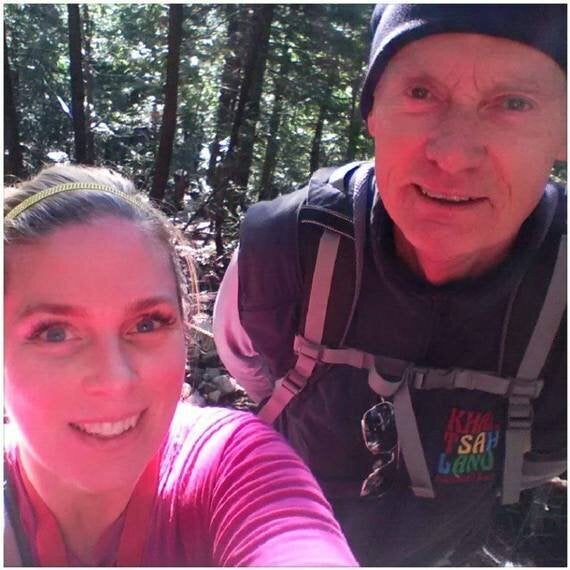 Sacha DeVoretz (author) and "Dundarave Dave" 70 years of age.
I don't know about that (it is a well patrolled trail, complete with steps). But it is probably one of the most difficult, given the short distance and steep incline. The distance of the Grind is 2.9 kilometres (1.8 miles) and the elevation gain 853 metres (2,800 feet).
It was a summer evening in 1998 when one of my friends asked me if I wanted to try a really hard short hike after work. She revealed to me that it was a little known trail and we could probably do it within an hour.
In those days, there were few people on the path, very few steps and you had to be familiar with the route or you could easily go off course.
How times have changed, now with a sophisticated well-laid out trail, complete with steps, signs, a gate for entry and more than 150,000 people taking up the challenge of the trail each year, the path has transformed to be a bit of an international phenomena.
One thing that has not changed is how challenging it is. Because of the steep incline, there is no other way than up and up and up. From the start of the hike my heart rate is at its maximum beat level.
People come and go on this path, but what has amazed me are the locals aged 65 + that have been doing the Grind on a weekly and sometimes daily basis. I first noticed this mature group of local hikers more than 10 years ago.
Many of them do the Grind to keep their fitness levels at best for other activities, like skiing in the winter and biking during the summer. As they pass me (yes, you read that right, they easily pass me on the trail) I find them all to be a true inspiration.
In the spring through the fall, I do the Grind on average twice a week and tend to see the same regulars week after week. One afternoon this fall, I finally got a chance to speak with Dave (in the photo above) and asked him, at 70 years of age, what keeps him going on one of the most challenging hikes in Vancouver?
He confided to me that he feels there is no age limit to fitness and being healthy. Dave shared with me, "If you start to slow down and sit too often, then age can easily catch up with you," looking up at the trees he continues with a smile, "It is better for me to be out here."
It is never too late to try a new activity or to keep moving. People like Dave are one of the reasons why I write articles like, "Why You Should Start Skiing...Now."
In this blog I spoke with Jimmy Chin, a world famous outdoor photographer and Shane McConkey's wife (Shane had been one of the preeminent freeskiers), Sherry McConkey.
Both Sherry and Jimmy agreed that the outdoors and nature are one of life's magical experiences and should be enjoyed by everyone.
The next time I go out for a ski, start my hike or ponder trying a new outdoor activity, I will be thinking of people like Dave and Eddie who continue to be an inspiration to enjoy the outdoors to the fullest.
Keep your eye on my blog this winter as I try skate skiing, more downhill skiing (on the green slopes) and shuffle around an outdoor ice rink.
Please share your comments below. Your suggestions are always welcome, as I continue on my journey to enjoy life to the fullest.