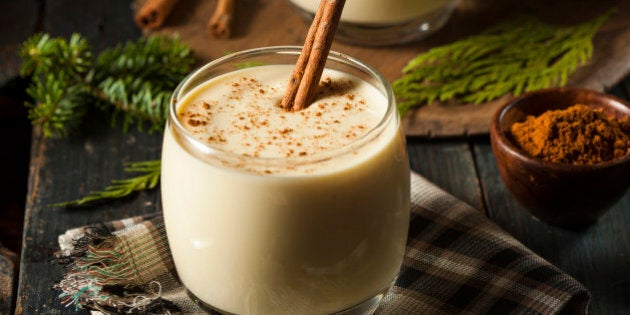 The holiday season is in full swing and you know what that means--parties, socializing, and a whole lot of indulging.
With so much going on, it can be hard to plan for everything, especially if you're hosting your own party. Don't fret! With the right ingredients and a little preparation, your party can (and will be) a memorable experience for all of your guests and family.
Recently, I met with Harry Lalousis, mustard sommelier for La Maison Maille and all-around foodie. Harry filled me in on the hottest tips for creating delicious holiday drinks this season (and non-alcoholic alternatives too).
Which drinks are on trend for the holidays?
Classics with new ingredients are on the rise, and they're perfect for the holiday season. A long list of ingredients doesn't mean the drink will taste better (and those drinks are no fun for you to make, either). Keep it simple. Your safest bet: A vodka martini, they're always in style.
Using uncommon ingredients in cocktails have been a growing trend, and until you try them, you won't know if you like them or not. So don't be afraid to explore! I'm constantly showing people how to elevate drinks with innovative ingredients.
You can use a flavoured mustard such as Honey Dijon for a sweet touch that is subtle but will make your drinks that much more special. Mustard is also a binding agent, which means that it brings together all the ingredients to make them work in perfect harmony.
As for vinegar, it is a perfect option for drinks because it mimics the flavor and sensation of alcohol. You can create delicious mocktails that still give the impression of having alcohol in them, although there is none.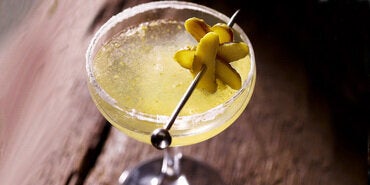 How to prepare these drinks?
Mustard has a spicy flavour and strong acidity that pairs well with citrus flavours. Think mango, pineapple, and apple vodka martinis. A teaspoon of mustard will intensify the sweet citrus flavours and bind everything together nicely.
Apple cider vinegar in a cocktail is divine. If you're into tart drinks, which have been huge lately, try adding a teaspoon of apple cider to your citrus cocktails. The sour flavour from the vinegar paired with the sweetness of fruity juices is phenomenal. Plus, apple cider vinegar has a lot of health benefits, which is definitely a plus.
If your drink of choice happens to be an Old Fashioned, balsamic vinegar is going to be your new best friend. This cocktail will warm your belly right up. Use fresh figs, orange slices, balsamic vinegar (or fig balsamic vinegar works too) maple syrup, bourbon, a splash of water and some ice.
Now, the garnish. If you're making a fruity cocktail, add a sprig of strawberries. For a classic, French cornichons add the perfect acidic crunch (olives are a thing of the past). Apple cider cocktail? Spice that up with a cinnamon sugar rim and a cinnamon stick. Remember to have fun with it! Maybe you'll stumble upon your own creation.
For a final, festive touch, decorate the rim. Your rim doesn't have to be covered in salt or sugar. Mix it up. Try using crushed candy cane, coloured sugar, coconut or cinnamon sugar. Cinnamon sugar rims are great if you're serving a festive, spicy drink.
Are there non-alcoholic or healthy alternatives?
Absolutely! Mocktails are a great option for non-drinkers or guests who are trying to stay healthy.
When making a mocktail, you need sparkle. I'm not talking sparkly Christmas decorations here, I'm talking the sparkle that comes from bubbly drinks like club soda, tonic water or ginger ale.
You can make a mocktail with ingredients you have right in your pantry: vinegar, sugar, and fruit. That's all you need. Heat all ingredients together, put the mixture in the fridge, and when it's cooled add some sparkle! I like club soda, personally. Voila, alcohol-free and you'd never know the difference.
Any tips on how to host an amazing party?
My biggest tip? Relax. The holidays are about having fun and enjoying time with your friends and family.
Potlucks are a great way to take some stress off. Divide the responsibilities among your friends so that you're not the only one stuck with all the work! If you're going this route, choose a dish you'd like to serve and then let everyone know what would be good complementing dishes they can bring. Your guests are probably eager to help in the party and just waiting for you to ask anyways.
Any other tips for the holidays?
Plan ahead. Mentally prepare what your week will look like before it starts. This will be a huge help.
Ask for help. Many people aren't comfortable doing this, but you should! If you make cooking fun for the kids, they will be happy to give you a hand. Have a family bake-off, cook-off, whatever suits your family.
Make time for yourself! Read a book or try a new hobby--get active and get outside! You'll feel better about indulging in those cocktails after some exercise (plus you'll feel less stressed with those endorphins running).
I love all of these drink ideas for the holidays. I am going to use these helpful tips as I entertain my guests and host my friends over the holidays!
Your suggestions are always welcome, as I continue on my journey to live life to the fullest. Let's have the very best 2016 holidays!
Follow HuffPost Canada Blogs on Facebook