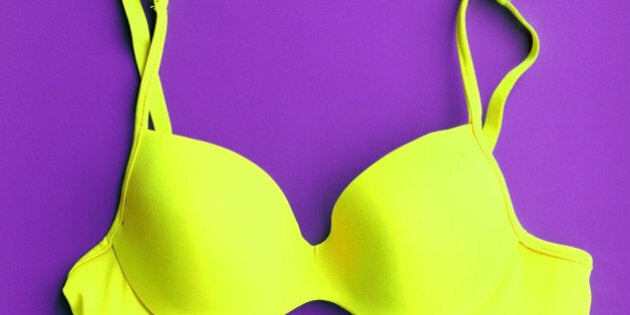 As far as style goes... the only thing I love more than comfy pajamas are cozy undergarments. If you have been reading my blog for a while, you know my favourite combination is cozy and cute! When those two elements come together, it is fashion perfection.
Recently, I was lucky enough to speak with Jessica Schmidt, Category Manager of Jockey. Jessica shared with me the hottest trends for undergarments this season. She also shared great tips on how to care for your undergarments.
What are the new trends in underwear this season?
The new trend in underwear is playing off the athleisure movement that has been wildly popular. Sport style underwear is the perfect complement to the athleisure trend. These style of underwear do not have visible lines and the moisture wicking fabric keeps you cool and comfortable while you are on the go.
Which colours are on trend?
Colour is big this spring -- sunny yellow, mint, candy pink complemented by richer jewel tones such as real turquoise and fuchsia are on trend. They're fun, bright and perfect for spring.
How to ensure the right fit (for both men and women)?
First, identify your preferred silhouette and desired features and benefits. If you prefer a more classic, full coverage fit, you may like a high cut or a brief. If you prefer a more modern, low-rise fit, you may prefer a hipster or a bikini. Follow your normal sizing. Some brands sizing may differ slightly so be sure to check size charts.
How to care for your underwear?
Look for undergarments that are high quality and known for being durable and long lasting. Not only that, but look for underwear that are extremely easy to care for as long as you follow the proper care instructions. Always follow the care instructions on the garment to ensure optimal longevity and durability. However, sometimes the best results will come from washing by hand or with a lingerie bag, especially for lace.
I also spoke with Sean Radford, Director of Men's Design at Jockey. Sean shared all the latest trends for men's undergarments.
New styles and colours for men?
More than ever before, T-shirts are in fashion and have become a multifunctional staple in every man's wardrobe. They define the new casual norm and play into current styling trends. There are T-shirts new to the market that meet the demands of today's modern man. There is new technology that reduces piling, shrinkage and fading so it will look and feel new, wash after wash. You can literally wear a T-shirt right from the dryer, box fresh.
For men, the colour palette includes rich blues and greys but you will also see bright pops of neon colors from neon citrus, lime, ultra orange, neon orange and bright green. Heathers are also more prevalent this spring.
I am going to use these helpful tips as I continue to expand my style ideas this year!
Your suggestions are always welcome, as I continue on my journey to live life to the fullest. Let's have the very best year ever!