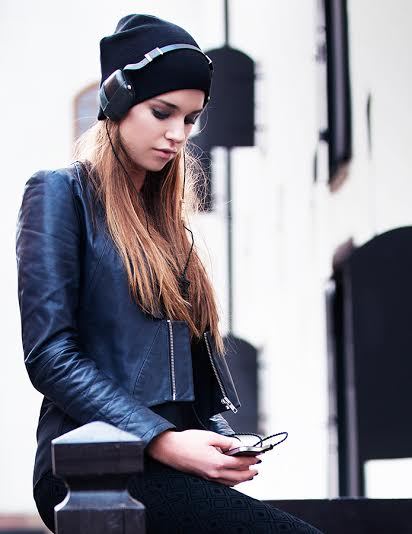 Let's set the record straight. I am not a tech goddess. But I do spend the majority of my days fixed to my laptop. Beyond this my knowledge of the hottest gadgets is limited.
However I do like to listen to music while I write and unfortunately for my neighbours, I like to listen to that music quite loud. And on days when I do venture out, I have noticed that at coffee houses there is a new trend to wear very stylish headphones. When I saw this, it peaked my curiosity. How can I incorporate this stylish look and listen to Radiohead at full volume?
Recerntly, I spoke with Dean Horsfield, Founder and CEO of Experience Headphones.
Why are stylish headphones on trend now?
The real question is why did it take so long? I think the reality is that headphone technology took a really long time to advance to a level where fashion was even a possibility. It is only recently that the speaker technology became advanced enough to allow compact speakers to sit inside ultra modern designs and at a price people could afford.
Smartphones and tablets also helped make headphones an absolutely necessity, and once everyone was wearing them, it was only a matter of time before people wanted their headphones to look unique and become more a representation of their lifestyle.
What are the current trends for headphones?
We are seeing a lot of very simplistic designs dominating the market. Smooth lines, soft edges, and lots and lots of colour. Some of the more popular colours are the earth tones as well as the rose gold which is our most popular at the moment.
Most headphones on the market are considered unisex, but there are a growing number of headphone brands that are starting to differentiate themselves into men and women-specific categories.
There are brands that have launched female-specific styles, catering to things that women value such as style, materials, and sound. Although, I just spotted a picture of Snoop Dog in the Frends (Female) Headphones, so the lines are still somewhat blurry.
Who are wearing stylish headphones these days, any celebs?
Literally everyone! Many celebrities have been spotted in the hottest headphones. For example, Lorde has been spotted in the LSTN Troubadour, Taylor Swift and Katie Holmes in the Urbanears Plattan, Olivia Wilde and Selena Gomez in the Frends Taylor.
Even world renowned designer Ted Baker has jumped on board to launch his own line of luxury headphones.
How has the technology improved?
Technology has helped to make the speakers significantly more compact while still maintaining a high quality sound. There are headphones that are ultra light, while others are a bit heavier due to their use of high-end metals and fabrics. It all depends on what you are into.
How to care for your headphones?
Most premium headphones are built so well that you don't need to do much to keep them safe. But a good rule of thumb is to make sure you keep them in a spot where they won't get crushed. The majority of issues that we see are because someone accidentally sat on their headphones.
A tip for the ladies, don't put them in your purse without a case! No other special care is needed, just plug in and enjoy.
Where do you expect the fashion-oriented headphone market to be in the next few years?
Fashion, fashion, and more fashion. We have only scratched the surface of what headphones will become. I truly believe headphones will be the world's next greatest fashion accessory.
As more designers enter the market such as Ted Baker, Fendi, Swarovski, and Chanel to name a few, there will be a huge boom in demand for headphones that not only sound good, but look amazing as well.
Designers have a long history of taking products that are otherwise a modern necessity and turning them into a must-have fashion accessory. The watch and sunglass industry are two really great examples of this. Headphones are simply the next evolution.
Stay tuned to my blog and share your comments below. Your tips and suggestions are always welcome, as I continue on my journey to find pretty, stylish and comfortable fashion.