TommL via Getty Images
If you have been reading my series on "Top Tips For Making A Video That Will Get Results For Your Small Business", you have learned about how to choose the right camera, shooting tips, what kind of memory cards you will need and soon, I will be writing on live streaming (I believe this is going to be the next big thing, so stay tuned!).
Now, I am going to share with you some of the smaller pieces of equipment that have made my life much easier.
Sound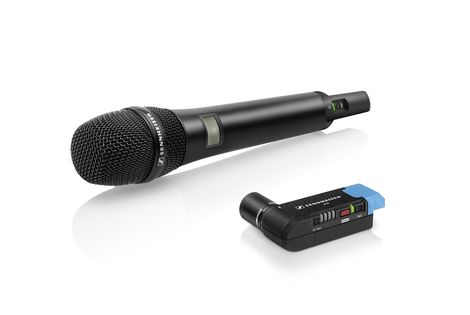 The Sennheiser AVX wireless microphone systems for video cameras ensure totally stress-free audio capture. The amazingly compact AVX receiver plugs directly into the XLR of a camera, where it automatically pairs with the microphone and switches on when the camera does. The system automatically adjusts the correct audio levels and transmits using a specially protected link in the license-free 1.9 GHz range.
"Whether you're a journalist compiling a show report, a professional videographer filming a documentary or an in-house marketing specialist making a product video - AVX gives you the room to concentrate on your creative work", says Sven Boetcher, Portfolio Manager Broadcast & Media at Sennheiser. "No licensing is required, the system automatically selects a suitable transmission frequency and also makes all necessary settings - that's true ease of use."
AVX comes in ready-to-use systems that contain everything required to immediately go live. Alternatively, tailor-made systems can be put together from a wide choice of individual components.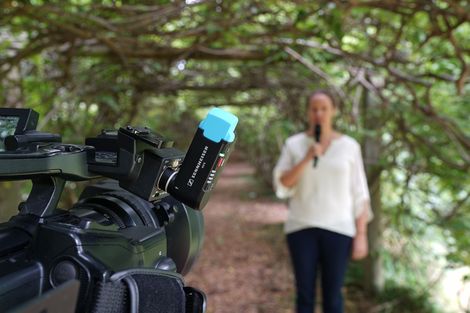 The AVX-835 SET is the perfect digital wireless microphone for film projects. The system fully self-configures and is ready to film within seconds. Its ultra-compact receiver fits directly into the XLR audio input of your camera or recording device. The handheld transmitter is ideal for street interview situations.
I love this type of microphone because it makes it easy for me to speak with other people. I can just hold up the microphone to the other person and record (no need to wire up the other person). It also allows to be spontaneous when speaking with people.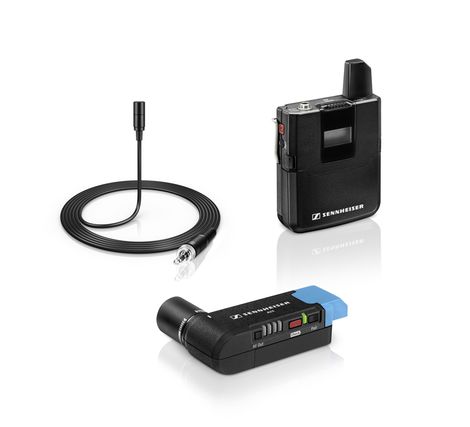 The lavalier microphone can provide excellent sound quality and at the same time, allow your hands to be free to do a demo or whatever you would like to do on camera (unlike the handheld microphone which would require you to hold the microphone).
The AVX-ME2 SET is the perfect digital wireless microphone and is ready to film within seconds. Its ultra-compact receiver fits directly into the XLR audio input of your camera or recording device. The bodypack transmitter and lavalier microphone is ideal for hands-free situations.
My other two favourite pieces of equipment are a camera monitor and a portable lighting system.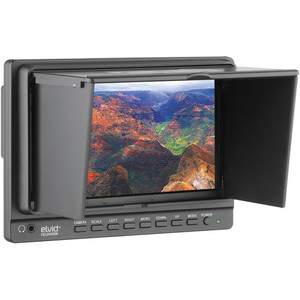 If you are shooting videos on your own (as I often do), you will quickly find out that the flip out screen on the back of your camera is hard to see when you are standing 5 feet or more away from your camera.
Too many times, I have shot video, only to review the clips and see that the top part of my head was cut off or there was an unnecessary light fixture in the shot.
This is a great investment and will help save your time. You can easily see what you are shooting in the monitor.
The Elvid FieldVision 7" On Camera Monitor is a lightweight on-camera monitor with a large 7" display. It's very convenient to use, featuring all function buttons on the front panel, and it comes with a collapsible sun hood to protect against glare from any bothersome light source, including sunlight.
If you'll be using a DSLR, this monitor automatically recognizes a DSLR signal and stretches the image to fill the screen, eliminating the borders that normally appear. The screen resolution is 1024 x 600, and connections consist of an HDMI input and Composite input/output.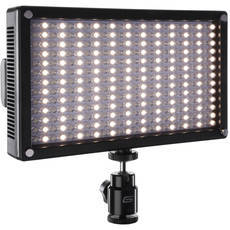 Another handy piece of equipment is on-camera lighting that you can easily take with you on a shoot.
The Genaray LED-7100T Variable-Colour On-Camera Light offers a bright, soft light output, with precision controls, in a compact form-factor. It's very lightweight and perfectly suitable for on-camera applications, and is just as ideal for AC-powered, continuous studio setups.
It's adjustable from a warm 3200K to a cool 5600K color temperature for different shooting conditions, and features 312 LEDs that deliver up to 1400 lux brightness at 3 ft. Brightness is dimmable and flicker-free from 100-10%.
Stay tuned for the next installment in my blog series. I will discuss all the top tips and tricks of live streaming video for your small business!
Your suggestions are always welcome, as I continue on my journey to live life to the fullest. Let's have the very best 2016!