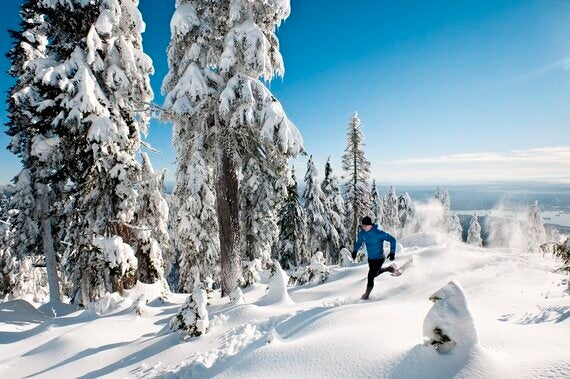 Photo Courtesy Of Grouse Mountain
Last week, I wrote a blog about "The Many Health Benefits of Snowshoeing." I had such a great response and so many questions, I thought I would write a follow up blog to discuss how you can take snowshoeing to the next level and other fun events that are available for snowshoers.
Last New Years Eve, I went to a snowshoe and fondue group event. This was a wonderful way to ring in the new year. I met some nice people and enjoyed the outdoors. There were guides and groups for different paces, so everyone could go at their own speed.
You can take your snowshoeing up a notch and try snow running (this is something that I am curious about). To find out more about snow running and increasing the speed on snowshoes, I spoke with Dan Grima, Adventure Program Supervisor at Grouse Mountain.
Dan shared with me his top tips for taking it up a notch when snowshoeing:
If you already have been snowshoeing and would like to start snow running -- what tips would you share to get started?
Joining a snowshoe run clinic will give you a really good understanding and introduction if you are thinking about making the switch from walking to running.
Consider your snowshoe -- Your trusty walking snowshoe will likely be too big and heavy to run in. There are plenty of fitness, run or race snowshoes available that are lightweight and make snowshoe running a lot of fun.
Change your clothing -- Winter running tights, waterproof trail runners, a long-sleeved wool or synthetic upper layer and a light waterproof layer work best for me. I would also highly recommend some light gloves.
For a snowshoe event, what can a person expect?
The snowshoe running community is a happy bunch! You can expect good times with lots of like-minded people. I suggest people try to walk/run the course a couple of times before race day.
Be sure to look into the elevation gain and train on equivalent hills/at a similar elevation to the event if you can't make it to the course before race day. Consider your diet, but don't change your eating habits just before an event.
How to keep the training going after the event, suggestions?
Sign up for another event! Get a group of friends or make friends at the event and start planning your next adventure.
To find out more about snowshoe running and events in your area, call your closest ski hill and they should have more information. Or you can search online and find a group to train with.
Your suggestions are always welcome, as I continue on my journey to enjoy life to the fullest. Let's have the very best 2015!