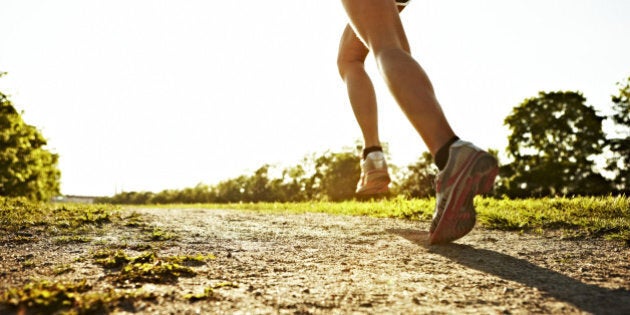 I started running in 1991. After a year of backpacking and partying through Europe, I was not in good shape. At this time the Internet wasn't accessible and learning how to run meant that I needed to ask other runners how they got started. I also read books on running.
Fortunately there is a wealth of information explaining how anyone can learn how to run. You do not need to be in good shape or fast. I still do a run and walk combination and I have been running for more than 20 years now.
I love running, the times I have felt like I was flying are the best.
To learn more about how any person can take the first steps on their path to running, I spoke with Luis Villagran, MEC Ambassador and ultrarunner. Luis shared his top tips, on how to start running.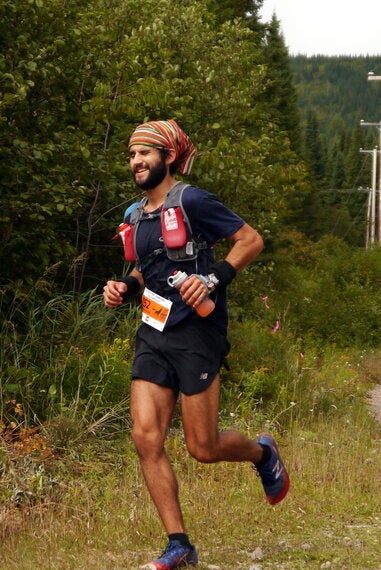 Luis Villagran, MEC Ambassador and ultrarunner
What are the tops tips for a new runner?
A beginner runner should be mindful that the process of reaching your goal is something you can enjoy. Try not to think of your learnings as something to get out of the way. Start small and gradually build your endurance. Keep the speed sessions and intensity for later. I didn't start by running 80 km ultramarathons, but I had a good time getting there. I'll be completing my first 119 km ultramarathon this summer in Italy.
How to start running? Can you do it on your own or as a group?
Lace up and get out there! Be present and mindful of your strides, your posture and your breathing. Nothing should feel too arduous or painful. Running in a group is a great motivator and the opportunity to share experiences and tips from fellow runners can be very helpful.
Is it a good idea to start walking first or to alternate with a run/ walk?
Alternating running and walking segments is the best way to start. It encourages a more focused effort during the running segments, so you can maintain your awareness of posture, cadence and breathing. It also gives you a short break which can help you extend your sessions.
How to keep the motivation for running going once you have started?
Giving yourself goals like greater distances, times to beat on a specific course, or the challenge of a new trail can be a great motivators. There's also something to be said about taking moments to celebrate the work you're putting into improving your health and fitness.
Find what makes you tick. How and when you find your motivation will vary greatly, but one thing is certain; you won't find it sitting on a couch. So I encourage you to get out there!
Janna Bishop, MEC Active Lifestyle Designer shared with me how to find clothes that will be comfortable while you run. Trust me you don't want anything rubbing under your arm or between your legs (ouch!) on a run. It is not about being fancy, it is about feeling great when you run.
How to dress for running? What are the key basics clothes?
We recommend a wicking base layer made of polyester. A breathable polyester keeps moisture away from your body which keeps you from getting too wet and cold.
A breathable insulating mid layer is perfect for a cooler day and if you're running in the rain or serious winds you may also want a light shell. For bottoms I'd recommend a tight. Not only do tights provide less wind resistance and feel great, but they also make you feel like a runner and that mental tweak can really help.
How to find the right runner (for either road or trails)?
One of the main differences between trail and road running shoes is the traction provided. A trail running shoe sole will have a knobby tread because of uneven trail terrain. You always want as much shoe on the ground as possible.
So if you're running on the road you'd want a smoother sole and on uneven trail terrain the more significant tread means more of the sole has a chance to connect with the ground.
We find that a lot of our members come in and ask for "the best running shoe". It's really about what the best shoe is for you. All running shoes are designed for different shaped feet so we recommend trying on different brands and styles to see what suits you best. For example New Balance is generally wider in the toe box and the mid-foot section.
What materials should you look for running?
The best materials for running are polyester and spandex because they move with you and if they include a wicking finish, then they'll help keep you dry. Also, look for a polygene finish for some extra odour protection.
If you can only afford to purchase one item first for running what would it be? Then what would be the next items to purchase?
I would invest in a well-researched pair of running shoes and then a quality, comfortable tight or short.
How To Keep Your Feet Happy
Top 3 tips for buying running socks:
The last thing you want to be worrying about on your run is the state of your feet. Happy feet equals more focus on breathing, enjoying the scenery, working those heart muscles so it's worth paying attention to these 3 tips when selecting running socks and buy them from a quality.
Fit: This is the one thing that truly sets great run socks apart!
Running socks need to fit snug against your whole foot and then stay in place, so that you don't get bunching or slipping in your running shoes - this can cause painful pressure points and even blisters. Look for an elasticized knit band around the arch and mid foot area and also at the sock cuff as this will ensure that the sock stays in place.
Also look for a rounded, well defined heel shape, rather than a mere curve, and a seamless toe box. Your toes want to be comfortable with enough room to spread out when you run but avoid bulky toe boxes altogether as these will most likely bunch up in your shoes.
Material: Merino wool is the best material for running socks because it's breathable, naturally moisture wicking and anti-microbial (won't stink!)
High quality wool like merino does not itch and will actually help your feet to feel cooler when they're working hard thanks to its super thermos regulating powers. Even when soaking wet, merino wool doesn't rub like cotton, instead it holds the water away from your skin and stays soft, thus saving you from prune feet and blisters! Instead there is bliss!
Comfort: Personally I like a bit of extra cushioning in my running shoes because I wear an orthotic but there are different options available.
How To Find The Right Fit For A Sports Bra
For the top tips, I spoke with Lynda Barr, Director at Diane's Lingerie. Lynda shared with me her top tips on how to find the right fit for a sports bra.
As you exercise your breasts move horizontally and vertically and forwards and backwards. The left and right breast can move simultaneously or independently from each other. These movements can cause pain and a loss of firmness in the breast tissue. A well fitted sports bra can significantly reduce these negative effects and support you in your active lifestyle.
What to look for when selecting a sports bra:
Performance fabric that wicks away moisture and manages sweat.
Flat seams that won't chaff or cut.
Fabric and/or seams that provide support.
Comfortable and cushioned shoulder straps.
Higher coverage in the cups.
A bra fitter to provide a fitting.
Match the level of activity with the level of support in the bra.
Look for a breathable fabric.
Look for comfortable fabric that won't irritate as you move.
What to look for when trying on a sports bra:
A bra fitter! The biggest mistake is not getting fit for the proper bra size. Majority of women are in the wrong bra size to begin with and they translate that into their sports bra purchase. They need to get fit by a professional bra fitter.
The bra band should fit snug and sit level across the back, it should sit a bit lower than the front of the bra.
Approximately 90 per cent of the support comes from the bra band making it crucial to have a firm and level fit. Breast tissue should be inside the wire, the wire should not be cutting off the tissue, digging in or bruising.
If the bra has no wire then the breast tissue should fit within the seaming. All of the breast tissue should fit inside the cup, spillage on top of or under the cup means it's not the right size.
Shoulder straps should not be so tight that they cause dents and marks or too loose that they slip off the shoulders.
I am going to use all of these tips on my runs this year! I would love to hear from you if you are going to try running. Please share your comments below or you can always visit my Facebook page and let me know how you are doing. Let's live life to the fullest in 2015!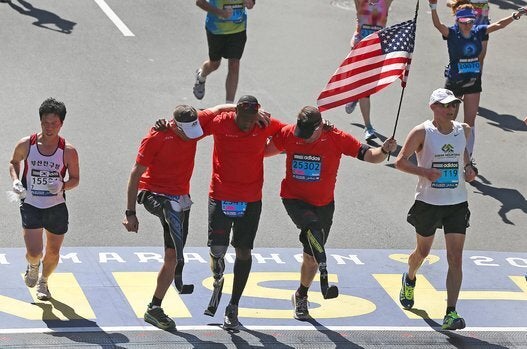 2014's Best Running Photos