I love style that I can feel my very best in. That means clothes that suit my lifestyle and I can also continue to expand my boundaries and try new things (this is how we grow, isn't it?).
Recently, I was lucky enough to speak with Emily Evans, Fashion Expert at Ann Taylor. Emily shared her top tips, on how you can feel your very best and comfortable in (and continue to try new looks!).
What are the top trends for this season?
Jacquard and brocade fabrics are everywhere this season and the trend showed up right on time. It's the perfect material for those events on your calendar.
Statement coats make bundling up more fun. Rather than wearing your plain black or brown coat every day, rotate in a pastel or plaid coat.
As far as accessories, ankle boots are everywhere. The style is one of the most versatile footwear choices. Silk scarves and faux fur stoles are also big items right now.
Which colours and styles are popular this season?
This season, both neutral solids and prints are in style. A head to toe monochromatic look is an always no fail option in the winter. Dressing head to toe in one color, such as beige or gray creates a timeless look.
As far as colours outside the neutral realm, pastel pink is another big trend this season. They actually complement every skin tone and adds a softness to chunky winter garments.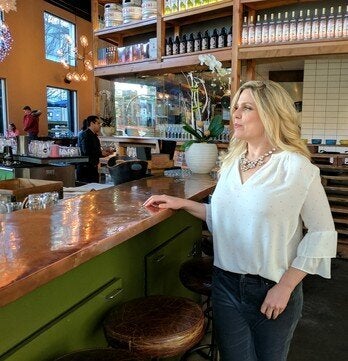 Author (Sacha DeVoretz) in bell sleeve look
Are there any new looks out this season?
Bell sleeves have made a huge comeback this season. I see these on jackets, dresses and tops. What I love most about bell sleeves is any length of sleeve works - You no longer have to worry about a sleeve being too short or too long, it is all in style.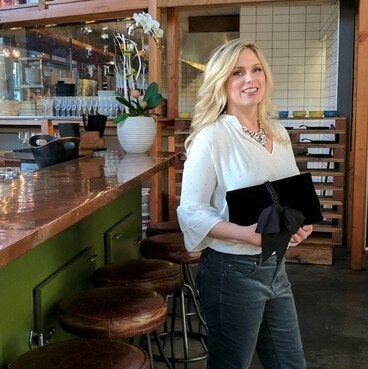 Author (Sacha DeVoretz) in statement velvet pant
If you were going to start with a new look this season what would it be?
Add some fun to your wardrobe by incorporating a statement pant that you can wear in any situation from the office to an event, and even to brunch on a weekend. Pair with flats to dress it down, and gorgeous heels and statement jewelry to step it up.
The jacquard trend can be worn head to toe for a look that screams festive, or you may opt to dress it down by pairing a jacquard trouser with a cozy knit.
How are people wearing these new trends now?
The best thing about all of these trends is that they are all so versatile. These looks can carry you from day to night with a few styling tweaks. These items give endless possibilities to your wardrobe.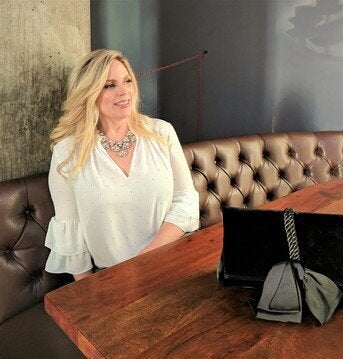 Author (Sacha DeVoretz) with favourite velvet clutch purse
For trends that I am loving right now, the velvet clutch purse is gorgeous and you can also carry plenty of items (think keys, wallet, phone, etc.) and also the velvet pant adds extra texture to any outfit!
Ultimately, what you wear should be a reflection of you. The very best of you. You should feel comfortable, happy and shining in this year's trends.
Your suggestions are always welcome. Please leave a comment below about what makes you feel pretty this year -- I would love to hear from you!
Let's have the very best 2017!
Follow HuffPost Canada Blogs on Facebook