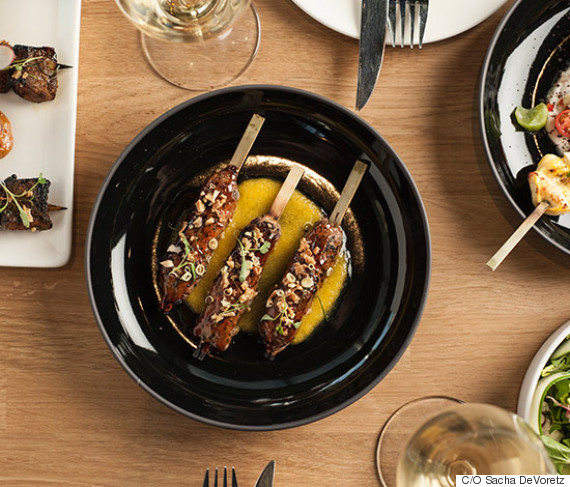 I love innovation in all forms. Technology, design and new dining experiences.
Recently, I was fortunate enough to speak with Mo Jessa, President of Earls Restaurants. Mo just opened the new restaurant, Earls 67 in Calgary, Alberta. An innovative restaurant which is looking at new ways to dine out. Mo shared with me the latest in dining trends.
What are the new dining and food trends this year?
"Restaurants that don't force you into an experience they want you to have, rather anticipating your different needs and designing the restaurant around those needs," says Mo.
He continues, "Multi-purpose spaces for multi-purpose uses is the direction for dining."
Mo thinks that the overall future of going out, will be people entertaining less at home, meeting friends at engaging places that suit their mood. They want to experience many different things in a restaurant.
What are micro and macro food trends?
Mo shares, "Consumers are desperate to trust that the food that they eat is sustainable, and responsibly sourced and produced. They want to order freely, knowing they can trust the restaurant they are dining in to have done that due diligence for them."
He continues, "Restraint and consumption -- guests want the option to order with restraint; clean food, raw foods, low or no gluten, healthy ingredients that are addictive because of the flavours, yet (sort of) guilt free. They want to reward themselves for that restraint with consumption of "more" later in the week; a great glass of wine, less healthy choices, a shot of great tequila, an amazing, goopy, cheese burger."
Good junk food. Taking a junk food inspiration, reimagining it with real or fresh ingredients. Nostalgia. These are all the latest trends in eating out.
Mo stated that "keep it simple spirits" is a new trend to look out for. "Understanding that not everyone wants a complicated craft cocktail, sometimes they just want a simple spirit and mix," he says.
He also thinks that refined sugar is the new gluten. Like low glycemic starches, less refined sugar makes the sweet, perhaps not healthy, but less unhealthy -- or the fix, a plain soda flavoured with a kola tincture, for example.
How is the restaurant and dining experience evolving?
Mo's vision is that dining will become a tailored experience -- consumers want to be in control of everything. What they put in their bodies... they want to have the ability to use the restaurant/menu in a way that fits the reason that they are there, providing something for everybody.
It will become an option to engage or not. Think private booths and long tables, tailored for whatever experience you are seeking.
Why is this occurring (the evolution in dining experiences)?
Mo states, "Increased urbanization, smaller living spaces, and busy lives. People are using restaurants in different ways (e.g. hosting dinner parties). The pressure of spending all day cooking or rushing home to cook a meal for visitors is too much for many working people, instead, buy some great local beers and order takeout for everyone, or host them for dinner in their favourite local restaurant, the Parisian way."
What are the new flavours and tastes that are coming out now?
After travelling the world, Mo has developed a keen sense for the new food trends. These tastes include adding different flavours from middle Eastern ingredients like annatto seed, nigella seeds - bold flavours, spices and heat.
Another trend that Mo has become familiar with is Central South American - Peruvian flavours (the city of Lima, the top new restaurant in London and South American chefs alike are being recognized on the world stage).
Mo shared, "Not food 'inspired' from the culture, but authentic food from the culture."
Mo thinks it is all about keeping it simple, back to the basics and at the same time elevating the dining experience. Food should be fun and enjoyed.
Another new twist are surprises like preserved lemon. A food profile from another culture, tossed into a dish you would not expect to see it in.
A strong dining trend is addictive food. You just ordered one, and you have to order another. Even if it's a veggie dip.
Looking forward, Mo says he will be enjoying "creamy textures without cream. Even the sweet has acid so your palate is kept fresh."
Another trend Mo sees in restaurants are for beverages. This will include tinctures and bitters that provide a familiar taste without the "bad" stuff. Think a kola tincture with soda, root beer bitters, flavours that add layers and familiar flavours without calories, weight or guilt.
Any other food or dining trends coming in the near future?
Mo thinks that more people will enjoy time spent with friends and casual sipping.
"Attitudes to alcohol drinking are undergoing a major shift as increasingly convivial consumers move away from drinking to get drunk, to sipping to stay social. It's not about getting drunk, it's actually about spending time with friends and using it as a social enabler," says Mo.
Mo adds, "Nostalgia and comfort in a fresh, current reimaging are going to be a part of the dining experience. Also, look for Raw foods incorporated into mainstream recipes."
I will be thinking about all of these great dining tips and trends this summer!
Your suggestions are always welcome, as I continue on my journey to live life to the fullest. Let's have the very best summer ever!
Disclosure: This video was partially sponsored by the businesses featured in this video. This video and post also appear in SachaD.com, and all opinions in the post and video are completely my own.
Visit Sacha daily at SachaD.com
Follow HuffPost Canada Blogs on Facebook
MORE ON HUFFPOST:
22 Restaurants To Check Out For Summerlicious 2016