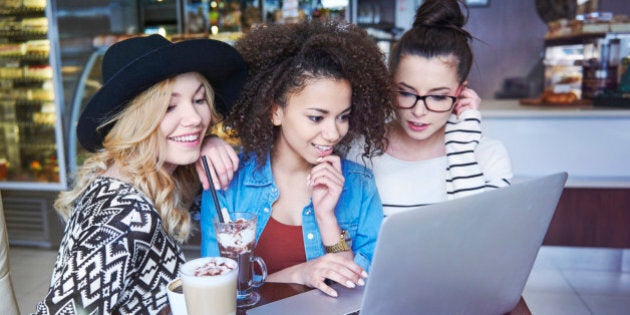 I love spring fashion and find shopping online so convenient. The time I save can be spent outdoors, or enjoying time with my friends or dining out.
To find out the latest tips and tricks about how you can get the most out of your online shopping experience I spoke with Camille Kowalewski, Head of Communications at eBay Canada. Camille shared with me the latest trends and top tips for the best shopping experience online.
What are the top style trends for spring for men and women?
Top style trends for women this season include intricate design patterns of lace and florals, as well as flowy, comfortable fits: think loose fitting pants, pleats galore and billowy sleeves.
For men, 1950s Don Draper style is still dominating, especially for a night out or special occasion. We're seeing classic fashion pieces like a crisp white shirt paired with modern accessories including snazzy bow ties for a trendy touch.
What are the hot buys online this spring?
With the arrival of April showers, rain gear and apparel are hot purchases right now. For women, seasonal essentials like umbrellas and raincoats can easily add pops of colour to an otherwise dreary day. Stay dry and stylish with a colourful umbrella or a forest green raincoat -- a slight twist on a neutral staple that is great to pair with some bright, fun accessories.
For the fellas, classic items like the ever versatile khaki coat and quality waterproof rain boots continue to reign as staples in the closet. Anoraks are also making a comeback, with high-end designers taking their swing at this practical piece.
For accessories, what are the new looks this season?
As soon as the weather warms up, bold colours, bright prints and pastel hues always make a comeback for women's fashion. Crimson is one of this season's hottest hues and can easily be worn through accessories.
For men, lavish hats and backpacks have taken off. From paperboy hats to the classic ball cap, you'll be seeing luxe materials like leather and suede turning heads. Also, backpacks worthy of the boardroom will also be seen worn around town.
What is on trend for shoes for men and women?
Comfort is key this spring for both men and women!
Men's loafers have been taken up a notch in terms of style and design, so they can easily be worn from day to night. For example, instead of the typical, casual deck shoe, men can effortlessly dress up their jeans or dress pants with a deep brown loafer.
And women will rejoice to hear that flat mules are coming back in a big way. This shoe comes in so many styles, colours and textures to choose from, making it super easy to be stylish and comfy at the same time. Also, black flats have always been a wardrobe staple, but you can easily update your look by upgrading to a pointed black lace-up flat for a chic yet casual feel.
Any other new styles that are online this spring?
Interesting combinations of mixed metallic accessories and 70s style suede in heels and jackets can instantly pull a woman's outfit together. In stark contrast, the laid back cool chick style is still alive and well -- with white slip on shoes, jeans and a t-shirt being a casual everyday uniform.
Another shopping tip for the season: Now is the perfect time to take on some spring closet cleaning and adopt an out with the old, in with the new mentality. Selling your gently-used unwanted clothing is easy and it will give you that extra cash to spend on a new trend you have your eye on!
I will be thinking about all of these online shopping tips as I continue to expand my spring wardrobe.
Your suggestions are always welcome, as I continue on my journey to live life to the fullest. Let's have the very best 2016!
Follow HuffPost Canada Blogs on Facebook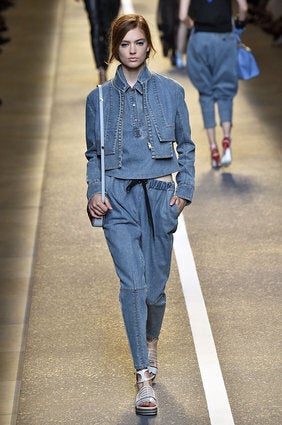 Spring Trends 2015: All The Styles We'll Be Wearing This Year