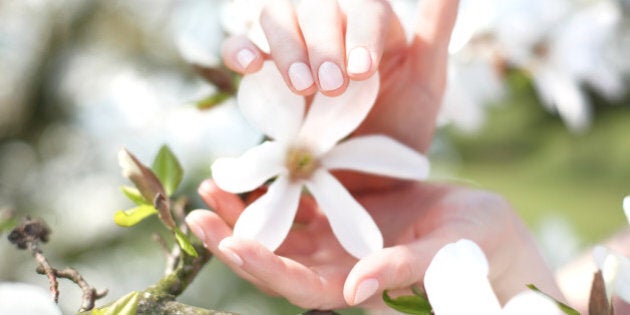 I love pretty nails. They can really make an outfit come together and at the same time you can make a statement about your personality with the colours you choose for your polish.
Recently, I was lucky enough to speak with Linda Ly owner and founder of Onyx Aesthetics Studio. Linda shared with me the hottest trends for nails this spring and also the top tips for shellac manicures and pedicures. I love shellac polish. I find it lasts much longer than regular nail polish and I don't get as many chips.
Linda explained more about the hot trends for nails this spring and more about shellac nails.
What are the hot colours this spring?
This spring the hot colours are shimmered greens that can go from a casual to a corporate look. Soft pinks, lavenders, soft yellows, brighter pinks or a perfect neutral. The summer pastels are soft and feminine. Easy for everyone to wear!
Shellac is actually a type of nail polish, typically can last for up to 14 days, has zero dry time, shine, and usually takes five to eight minutes to remove. A shellac application is done as a manicure.
Who can get a shellac manicure?
Shellac manicures can be done on anyone who does not need enhancements. It improves challenged nails that may need a little perfecting, such as covering ridges.
How is a shellac manicure done?
It is done the same as a regular manicure and then finished off with a shellac brand polish. When the shellac polish is drying, you will put your hands into a small dome shaped machine that has lamp lights. These lights will help the polish dry and become fixed to the nails.
How long does a shellac manicure last for?
Most shellac nail polishes will last anywhere from 10 - 14 days. Depends on how you treat your hands and nails. Remember nails are jewels not tools!
How to care for your shellac manicure?
Apply cuticle oil at least twice a day to help keep the natural nail and surrounding skin conditioned. This will also help keep the nail coating flexible.
Wear gloves when using cleaning products (certain chemicals can cause lifting of the polish). Don't be rough with your hands (don't use your nails as tools when packing or opening cans etc.).
The big advantage of the shellac pedicure is that it dries immediately and has a nice shine to it. No more sheet marks or mess ups in your shoes! When I get my toes done, I can be impatient and want to put my shoes on right away. But with a shellac pedicure, I can get up and go.
A shellac pedicure has similar steps to a shellac manicure (but on your toes!).
Here is a tip about your pedicure. Any polish on your toes tends to last longer than on your fingers. The reason for this is that your fingers get more bumps and potential chips with increased contact with surfaces.
Top trends for pedicures are usually vibrant colours like brilliant blues, magentas, or fuchsias.
To help your pedicure and toes to keep looking lovely through the spring and summer months, remember to use a foot cream, cuticle oil and pomice stone to scrub the dead skin away on the heels and bottom of the feet.
How to care for your pedicure to keep your toes looking great?
Lasting pedicures: Take a brush and clean around your toes to keep the dead skin away. Use a paddle during your showers to maintain smoother heels. Try not to walk around barefooted or with flip flops, this can create calluses. To keep feet soft and smooth, wear socks and slippers around the house.
If you are athletic, run often, or if you have a job that requires you to walk around in high heels all the time, get shellac as opposed to regular nail polish pedicures. Shellac polish will last the longest on your toes.
I love all these nails tips and trends for spring. I am going to use these helpful tips as I continue to expand by beauty ideas this season!
I would love to hear from you!What are your favourite nail colours? Do you have any tips that you do to keep your nails looking pretty? Let me know in the comments section below!
Your suggestions are always welcome, as I continue on my journey to live life to the fullest. Let's have the very best 2016!
Follow HuffPost Canada Blogs on Facebook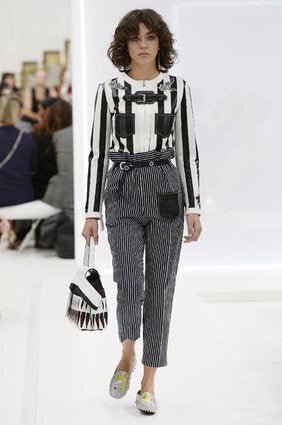 Spring 2016 Fashion Trends