Last week, I wrote the post in this series on how to create engaging videos for small business, "Sound Quality Can Make Or Break Your Small Business Videos."
Another post in the series discussed "Top Reasons Why Video Is Key For Your Small Business!" and I mentioned why videos are key to a successful marketing strategy.
Here are some impressive stats on video from Cisco:
By 2019:
Video will account for 80 per cent of global internet traffic
Nearly a million minutes of video will be shared every second
It would take an individual five million years to watch the all the video that will be shared each month
In the blog post, "How To Create Amazing Videos For Your Small Business" we discussed the different pieces of equipment you can use to make engaging videos.
But how will you transport all of this equipment? If you need to go to a different location to shoot a video, you will be surprised how quickly the weight of the gear can add up (trust me having a great bag can make it so much easier and faster to get to a new location and set up quickly).
Recently, I was fortunate enough to speak with Katrina Neill, Sr. Editor & Communications Manager at Lowepro. Katrina shared with me the different types of bags there are for shooting videos or photos.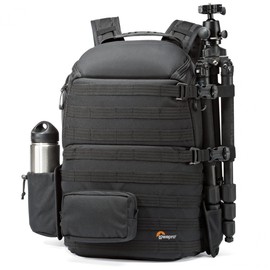 What types of bags are there for a person shooting videos or photos?
Lowepro designs a large variety of photo, video and multi-use bags to suit the gear, activity and style preferences of beginning, enthusiast and professional image makers. Many of our bags accommodate camera and video gear -- plus drones, quadcopters, RED systems, action video cameras, plus laptops and tablets. And we build backpacks, shoulder bags, slings, rollers, lens cases, modular options and toploading styles. A few customer favourites include: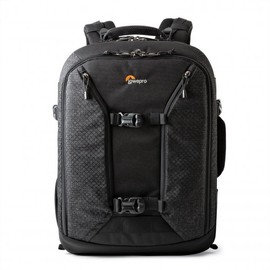 What should you think about when choosing a bag?
Good question as it helps to determine how and where you will use your gear. Here are some considerations: kit, travel mode, destination, activity, functionality and carry style.
Kit: What will you carry -- an expansive or minimal kit? Would you like extra space for a jacket, laptop, tablet, travel documents, personal items and creature comforts? The online Bagfinder Tool helps you find all Lowepro bags to fit your particular kit.
Travel mode: Do you need to carry it on a plane? Do you want to go light and be stealthy for street photography? Do you prefer a bag that can double as a photo bag or day bag by simply removing a camera insert?
Destination: Are you heading to snow country? Will you shoot in in a wet and humid climate? Is weight an issue -- either light weight for long distances, or needing a premium suspension system to disperse a heavy load of gear?
Activity: Are you shooting a wedding? Rollers make practical choices. Will you be capturing landscapes, adventure sports or seasonal color? A backpack with exterior straps for a tripod, skis or trekking poles works well.
Functionality: Is your kit attached and ready to go, or will you switch out lenses on occasion? How do you want to reach for your gear? Is security more important than ease of access?
Carry style: This is a very personal choice. Some people love backpacks. Others go with shoulder bags to wear cross-body style. A few photographers prefer a sling. It's best to feel comfortable while wearing a bag so you'll be inspired to carry your gear often and never miss a moment!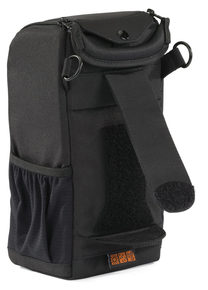 What new innovations have there been in camera bags in the past few years?
As gear changes and more people take and share photos and videos, camera bag makers evolve designs to suit the needs of photographers and travelers who carry even more types of devices.
A few Lowepro innovations include:
SlipLock™ modular attachment system for adding pouches and cases to larger bags and packs.
CradleFit™ compartments to suspend and protect laptops and tablets from impact.
UltraCinch™ gear stabilization pockets to safeguard camera from bouncing when trail running, cycling and climbing.
DroneGuard™ organization system for fitting and protecting fragile camera drones and parts like blades, transmitters, goggles, batteries, etc.
To name just a few!
How to care for your bag?
Lowepro bags are built with long-lasting, abrasion-and-weather-resistant materials. But you can spot-treat for most stains. We recommend hand washing with a mild (non-abrasive, non-solvent) detergent, rinsing well and thoroughly air-drying.
Any other comments or tips?
There are lots of helpful guides on Lowepro.com, for backpacks, drone cases, sling bags and rolling bags. The best thing to do is to always have your gear with you so you are ready when the perfect shot presents itself.
Stay tuned for the next installment in my blog series.I will discuss the steps you need to take to shoot a fantastic video for your small business!
I love all of these helpful tips on how to choose the right bag and will use them as I continue to work on my small business.
Your suggestions are always welcome, as I continue on my journey to live life to the fullest. Let's have the very best 2016!
Visit Sacha daily at SachaD.com
Follow HuffPost Canada Blogs on Facebook
ALSO ON HUFFPOST:
Best Countries To Do Business