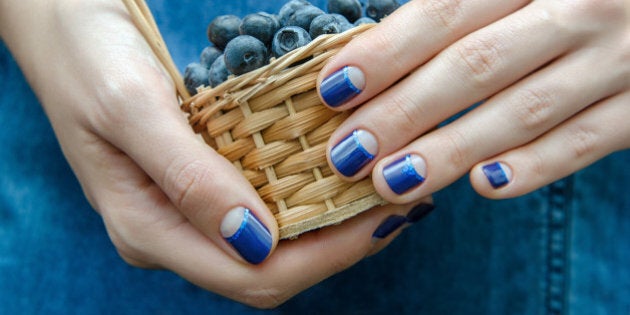 I love pretty nails and the new season of spring!
Recently, I was lucky enough to speak with Linda Ly owner and founder of Onyx Aesthetics Studio. Linda shared with me the hottest trends for nails this spring and also the top tips for gel nails and manicures.
Linda explained more about the hot trends for nails this spring.
What are gel nails? (The difference between gel and acrylic nails)
The difference between gel enhancements and liquid and powder enhancements is that gel is a low to no odour, thicker viscosity product that contains photo initiators that polymerize (harden) when they are UV or LED light cured.
Gel nails are fantastic for people that need a little help with length and shape, or for short uneven nails. They are ideal for hard brittle nails as they offer great flexibility.
Acrylic or liquid and powder enhancements are hard and durable. The liquid (monomer) and polymer (powder) combine on the application brush to coat the natural nail, a tip or a sculpted nail. Polymerization with liquid and powder does not require a light. They harden in the air in about three minutes. More dramatic transformation can be achieved with liquid and powder, it is recommended for people with soft and pliable nails.
How do you start with gel nail enhancements? Best steps to start?
For a first time 'set', know what your goals are for your enhancements. Would you like your nails to be longer? Or do you prefer them short, but strong? Next look at the properties of your natural nails and determine if they are weak, peeling or ridgy and hard. This helps to determine the proper coating for your nails and lifestyle needs.
How long do gel nails last for?
The average is about two to three weeks in between enhancement services, and it is a good idea to practice regular maintenance and a home care regimen to assure long-lasting, strong, and healthy nails.
Which colours are on trend this spring?
Look for colours with the theme of "New Wave" includes a variety of retro- futuristic, high octane colours that are bold and energetic. It is like the 80's meets digital age. 'Banana Clips', 'Blue Eye shadow', and 'Video Violet'- bright yellow, blue, and purple hues, - are popular picks right now.
How to wear these colours?
Some people tend to shy away from bright shades have chosen to incorporate these colours into minimalist nail art, crafting an impactful yet simple look. Other ways to wear them are either as a solid colour, or colour-blocking two (or more) contrasting shades. When it comes to nail art, the sky is the limit! Nails are like great jewelry, they can be classic or they can be a statement piece!
Which nail shapes are on trend?
We've noticed a preference for squared nails with rounded edges, (also referred to as 'squoval') especially if the nails are active length. Beautiful almond shapes are also popular for mid to long enhancements. Shape makes a huge difference. The most natural shape for your nails would be a mirror image of the shape of your cuticle area.
Here are a few of my own tips, for at home regular polish:
Cutting cuticles will allow your nails to last longer and look more clean
Prep by buffing the nails to create a rough surface and then dehydrating the nails prior to nail application (use alcohol and acetone -- if you do not have these at home, just soap and water followed by drying your nails with a clean cloth towel will work)
Paint close to the cuticles without touching the cuticles
Paint thin coats and let it dry in-between coats (at least two minutes to dry -- the longer the better)
Seal, seal, seal the bottom of the nails
Use a good base coat
Use a good quick dry top coat
Wear gloves when using cleaning products (certain chemicals can cause lifting of the polish). Don't be rough with your hands (don't use your nails as tools when packing or opening cans etc.).
I love all these nail tips and trends for spring. I am going to use these helpful tips as I continue to expand by style ideas this season!
Your suggestions are always welcome, as I continue on my journey to live life to the fullest. Let's have the very best 2017!
Follow HuffPost Canada Blogs on Facebook